Chatbot App Development Solutions
It is estimated that by 2020, 30% of browsing will be screen-less. With the increasing popularity of high-end technologies like Google Assistant, Alexa and Cortana, among others, users expect and demand smart Chatbot solutions to reduce waiting time and enhance customer experience.
Gone are the days, when users relied on customer care, which involved long wait times on the calls for assistance. With the advancements in technology, user comfort has become the main focus along with practical solutions for the service providers. Chatbot handles user requests and provides relevant information in any area by stimulating intelligent conversations with the humans using Artificial Intelligence, Machine Learning, etc. It can be either an entirely different entity or incorporated into an app.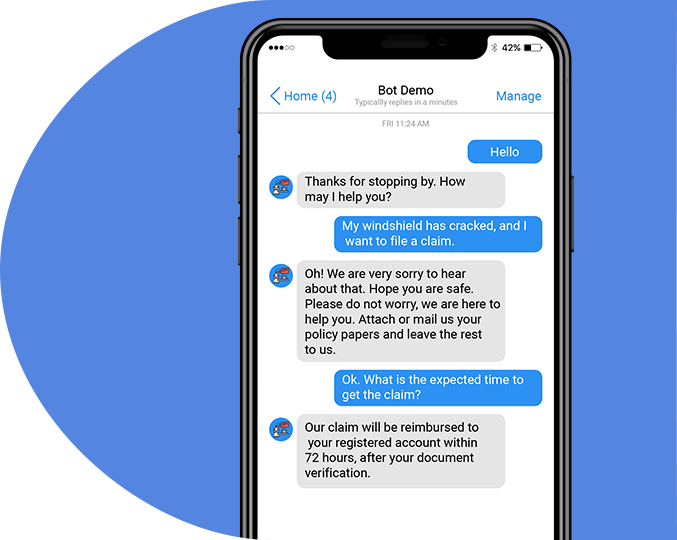 How Businesses Can Use Chatbots
Sequential Chatbots: They comprise pre-processed keywords, which allow the user to select one of the options given to him. Each of the answer commands is worked upon by the developer after considering all possible scenarios, examples, etc.
Intelligent Chatbots: These are considered a bit complex because they have no prepared answers. Artificial Intelligence plays a significant role in the backend of these bots. It gives a fair chance to the user to express his thoughts.
Industry We Serve
With features like multi-lingual abilities and integrations on multiple networks, we make bots that are smarter and efficient in providing assistance. Our chat bots are integrated with machine learning that adapts and responds to the human queries smartly and intelligently.
With enhanced profitability and strong customer loyalty, our applications have the ability to empower your business.
Our chatbots provide flexibility at all levels, we create chatbots that are well versed with the industry trends.
Healthcare: Helps in instantaneous emergency response assistance and appointment scheduling, with bunch of other facilities.
Retail: Helps in improving customer experience with personalized product suggestions, delivery tracking and cross selling of products.
Enterprise/Agencies: Facilitates better sales, reception and social CRM.
Travel: Provides information regarding best travel deals, assists in flight bookings, hotel reservations and city guides.
Finance: Guides the user about trends in the stock market, informs about the bank balance and transactions.
Custom Chatbot Application Development to Address Unique Business Problems
With chatbots, you can automate and increase the productivity of your CRM solution by giving customers quick and efficient access to information. This helps the enterprise to get closer to the customer by commuting through text, integrating the website, etc. It allows access to a broad array of information and functionality within a narrow domain, with speed and accuracy. Chatbots provide 24*7 access to the user and can be used to understand the intent of the users, which is beneficial to the enterprise. It increases the users' response rate and is useful both for start-ups as well as established enterprises for daily operations, communications and sales.