Low Code Development Platforms
Amidst the growing demand for digital transformation across the businesses in all domains, building an application following the traditional mobile application development process becomes a bewildering challenge. Businesses want to integrate more digital transformation into the operational processes, and this calls upon the need to speed up application development by using advanced tools and technologies.
This calls upon the need to adopt low-code-development platforms for quick business transition and seamless growth. According to PS Intelligence in 2018, the global low-code development platform market was valued at 5.6 billion USD and is expected to reach 52.3 billion USD by 2024, progressing at a CAGR of 45.2% during the forecast period.
With these platforms, the web and mobile developers do not write long codes; instead, the entire application development process includes visual elements along with drag and drop actions.
What is low-code development?
Low-code development is an application development approach that accelerates the development process by infusing visual elements and eliminate the need for manual coding for faster delivery.
Features of Low-code development platforms
A low code development platform incorporates extensive features that make it a must-have platform for business organizations to stay ahead of the competition. These features include:
Visual scripting: You can create an application module or whole application in a drag and drop like interface where you don't have to write a single line of code. As programming code is more visual, it needs less thinking to be understood.
Visual modeling: Allows converting business ideas into workflows with UI elements such as data models, notifications, events and more.
Data remodeling: Seamlessly converts data models into APIs and relational tables.
Mobility: Integrated with mobility mechanism that makes the application more responsive over mobile devices.
Security: Access management features give you full control over the application. You can manage who can view your application and when.
App life-cycle management: Low code development principles simplify deployment and maintenance while making the app more scalable.
Rules engine: Simplifies the process to define business logic through an in-built rule engine. Rule engine provides a development environment for coders to create applications through GUI and not actual programming code.
Hosting: Any rich user interface requirement can be settled by hosting custom code through the low development app platform.
Integration: Easy integration with third-party applications and systems via APIs and connectors.
Components of low-code development platform
Low code platform, also known as Rapid Application Development, allows both professional developers and non-developers like business managers or any IT professional who doesn't know how to code but understands business logic to build and deploy web and mobile applications in few days or weeks. Few components of Low-code development platform include:
Continuous integration: The automated system picks up the latest version from the build, repository, test and validates the master file for deployment. 
Reusability: Allows developers to switch from one project to another with ease, identify and resolve the problems efficiently while increasing the quality of the application portfolio.
Omnichannel app development: One code base for different devices enable developers to target problems right from one single platform.
Openness and extensibility: Using Cloud-based architecture, the developers can deploy applications quite easily and efficiently.
Performance: The integration of automated testing and quality monitoring makes these apps perform faster.
Connectivity: Empower users with extensive connectivity over IoT devices, Blockchain, Artificial Intelligence, and Machine Learning without the need to have expert knowledge.
Deployment: Public cloud integration offers scalability and reliability with a reduced need for maintaining the infrastructure.
What can you build with low code?
Internal applications: Low code allows creating beautiful, and advanced applications for the Business internal processes.
Customer-facing applications: Enables creating digital customer-focused and field focused applications with an immersive UI while incorporating easy accessibility and extensive usability.
Legacy modernization apps: Transform your CRM, ERP and other core business systems through low code development capabilities without impacting the regular business activities.
Operational efficiency apps: Low code application development helps to build apps that boost your business productivity to a remarkable extent.
Benefits of a low-code development platform
Low code application development is easy to use, integrate and deploy in the business infrastructure. Not only it is easy to build an app with the no-coding approach, but these apps are highly efficient and work on cross-platform devices. Some of the scalable features include:
Improved agility: Accelerate digital innovation and business transformation by building a responsive application using a quick to build approach.
Higher productivity: Lesser coding with automated testing, database handling, scaling, one-click deployment capabilities results in yielding higher productivity and better results.
Decreased cost: Low code application development doesn't demand to deploy hardware components as its cloud-based and thus proves to be a cost-efficient app development approach.
Effective risk management and governance: Since everything is available on the cloud and can be managed from one interface, risk management becomes easier.
Faster transformation: With a low code development approach, the developers can build more apps in lesser time. Easy deployment and management results in faster business transformation.
Change easily: With drag and drop elements and simple visual components, it's extremely easier to change the application at any point in time.
How low-code platforms are transforming software development?
Low code platforms integrate powerful features such as citizen development that enables users with even no technical knowledge to code the program. These single interface platforms are cloud-based and offer ease of usability that adds to transform software development.
5 best low-code development platforms in 2020


1) DWKit
DWkit is an efficient low code development program packed with effective features. It is a form builder, security, workflow, and data mapping application.
Link: Web

2) Appian
The platform offers native AI services with zero-code integration to ML/AI platforms through Amazon AWS, Microsoft Azure and Google Cloud.
Link: Web

3) Visual LANSA
Visual LANSA is an effective and powerful platform for developing web, mobile, and desktop applications. It features extensive application testing, deployment, and integration tools.
Link: Web

4) KissFlow
Eliminates the need to code your application completely with KissFlow. Drag and drop tools to build tasks and fields as well as to add and edit various fields.
Link: Web


5) Mendix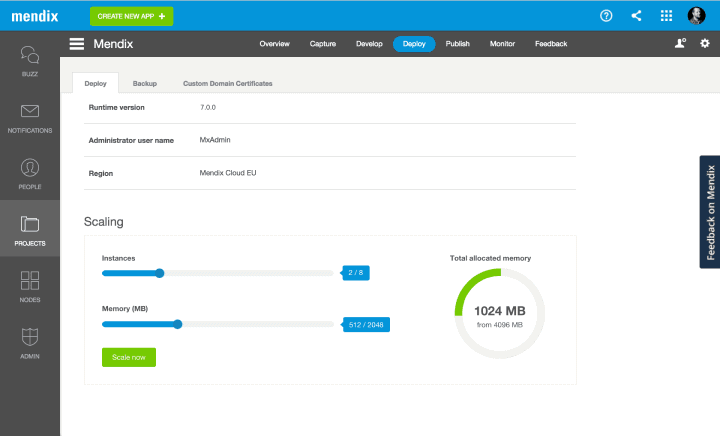 Integrates highly advanced visual modeling tools and reusable components. Agile project management capabilities make it more powerful.
Link: Web


How TechAhead can help you in low-code development?
If you are looking for a low code development platform for your business and don't know where to get started, TechAhead is here to help you build enterprise-grade apps quickly and efficiently for complete business transformation.
Final words
Low code platforms allow developers to create mobile and web apps without coding using drag and drop options. These platforms are an efficient way for mobile app development companies to get more done in case of apps with limited functionality.