MWC Americas Los Angeles 2018 Live Updates
Persuading people through advanced mobile technology is the next digital revolution. GSMA Mobile World Congress Americas demonstrates just how powerful mobile technology will be.
Yes! MWC Americas GSMA is back with its second annual GSMA Mobile World Congress Americas conference that brings technology providers, IT professionals, mobile operators, device manufacturers, and vendors from across the globe under one roof to dive into the world of Mobile Development and explore the cutting-edge technology to create a better future.
When & Where
MWC 2018 is a three days conference meet held from September 12, 2018, to September 14, 2018, at Los Angeles Convention Center (LACC), located at 1201 S Figueroa St, Los Angeles, CA 90015, USA. Here in this event, there will be approximately 25000 attendees, 1000+ exhibitors, 200+ conference speaker, 110 countries & territories, and 300+ media analysts.
TechAhead Participation in MWC Americas 2018 as Exhibitor
TechAhead's team of experts is in Los Angeles for MWC Americas 2018 event. Meet them at Hall West Stand W.412 on 12-14 September 2018 to discuss future mobility solutions.
About TechAhead
TechAhead is a leading Mobile Application Development Company based in USA & India. Since, our inception in the year 2009, we have delivered 1500+ Android & iOS mobile apps across different industry verticals and have helped our clients to elevate their digital growth. We are proud to be recognized as the global leader in mobile consulting, designing, and development. Our team of 150+ Mobile Experts has proficiency in engineering robust, secure & scalable mobile development solutions for fortune 50 companies and mid-level enterprises across verticals.
TechAhead's Agenda of #MWCA18
In the 3-day conference meet, TechAhead provides an opportunity for attendees to explore future mobility solutions and next-gen mobile technologies that can help them to improve their business and achieve their digital goals. Our brilliant minds in Mobile App Development and Application Architecture design will cover the following things:
Internet of Things (IoT) - According to estimation, "by 2025 the global worth of IoT tech is projected at $6.2 trillion." Our experts will assist you to create smart apps that seamlessly interact with IoT devices
Augmented & Virtual Reality (AR/VR) - "In 2023 Augmented and Virtual Reality Eyeglasses Market will be driven by the low cost of devices and increasing technological user base during the forecast period." We build scalable AR/VR app solutions that refine the user experience.
UI/UX Solutions - Our mobile experts will assist you to create professional UI/UX solutions that not only improve your customer's experience but also enhance your digital presence.
Performance & Scalability - We will enlighten you with the insider's guide to build high-performance mobile applications that ensure substantial growth in your business.
Security - TechAhead values your guard and have brought the best security practices to ensure complete safety & security to your applications.
Compliances - We deliver highly secured mobile app solutions meeting highest compliance standards - HIPAA & GDPR that provides risk mitigation.
Apart from this, we will share our success stories that how we have transformed many app ideas into the leading apps and let our clients grow their business. Her attendees will get App Security, App Performance, and App UI/UX consultancy Worth $2000 for FREE.
We are excited to meet you and help you to grow your business through our future mobile development solutions.
Day 1 Highlights (Sept 12, 2018)
It is apt that "A day ending with a clean conscience and dirty hands was a day well spent!"
Day 1 at #MWCA18 was well spent. It was an outstandingly fantastic experience to connect with enthusiastic and tech-savvy people. We have interacted with many entrepreneurs and assisted them in exploring future mobility solutions that are customized to their business requirements. The crowd has actively participated in the event and was excited to explore the best-in-class mobile innovations. The ambiance reflected that people are more concerned to make mobile future better and take mobile innovations beyond the level of their imagination.
Along with this, we have also addressed the few latest mobile solutions including IoT and AR/VR. We have supported our demo sessions with our case studies that reflected that how we have helped our clients to grow their business, get funded, and get millions of apps downloaded. The Day 1 was well spent and closed with the closing remarks session.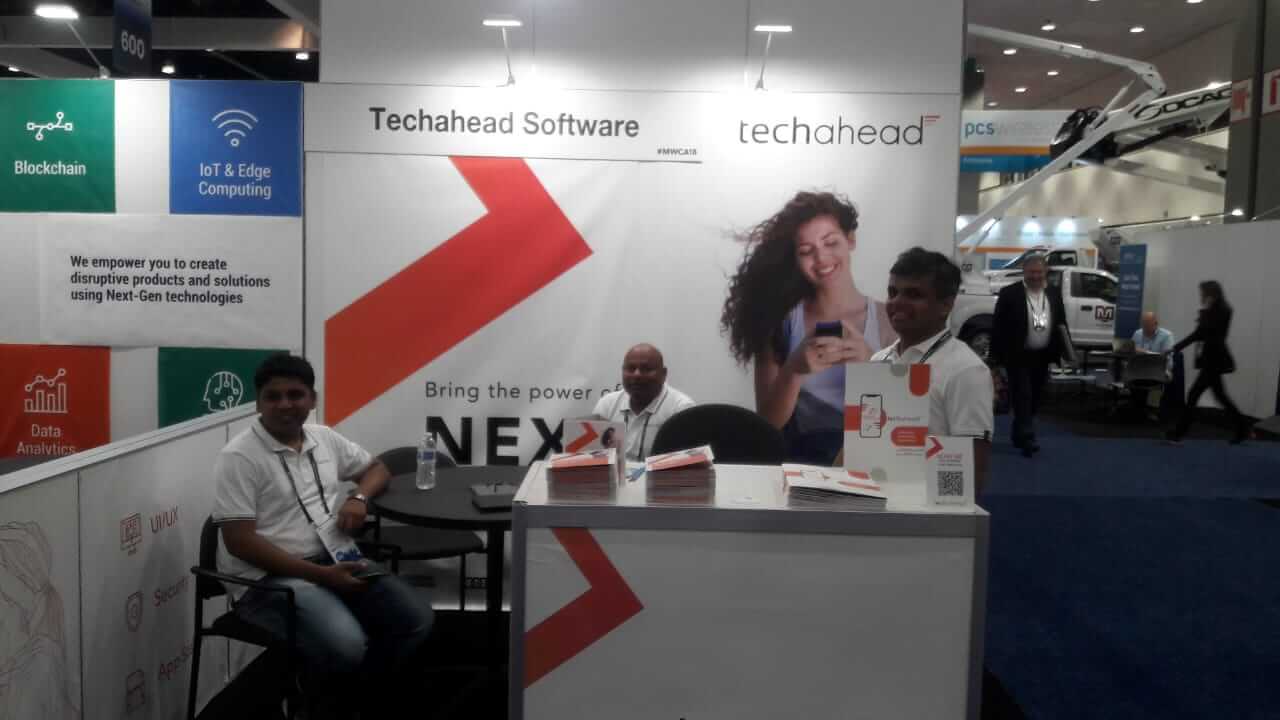 Furthermore, we will proceed to Day 2 with that same excitement to meet you and help you to grow your business through our future mobile development solutions.
For latest updates & News about MWC Americas 2018 stay tuned with us...