Mobile apps have a significant impact on our lives - how we make hotel searches for our next trip, compare for the best prices of hotel rooms, check for last-minute deals to get the lowest price. In the year 2019, 204 billion mobile apps were downloaded worldwide and there were 3.2 billion smartphone users. This fairly means, on average, there are 63 mobile apps on every smartphone.
We all know that COVID-19 has impacted many industries. One of the most impacted industries is hospitality. After almost 4-5 months of complete lockdown, hotels are now opening up. And with the unlocking of hotels, US hotels are witnessing a slow rise in the occupancy rates.
In the previous blog we talked about how hotel apps are transforming the hospitality industry, we highlighted the fact that COVID will change the mindset of a traveler and hotel mobile apps will act as a significant medium between a traveler and a hotel in the post-COVID-19 world.
We already shared our insights on how mobile apps can increase hotel occupancy and how mobile apps can boost hotel staff productivity. Now let's take a look at what interactive features can you add to a hotel mobile app to engage and retain guests and how hospitality giants are attracting more and more guests with the use of Mobile apps like Hilton Honors, Marriott Bonvoy, and World of Hyatt.
Front desk manager within the hotel app
70% of travelers book hotels using their mobile phones. And according to a study, a 60% rise in mobile travel bookings is expected by 2021. At this point, when travelers plan, research, and book hotels through mobile, it is a great opportunity to introduce the front desk in your hotel app. You can provide guests with the in-app check-in and check-out feature.
You can showcase exclusive in-hotel deals specifically designed to interest guests so that they are motivated to use all the in-hotel services like restaurants, shopping arcade, spas, concierge, and so on.
Take a close look at this survey results by Hospitality Net that shows the top things travelers want from a hotel app. A mobile front desk is leading the list, and that's how it's one of the best ways to increase convenience and enhance the customer experience.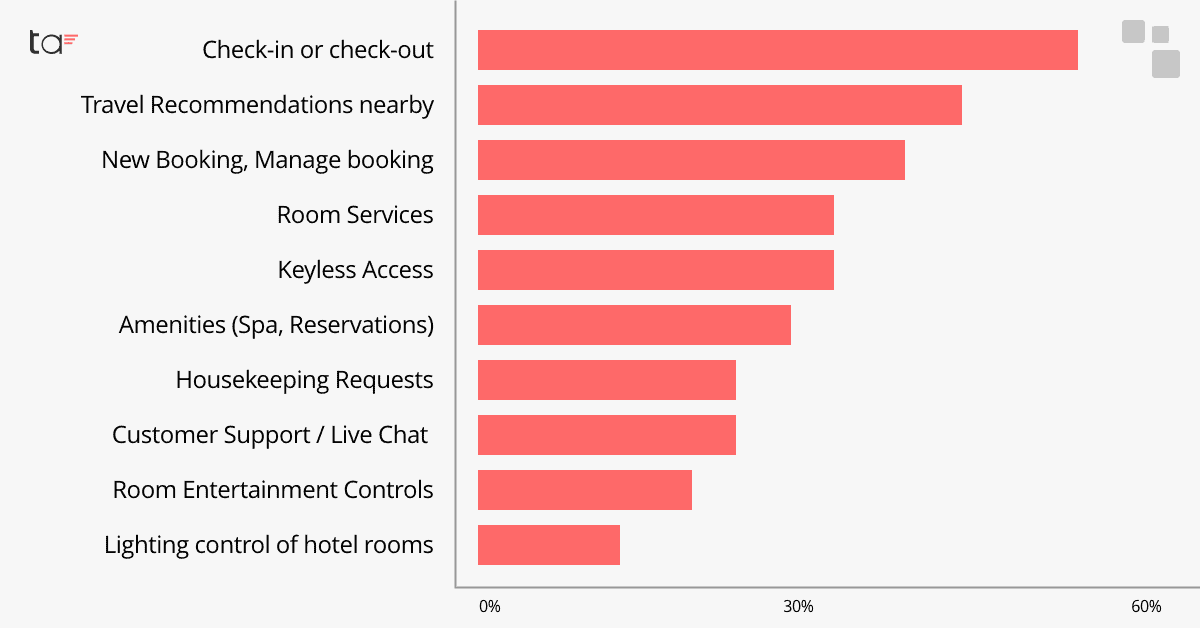 Make your hotel app a local guide to the guests
Every traveler requires a little bit of guidance. Offer that guidance to your guests through your app. Add a feature to your app that expertly keeps a guest informed about local attractions.
Furthermore, based on the rating and distance, the app can also provide a list of places to eat, places to go for shopping, and other local events and the most relevant things to do. You can also integrate local transport suggestions when a guest enters a destination. Create a city map referring to apps like Citymapper.
Enable guests to communicate in their own language within your hotel app
Not every traveler will speak your language. So allow your guests to communicate seamlessly with a language detector and converter feature. Mobile apps can translate messages back and forth.
Therefore when a guest sends a message, for example, in Spanish, the manager will receive the message in English, and then the reply can be translated back to Spanish. This ensures that all the inquiries or special requests are communicated well despite the language barrier.
The best hotel app keeps its guests informed
Your app can be a one-stop solution to all the problems or questions your guest has. Having this feature is a smart idea especially post COVID-19 because travelers would ensure their safety and hygiene before booking your hotel. And a hotel app can provide the details of the sanitation process and all other measures that your hotel is taking against COVID-19.
A mobile app can ensure smooth communication between guests and hotel staff
All hotel rooms have landlines for in-hotel communication purposes. What could possibly go wrong when a guest uses the landline to request a service? "Unavailability of the staff member near the phone", "Process could be time-consuming", "A guest cannot share his/her feedback for any service received." Using a hotel app a guest can simply request a service.
The hotel manager can further assign the task to a staff member and also share the expected wait time with the guest using the app. Furthermore, a guest can rate and provide feedback to the hotel. And by paying attention to each review hotel managers receives a chance to turn their negative feedback into positive. This way, a guest can simply enjoy hotel services and the hotel can provide a superior guest experience with the use of a mobile app.
Implement a customer loyalty program in your hotel app
The loyalty program is one of the best ways to retain customers. A traveler uses multiple hotel services during the stay. You can add a feature to your hotel app that provides points to the guests for using any hotel service and for even staying with the hotel. These points can further be converted to discounts and other exciting offers or deals.
And using the app, the guest can easily view all the available offers and keep track of his/her points. This will encourage guests to come back to your hotel to unlock all those discounted deals and level up your engagement with your customers.
Some existing top mobile apps are attracting travelers like crazy. Marriott Bonvoy Let's users earn points on booking and enable them to redeem those points on any of the 4,400 Marriott properties worldwide.
They also send a notification to the guests when their room is ready so that the guest can check-in early. With Hilton Honors guests can check-in, unlock hotel room door, and even request extra pillows for the room with a mobile app. The Accor All - Hotel booking app offers 360-degree views of hotel rooms and amenities within the app.
| Hotel Apps/Features | Online Booking | Check-In/Out | GPS | In-app Translator |
| --- | --- | --- | --- | --- |
| Marriott Bonvoy | | | | |
| World of Hyatt | | | | |
| Accor All | | | | |
| Hilton Honors | | | | |
| Premier Inn Hotels | | | | |
Final Words
Hotels are now looking out for ways to recover from the losses incurred by COVID 19. One of the most helpful technique is to introduce technology for the smooth functioning of the hotel.
For feature-rich hotel mobile app development, talk to our experts!
As Hilton CEO Said, "comeback of hotels depends on how quickly contactless tech features roll out. And one of the best ways to come back is to go mobile and build the best hotel app to engage guests.