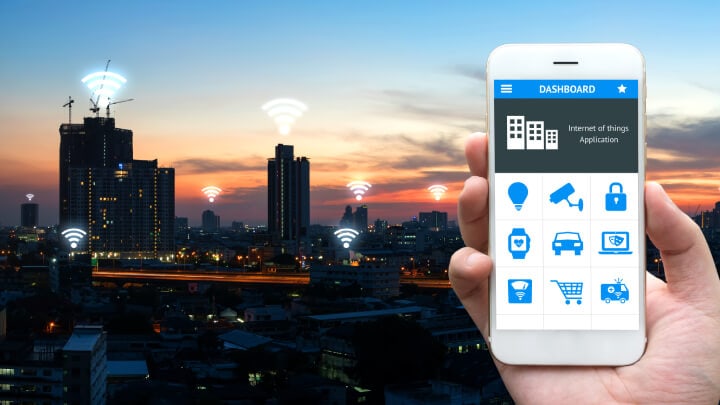 Internet of Things (IoT) is an ecosystem of interlinked physical objects that are reachable through the internet. 'Thing' in IoT can be described as an individual with a heart monitor or a vehicle that comprises of sensors. It can be an object with an IP assigned and with the capability to gather and transmit data over a web network without manual support or involvement.
Statistics and Facts
According to the studies and, By the end of the year 2020, there will be 20.4 Billion IoT devices. Also, by 2020 there will be almost 90% increase in the autonomous vehicles and most of them will have internet connections.
The increase in IoT devices is increasing every second and many companies could invest up to $15 Trillion by the end of 2025. This increase in IoT devices would not be specific to the technology industry. The horizon will expand into service, healthcare, and many other bigger markets.
One of the major facts about the IoT industry expanding is the use of devices not only affecting the businesses but also the personal usage of devices by individuals. Where 94% of businesses have registered higher ROI with the presence of IoT usage, the global smart home market would also touch $490 Billion by the end of the year 2020. IoT expansion and development would also result in job opportunities for the years to come.
Home Automation IoT Devices
Here is the list of some home automation IoT devices:
Amazon Dash was a customer merchandise ordering service that used a brand-named device to order goods on the Internet. It had to be connected to Wi-Fi and used to order household items like paper towels etc. As on March 1, 2019, Amazon discontinued the series.
With August Doorbell Cam you can control and monitor your home from anywhere with their locks and doorbell cameras. With two-level encryption and use of Bluetooth Energy (BLE) technology encryption, as well as an added encryption mode to keep your homes extra safe.
Awair is an air purifier that tracks unseen dust and substances in your air and gives you tailored advice to help you stay safe and healthy.
Now known as Wemo, it is a product from Belkin that allows users to handle home electronics remotely. The product line includes plugs, motion sensors, light switches, mobile apps, cameras, and a light bulb.
You can use the Canary app to watch live from anyplace at any time. It connects your phone to your home with HD quality video, 24/7.
The Chamberlain MyQ is a garage-door opener. It is one of the most reasonably priced, smart, and one of the easiest to connect and install. The MyQ kit is made up of two main components; a base station attached to the ceiling and a sensor unit.
Cinder is a grill that allows high-end slow-cooking water bath approach used by chefs in a restaurant. It's a countertop grill that connects you to your smartphone to make cooking easy and fast compared to traditional cooking.
It is a smart-key system. The system comprises of a 10-gram device that is located on a key chain, a purse, inside a car, etc. Then it communicates with the app on an iOS device. If it is set for keys, the app alerts the user within a distance of 10 meters, indicating that they may have forgotten the keys.
Eversense
Continuous blood glucose monitoring up to 90 days with a sensor placed under-the-skin. It is detachable and can be recharged with a smart transmitter, Helpful for day to day monitoring and managing of diabetes.
It helps connect appliances and keeps you informed when about what are the appliances doing, wherever you are like a notification when the filter needs changing, schedule hot water for morning coffee, etc.
Control the heating control and detection of water leakage at home remotely with the Home app via smartphones or tablets.
This oven recognizes foods than its previous versions with a new advance built-in camera and software. It connects to the Wi-Fi countertop appliance and has various cooking lists that make small changes to the settings to prepare food exactly the way you like it.
Smart Vents is an institution of a foundation for the Keen Zoning System. It intelligently opens and closes based on specific and distinctive room temperature preferences set in the Home app.
Controls the key features of LG home appliances from your smartphone. Supports characteristics like notifying if the refrigerator door is left open accidentally, finished the washer cycle or turning on the air conditioning remotely, etc.
Make a perfect coffee with your smartphone. Controlled brewing, the coffee time set up at your desired schedule, and available for both android and iOS devices.
A wireless lighting system that allows you to conveniently control your lights for the desired ambiance for every instant.
Industrial IoT Devices
Here is the list of some industrial IoT devices:
Health Care/Fitness IoT Devices
Here is the list of some Healthcare/Fitness IoT devices:
Development Boards IoT Devices
Here is the list of development boards IoT devices:
It comprises of a physical circuit board (microcontroller) and software, or Integrated Development Environment that works on the computer. It is an open-source platform with flexible usage mostly designed for artists and hobbyists.
BeagleBoard
A USB key fob computer system at a low cost with a sleek design and a very simple to use interface. Used widely by online educators and open for your tear down imagination.
A solutions portfolio with a new product with its ultra-low-power PSoC 6 microcontroller (MCU). It helps the expanding need for computing and storage along with solving the connectivity problems.
A retired product that offers a mini Express slot. This helps connect components like SIM card adapters, Bluetooth, etc.
OpenMote is a low powered board that helps create or develop IoT apps in the industrial space. An open-hardware ecosystem prototyping software and operates with dual-radio operations.
Known for their commercial hardware boards with a wide range of network boards. They also provide their software solutions to adapt their products to different other projects.
Virtual Reality (VR) and Augmented Reality (AR) IoT Devices
Here is the list of Virtual Reality (VR) and Augmented Reality (AR) IoT devices:
Miscellaneous IoT Devices
Here is the list of miscellaneous IoT devices:
Technologies used in IoT Devices
A key aspect when planning IoT networks is the topology of the systems. There are two major types of networks that are used to design IoT related networks: Mesh and Star.
All nodes connect to one main node in a star network topology, that works as a gateway to the Internet. A common Wi-fi network is used where the central node is known as the access point and the connected nodes known as stations. Star networks are considered by large data block transfer, quick time to react and fast interconnect speeds. A star network uses Bluetooth and supports only a limited number of nodes.
Mesh networks help with multiple internal paths for efforts, require very little power to communicate and compute and can easily add nodes. Therefore, these are comparatively inexpensive to create, highly mountable and extremely redundant.
Advantages of IoT Devices
Least human effort because IoT communicates with one another and does most of the tasks for us.
It saves a lot of time as it lessens human efforts.
It improves various security aspects due to the interconnection of the devices and platforms together.
Optimum use of resources once the user knows the functionality of each device.
One of the top advantages of IoT is saving money. If the price of the category and monitoring device is less than the amount saved, then the IoT will be very widely adopted technology worldwide.
Disadvantages of IoT Devices
Due to the interconnection, security measures might become trouble and lead to network attacks.
Privacy might get attacked even when the active participation of the user is less. The IoT system gathers substantial personal data with maximum details.
The designing, maintenance, and development of an IoT device is quite a complex process.
Conclusion
With such a wide knowledge of IoT devices, the technology used and the positive and negative aspects of having them in the day to day lives would help you with expert information required in the year 2020.