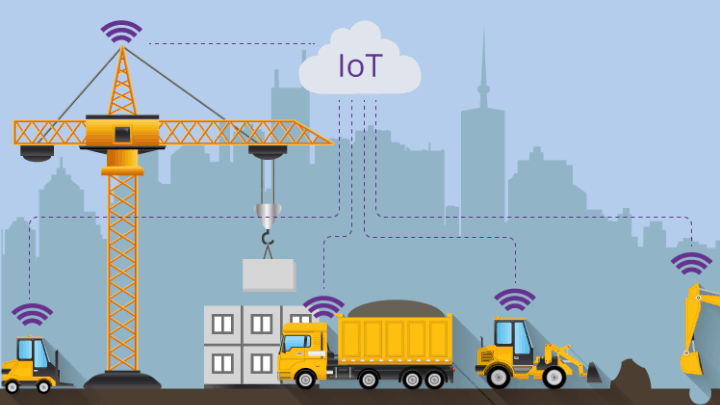 Impact of IoT Driven Innovations in the Construction Industry
The construction industry is one of the oldest businesses that humans developed. Effectively all other industries rely on the construction to create their infrastructure and architecture. It is a determinant of how and where people live and work. In the United States, on average, people spend approximately 90% of their time indoors, as per EPA Report.
Even after being so vital and impactful in our daily lives, the construction industry has been comparatively slower than various other sectors to embrace modern technology. It is only now beginning to undergo a much-required modern transformation.
The modernization of the construction industry is one of the major opportunities for investors, innovators, thought leaders, and professionals. Today architecture, urban planning, and designing are some of the most promising areas that can impact the economic and environmental future of humanity. With the increasing digitalization of human interactions and exponential reduction of the timeframe at which people are adopting new technologies, we can expect swift unfolding of the fourth Industrial Revolution.
According to Global Construction 2030 PWC, the volume of construction output will grow by 85% to $15.5 trillion worldwide by 2030, with three countries – China, U.S. and India leading the way and accounting for 57% of all global growth.
Architects and builders are changing the way they think about designing and building cities by utilizing multiple aspects of IoT app development. Technologies like AI, 3D Printing, Robotics, Big Data, and Virtual Reality are being used to bring in the revolution in the construction industry.
IoT is being used to solve issues at various levels, from complex multifactorial issues to uncomplicated design alterations. Here are the details about some of the applications of IoT in the construction industry.
How IoT is transforming the construction industry
When it comes to IoT, it may be easier to describe by what it doesn't do, rather than what it does. The range of IoT applications is vast. When a machine or a system gets connected to the internet, then it becomes part of a bigger network. Then the only limit in finding uses for this system is our imagination. Here we will read about some of the most impactful IoT driven innovations and applications in the construction industry:
Site Monitoring
Construction sites are enormous and relying solely on manual security isn't feasible or practical. IoT security strategy for a construction site can work on preventing intrusion and quick detection as well as recovery from unwanted activities. Autonomous vehicles and UAVs (Unmanned Aerial Vehicles) are being preferred for site monitoring. UAVs like drones are appropriate for monitoring and surveillance of vast spaces. These drones can gather accurate aerial images and survey maps of a site. Additionally, it can also be used to track the progress of the construction project remotely. Aerial images have been found useful not only to monitor but also to recognize any potential problem that may not have been apparent from the ground.
Manual monitoring of location and condition of heavy tools and equipment at the construction site is prone to human error and takes a lot of time. Attaching IoT enabled tracker to such assets provides higher accuracy and convenience. The data collected from these trackers are easily actionable and dependable. Cloud-based data and real-time tracking help in the reduction of theft and increasing productivity. The great part about IoT is that even they are cost-effective even for smaller sites and short-term projects. These IoT enabled machines, devices, and robots are precise, convenient and economically beneficial.
Machine Control
Many heavy machines are involved in construction work and these machines are operated by humans. This task can further be simplified through IoT. The construction procedure can become efficient and autonomous. With sensors, these machines can work even more precisely and with minimal human effort. Equipment condition and maintenance related information can also be monitored continuously by using IoT sensors. This can prevent unexpected breakdowns or flaws in quality. IoT driven machines can make construction time shorter without discounting the quality.
Construction Safety
Everyone from the government to the owners, managers, and workers, people at every level, are concerned about the safety of people at the construction site. These sites have many safety measures, yet they are among one of the riskiest working environments. IoT has invented impactful tools and technologies. It can help in improving the safety provisions at construction sites.
Wearable tech gears are no more limited to the fitness industry. They have created a valuable spot for themselves in the construction industry. These gears offer ample benefits, including labor tracking and safety. These gears can help with counting and locating personnel. It can also send safety alerts as per the requirement, keep a check on their health like pulse rate, etcetera. For example, air quality sensors can send safety alerts to workers before they enter in a dangerous environment. IoT can not only predict construction site issues but can also prevent hazards.
Augmented Reality (AR)
Augmented Reality is an extremely popular application of IoT. It has already displayed great results in many industries. The construction industry has been using it for some time now. In AR, 3D models are created and combined with all building data. Users can wear an AR device and then they get to experience it in real-time.
This tool has improved efficiency, safety, collaboration and overall returns on a project. It is being used for numerous reasons at various stages of a project. The most common applications of AR in the construction industry include project planning, automated measurements, project modification, onsite project information, team collaboration, and safety training.
With the help of Augmented Reality, it is possible to generate 3D models directly on a 2D plan. Companies can use 3D modeling software along with building information modeling to produce interactive models of building projects and present them to the clients. This allows builders to get clients involved early in the process.
By using this technology, teams can organize presentations, discuss and examine every detail of the project. They can make changes before it becomes expensive to alter. This allows them to make changes before the execution, avoid delays and save money.
The application of AR is not only limited to pre-execution. During the construction, AR gears can be used to measure the physical aspects of a project like height, width, and depth. This helps project managers to find any inconsistencies or inaccuracies in the structure and adjust them to prevent any future issues.
Another vital use of AR is in safety training. As we all know, safety in the construction industry is one of the major and expensive concerns. With AR and BIM, labor gets to train by simply using a headgear. They can be trained for drills and other safety scenarios. They can also be trained to use equipment like boom lifts and cranes.
Building Information Modelling (BIM)
BIM is a process involving an intelligent model of a building. A BIM software allows an engineer to create a structure digitally before building it physically. This helps them in understanding all the physical as well as functional aspects of the construction. Builders, engineers and project managers often face multiple challenges due to budget constraints, limited labor, conflicting requests, and deadlines. This software helps them in detecting issues in the initial stages and locate the discrepancies accurately.
BIM is a process involving intelligent modeling of a building. It can help engineers in forecasting or assessing the impact of various conditions and climate on the building or structure. For example, the bending of a bridge under the weight of heavy traffic, or the effect of a mild earthquake on the tower and so on.
Green Buildings Movement
Optimum incorporation of sustainable architecture and construction create green buildings. This movement is not just about keeping construction material out of the landfills, but it also allows buildings and its residents to reduce their carbon footprint. With the help of IoT, buildings are engineered to automatically shut down unnecessary systems when they are not in use. Also, creating energy for sufficient buildings is an upcoming trend in the construction industry.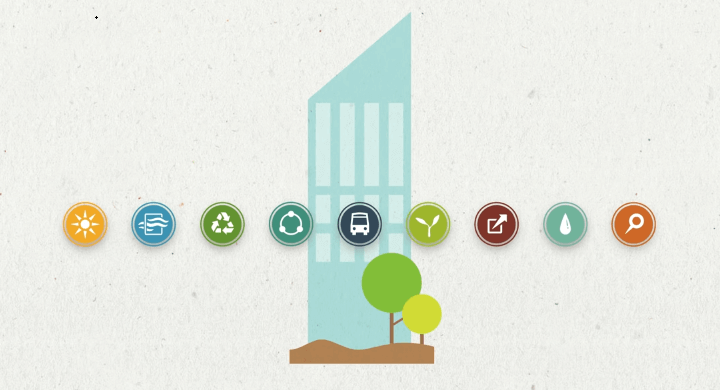 Green buildings are constructed to function at optimal energy levels. They are created with the ability to detect malfunction or degradation signs of machines with effective measurement and verification processes and tools. This further impacts the layout of the buildings. By integrating intelligent building management systems, people can control the entire process remotely. Also, the indoor and outdoor environment is always detected to give the best possible results for temperature, lighting, ventilation and security reasons. This technology enables companies and clients to be eco-friendly and resource-efficient.
Advantages of applying IoT in the construction industry
Apart from using IoT for applications mentioned above, several builders and construction companies are using mobile applications to improve efficiency, enhance safety, access real-time data, increase mobility and save time. Here are some advantages of IoT in the construction industry:
Enhanced Productivity
Deadlines and targets are the two main components of the construction industry. If a company wants to keep itself in profit and avoid unnecessary expenses, then avoiding backlogs and minimizing redundancies are essential. With the help of IoT technologies like AI and BIM, one can predict and detect hurdles before they become issues. Machines and UAVs can minimize some of the manual labor and eliminate the chances of human errors.
Effective Maintenance
Automatic alerts about machine degradation or malfunctioning can help in reducing maintenance delays and expenses. With proper care and servicing the equipment will work for a longer duration and with higher efficiency. With the availability of real-time data, companies have access to the status of every asset and it's easier to turn-off idle equipment, which results in saving fuel and energy.
Due to IoT, the role of equipment suppliers has evolved into the role of equipment partner. They are now responsible for proving as well as supporting the maintenance of the machines. This allows the client or construction company to just focus on the project and business.
Economic Efficiency
Using IoT in construction will reap great benefits. It will reduce construction costs, save the environment and help the economy in general by minimizing expensive errors and worksite injuries. Construction companies need to prioritize investing in areas where IoT can have the maximum impact as per their unique needs. With increasing awareness and utilization of IoT, profound changes are already visible, though more remains to be done.
Are you thinking of using the IoT in your next project?
If you want to make your operations effective, your construction site safe and minimize the schedule delays, then TechAhead can help you create a custom mobile app as per your business needs. We have experience in creating multiple field automation and construction management apps. Our clients have successfully utilized the benefits of IoT by using those apps.
TechAhead, a leading mobile application development company is known to deliver high quality mobile apps for all platforms and frameworks. Contact our experts now to take your business to the next level.