You're a real estate agent. You know that it's a tough industry, but what if there was a way to make it a little bit easier?  There are many real estate apps for agents that can help an agent with lead generation, video editing, expense tracking, and open house management. Using the right tools can help you streamline listings and closings by optimizing your marketing and simplifying transactions.
It only takes a few minutes in order to download the app to your phone and start using it, giving you a leg up on the competition. Plus, many of them out there are free or relatively affordable. Let's take a look at 7 apps that you can download to your phone in order to make the world of real estate an easier one for you today:
7 best real estate apps for agents and brokers


1) Grasshopper
Agents/brokerages mainly use Grasshopper to set up multiple phone numbers for different marketing campaigns that they can access from one easy to use the app on their phones and desktop. Having the ability of a vanity business number makes it easier for potential clients to remember you, especially if you have a number that's catchy or that has a local area code.
Grasshopper also offers virtual faxing, separate lines and extensions, Wi-Fi calling and more. Think about a corporate phone system that is shrunk down to fit in your cell phone. Grasshopper allows you to choose your number for between $26 and $80.
Get the Grasshopper App: (iOS | Android)
2) BombBomb
Realtors can use the app to shoot, edit, and send out videos to their leads, clients, farm, and sphere. In other words, anything that you can say in an email or text, you can also say with BombBomb in order to make a more personal connection with your target market.
For example, you might decide to film a preview of a new listing and send it right to your email list. This app allows you to interact with those you converse with using a personalized touch. It offers a much higher reply rate than if you were to use regular email.
Get the BombBomb App: (iOS | Android)
3) Open Home Pro
This iPhone app helps agents with lead management. It captures leads and sends personalized follow up emails with your contact information. The platform has served over 90,000 real estate agents and sends out a list of hot leads that have a home to sell or that don't have an agent so that you know where to focus your time.
Another beneficial feature: social sharing if you're an agent trying to generate traffic to your website or social media channels.


Get Open Home Pro: (iOS | Android)
4) Spotio
This marketing app was developed by real estate agents themselves. With this app, you can access both addresses and contacts with the touch of a button. The app also allows you to export information into PDF or excel sheets.
Spotio centralizes activity in order to increase revenue and close more deals. Pricing for Spotio begins at $39/month.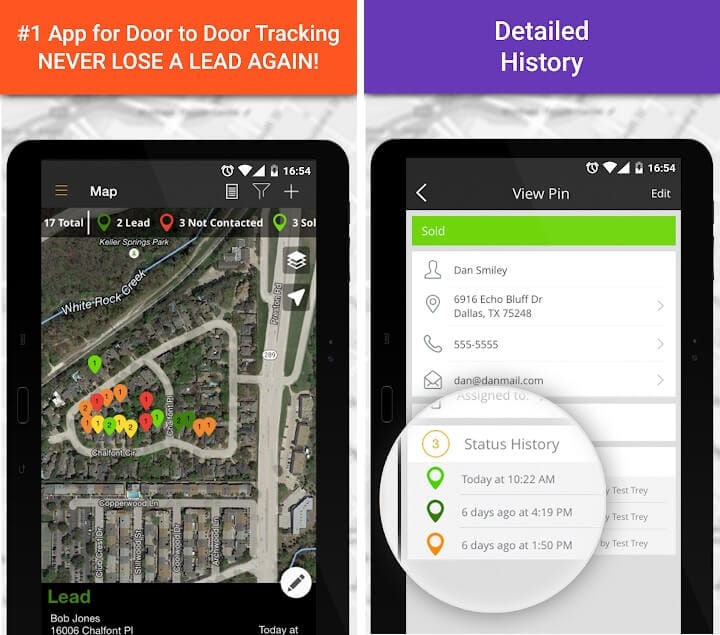 Get Spotio App: (iOS | Android)
5) Dotloop
This app can help real estate agents with productivity optimization, task management, and online transactions. It allows users to collaborate at every stage of a transaction using its form creation, e-signature, and storage capabilities. It also allows brokers to access transactions from any device.
Dotloop offers a free and paid option. The free option includes tracking for up to 10 transactions, while their premium version costs just $29 per month, which includes an unlimited number of transactions.

Get Dotloop App: (iOS | Android)
6) DocuSign
With DocuSign, you can eliminate the hassle of getting signatures from clients by signing documents on the go. DocuSign offers a faster turnaround time versus a paper signing process by an average of 9 days.
With DocuSign, there is no limit on the number of documents that you can fill out or sign. With more than 200 million users, DocuSign is the industry leader in electronic signature software.

Get the DocuSign App: (iOS | Android)
8) RPR Mobile
The RPR Mobile app allows agents to view market statistics, search properties, and more. It provides on the go access to a nationwide database of both residential and commercial properties. The platform can also provide agents with school attendance zones, flood maps, demographics, and other data. Best of all, RPR lets you create "mini-reports" that you can send to new clients.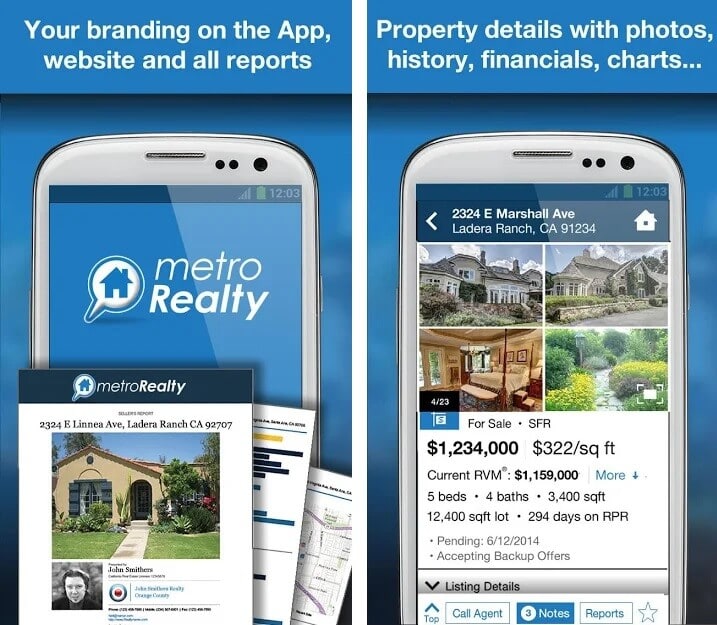 Get the RPR Mobile App: (iOS | Android)
Final Words
While these are just 7 of the available real estate apps for agents out there, there are a ton of others that exist specifically designed to aid estate agents in order to simplify things for them. Technology has improved remarkably and has come so far that it can provide a technological advantage to realtors that didn't exist a decade ago.
If you want to build a successful client base in an easier fashion in the real estate sector, implementing just a few of these apps will aid you in doing just that. A real estate agent will be able to reach a level of success in less time and doing less work than they ever thought possible.
TechAhead, a leading mobile app development company is known to deliver high quality mobile apps for all platforms and frameworks. Contact our experts now to take your business to the next level.