Smart Kitchen Devices to Help Users Simplify Their Lives
King Arthur, America's oldest flour company, sold almost 1 million bags of high protein bread flour in March 2020 — the first month of lockdown due to the COVID-19 pandemic — which was an increase of 287% from previous year over the same time period. It was also almost 82% increase over its average sales during September and October — America's busiest months for baking.
As people were stuck at home due to the lockdown, grocery items were in short supply all over the world. Few British companies also reported working 24X7 to meet customers' demands. Even though the demand has more or less stabilized over the past couple of weeks globally, as countries reopen gradually, people are still spending greater time at home and in their kitchens.
As more and more Americans take to cooking, they also realize their cooking skills are not at par. They have turned to technology to help them out. And it's not just cooking skills they are looking for, but KitchenAid to ease the whole process. Thankfully, there are many smart kitchen appliances available to assist in everything from preparation to cooking to serving food appetizingly.
Let's look at some of these gadgets that are making the lives of the new age cooks easier:
Smart Ovens
With baking becoming the Americans' new national pastime, the smart oven is the first one on our list. Smart ovens make cooking and baking a completely different experience as compared to your mom's kitchen that you grew up in. You can not only remotely control your oven but also send all the recipe details straight to it.
Once you have put in the ingredients, you do not need to linger around to set instructions at every step. You can do this from the comfort of your living room using a smartphone as you are alerted after each step finishes. Some smart oven takes all the cooking instructions at one go, and all you need to do is monitor the progress.
Smart ovens from Bosch is a good option as it partners with many providers for a wide range of functions. If you are using Home Connect Bosch appliances, they can be interconnected as well.
And GE smart ovens connects to Alexa, so you can voice command your way to delicious food.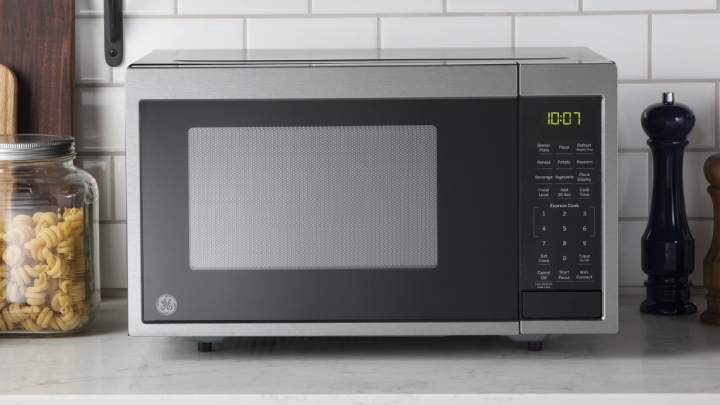 Smart Refrigerator
How many times have you stopped by the supermarket on your way back from office only to realize you are not sure whether you need to stock up on some of the items. With a smart refrigerator at home, you can bid goodbye to this problem forever.
A smart fridge has cameras and scanners that record the updated stock level of each item. After consulting the stock level on your smartphone, you can decide which items need to be replenished.
If you have a Samsung four-door refrigerator with Family Hub, its proprietary voice assistant, life couldn't be easier. You can even configure your smart fridge to send alerts to the grocery store when critical items like milk and eggs are out of stock.
But if you have a good refrigerator you don't want to replace, a smart camera attached to the top rack of the refrigerator should do the trick.
Smart coffee maker
With a smart coffee maker, you do not need to get up from your sofa to make a cup of deliciously aromatic coffee. Just open the smartphone app for the coffee maker and press a couple of buttons to start brewing the cuppa. And it can brew up to 12 cups at one go, so there is no need to worry if you are entertaining. You can even place an order from the app when the coffee capsule supply starts depleting.
Automatic hand soap dispenser
Hand washing is the only sure-shot way of keeping ourselves devoid of viruses and bacteria that stick to them when we touch a contaminated item. This has become even more evident during the current pandemic. An automatic soap dispenser that enables you to wash hands before and after cooking, without touching, seems the perfect way of keeping safe.
The moment you put your hands below the nozzle, the sensor gets to work and starts dispensing the soap. The best part of this appliance is that it does not even need an internet connection to operate.
Precision cooker / Slow Cooker 
If you enjoy making restaurant standard dishes at home, a smart precision cooker for sous vide cooking is a must. Smart Precision cooker controls temperature without your intervention and you will never overcook your food.
Smart precision cookers like ANOVA or slow cooker from Instant pot maintains the standard temperature around the pot once you set the desired temperature and duration.
Wi-Fi air fryer
Air fryers are healthy, but are they easy to use? With a smart wi fi air fryer in your kitchen, you will find it a breeze to cook meals. Even after a busy day at the office. Put in the ingredients before leaving and use the smartphone app to start the frying whenever you are ready to head home. The aroma of freshly cooked dinner will greet you when you enter.
Kitchen thermometer
The temperature at which food cooks determines its taste. Temperature is something that cannot be guesstimated like may be ingredients, cooking time, etc. Most smart thermometers are easy to understand and use.
They connect with your smartphone to give a quick reading and additional information. You don't need to stand watch over the batch of bacon frying. Cooking time can also be added so that the thermometer sends alerts to your smartphone when the time is up.
Smart scale
Cooking may not be rocket science but it definitely is science. Using appropriate quantities of all ingredients makes a better tasting dish. Smart cooking scales help you in measuring the portions exactly and turning out really mean dishes for your family and friends.
Many smart scales come with a calorie counter, which tells you the number of calories the food item being weighed contains. This also helps in calculating the number of calories the cooked food would have. Etekcity is one of the companies that have a wide range of smart scales for you to choose from.
Smart personal blender
If your new year resolution was to eat healthier, a smart personal blender can go a long way in not only making healthy smoothies but also tracking the calories and nutrients intake. A wide range of smart blenders from Nutribullet ensures healthy blending not just for you but for your whole family. Its smartphone app can update ingredients in your grocery list as well.
Smart wastebasket
How many times have you thrown a can of beans in the wastebasket meaning to update the grocery list but forgotten? More than you care to confess, I am sure. A smart wastebasket scans all the empty cans and cartons you throw and updates your grocery list.
Smart grill
With smart grills, you can light a barbecue right on your kitchen counter!! It will maintain a temperature equivalent to that in a barbecue grill so that your meat is grilled to perfection and tastes as good.
Why you should use smart kitchen appliances?
Smart home devices can make your life easier, reduce waste, save energy, create a shopping list, and cook healthy meals. If the Internet of Things (IoT) app development is changing so many aspects of our life, computer from smart cities and smart industries to healthcare, why not our kitchens. After all, the kitchen is the life of every home.