Online shopping is the most splendid trend followed today by millions of mobile users worldwide. Right from shopping for a wedding outfit to buy a popular mobile app, a single tap does it all in the fraction of a second. We are in the last week of November and that means Black Friday and Cyber Monday are just around the corner. The festive season tempts us to splurge on shopping. But we must stick to our budget. So, this Black Friday, let's shop smart for family, friends and even for yourself.
How?
What if we tell you that you can shop online and earn huge cashback or discount coupons that you can redeem on your next purchase? Enjoy great deals; earn heavy cashback, coupons, and rewards in return for your shopping.
Most Popular Black Friday apps for online deals and shopping
Here, we have got you covered with the list of must-install Black Friday apps to save huge bucks on a big shopping weekend. Let's have an insight into popular Black Friday apps:
Mint
Mint is a free finance mobile app that integrates simple to use financial planning and expense tracking tools. It brings all your bills and accounts together to enable you to manage your finances conveniently right from an interactive dashboard. At a glance preview of all your finances helps to prepare an organized budget. The app provides access to unlimited free credit score and allows you to plan ahead for bills and other payments. Sign in to Mint to earn credits and create a feasible budget that you can stick to easily and efficiently.
Key Features
View all your finances in one place.
Secure and easy-to-use app.
Provides recommendations for a healthy financial lifestyle.
It syncs your financial data automatically.
Flipp
If you are a shopping diva and look around for the best deals and offers, Flipp is for you. Flipp is a free application that delivers area-specific flyers to the phone to inform you about the latest offers and discounts. It works in a few simple steps. Initially, your smartphone will auto-detect your location or ask you to fill up the ZIP code manually. Once it identifies your location, it crowds your phone with the flyers from the stores near you. Tap the flame icon available at the bottom to see the best sales info.
Key Features
Digital clipping of coupons for savings.
Users can explore shopping-related flyers released to the public on Black Friday and Cyber Monday.
Provides coupons stash that provides discounts ranging from 20% to 70% off.
Integration with many retailers' loyalty cards.
DealNews
DealNews is an app dedicated to Black Friday. It gathers deals available across retailers for you to select and shop.
Key Features
Wide coverage of deals across multiple retailers.
Provides alerts on deals.
Daily reviews by deal experts.
Gives coupons for online and in-store shopping.
Users can share deal details on social media.
Swagbucks
Shop online and get cash back at more than 1500 online retailers including Walmart, Target, and Amazon. Swagbucks is a free app that rewards SB points which you can redeem for free gift cards at Starbucks, Walmart, Amazon, and many other marketplaces. Or, you can get cashback through PayPal. The app also rewards SB points for answering surveys, watching videos or browsing the web. In simple words, you'll be buying from the normal shops you normally do, but through a Swagbutton browser extension. The reward points from different retailers may vary, but you will get exclusive coupons and deals.
Key Features
Users earn points through shopping, watching videos, and answering surveys.
The points can be redeemed for cash via PayPal and gift cards of retailers like Amazon and Walmart.
The Swagbucks Holiday Deals page lists deals from stores available for Black Friday. Users can select a store and buy to earn points.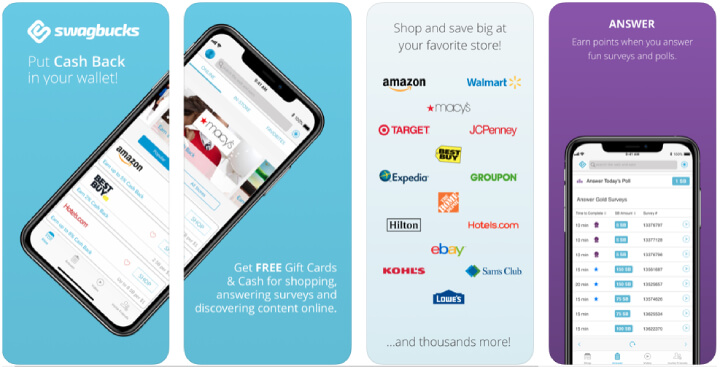 Slickdeals
Slickdeals is an app that enables users finding and sharing coupons and deals. The app is optimized to accommodate more deals and discounts to keep the pace with the approaching Black Friday season. It's a comprehensive platform that allows users to share deals across a wide range of products. You will get unique deals on Slickdeals Homepage which is regularly optimized to offer the best to its users. Deals are added to the Frontpage on the basis of customer's votes and feedbacks.
Key Features
Sends alerts on specific deals.
Offers coupons, promo codes, weekly ads, and freebies.
Members can have discussions on deals and vote on deals.
Deals are ranked based on popularity among members.
Shopular
Download Shopular to earn additional perks and discounts from top online retailers. The app shares sales highlights and special deals from location-based retailers. It enables users to redeem coupons and deals right from the phone simply and conveniently. Users can share tips and tricks for saving a huge amount of money while they shop. It allows the customer to select the deals and offers for viewing.
Key Features
Once it is downloaded on your phone, it will send push notifications on deals happening around you based on your phone's current location, provided GPS is turned on and accessible.
The homepage has a list of deals and discounts offered by numerous retailers.
You can even customize it such that you see only offers that are relevant to you.
The Coupons App
The Coupons App is a full feature-packed application that allows users to search coupons, deals and promo codes from top retailers for free. Users can search, collect and redeem coupons on their favorite clothing store or eating outlet. Not just that, the app alert users about the great savings deal on their favorite store or restaurant. The app also allows the user to grab excellent deals at gas stations. To help you save greatly on deals, the apps send calendar reminders and notify users about the coupon expiry.
Key Features
Provides real-time push notifications when you are in or near a participating retailer and it has access to your geo-location.
Alerts for your favorite retailers.
Users can integrate deals and coupons while creating their shopping lists.
Santa's Bag
What makes this app fabulous is a great user rating, no ads, hundreds of customer reviews and lots of Christmas cheers. Get greeted with Santa, a detailed breakdown of a budget as well as Christmas Day countdown. The app is extremely interactive and helps those who want to surprise their friends, family as well as near and dear ones with surprise gifts. It helps organize the gifts purchased to date while reminding those left to buy. You can import people from the contacts list of your mobile phone. With Santa's Bag, gift-giving was never so easy and organized.
Key Features
Set up lists of gifts, gift ideas, gift recipients, purchases, etc.
Set up a shopping budget and track the progress of actual spending versus budgeted spending. Tracking can be done for individual recipients and the occasion as a whole.
Ebates
Ebates is an ideal Black Friday app for those who want to save double this Black Friday season. The app gives special deals and shares commission referrals with the customers. With more than 2500 retail partners, the online revenue share model-based application offers 'double cashback' deals to the users for a limited period. Suppose, you usually get 5% cashback on an online retail store, but you will be earning 10% cashback on your next purchase with Ebates. These offers are subject to terms and conditions and deals are available for a limited period only.  After an eligible purchase, the user will earn cashback in the form of PayPal payment or check every quarter.
Key Features
Offers cashback to Rakuten members. Members can select a deal and get transferred to the retailer's website.
They are eligible for cashback on purchases.
Push notifications for new online deals.
Great coupon codes and discounts.
Rack up cash back earnings and get paid every quarter via cheque, direct deposit or Paypal Transfer.
Offers
Black Friday brings along super saving offers, and this has become the latest talk of the town. Score hundreds of offers, deals, and discounts this season and surprise your near and dear ones with extraordinary gifts to make the occasion memorable. Do not forget to check big brands like Amazon, Best Buy, Walmart, etc. to grab the big offers exclusively available online.
Link: (Web)


Black Friday Shopping with Store-specific Apps
Most retailers have apps that provide Black Friday deals to customers. Amazon, eBay, Walmart, Target, etc. have apps that offer a pleasurable shopping experience.
Install Amazon' s app on your phone to get a list of all deals for Thanksgiving, Black Friday and Cyber Monday. You can complete your purchase transaction on the app. It is available on iOS and Android for free.
Not all items on eBay are pre-loved or second hand. It is a great app to get amazing deals on unique items and hard-to-find accessories. A wide range of products from electronic gadgets to clothing to garden equipment is available. Buyers and sellers can chat online. Many people sell newly acquired goods on Cyber Monday at a lower price. Buyers can take advantage of the same. The eBay app is available for both Android and iOS as a free download.
Check out Walmart's mobile app which is iOS and Android compatible. It provides Black Friday and Cyber Monday flyer scans. Order online and collect your purchases at the store for discounts.
Target's mobile app enhances your shopping experience. It has product listings, store maps, product reviews, and a barcode scanner. It provides access to the store's coupon and deals aggregator and scans for Black Friday and Cyber Monday flyers. It is available on iOS and Android.
Final Words
Black Friday apps mentioned above will help you earn more cashback deals and heavy discounts on your online purchase. These online huge savings applications will help manage your budget, organize gift giving on special occasions such as Christmas and New Year and helps grab great deals. Though these apps are compatible to install and run over iOS and Android, several are supported on the web too. Get yourself ready for Black Friday by downloading a reliable app that suits your shopping needs.