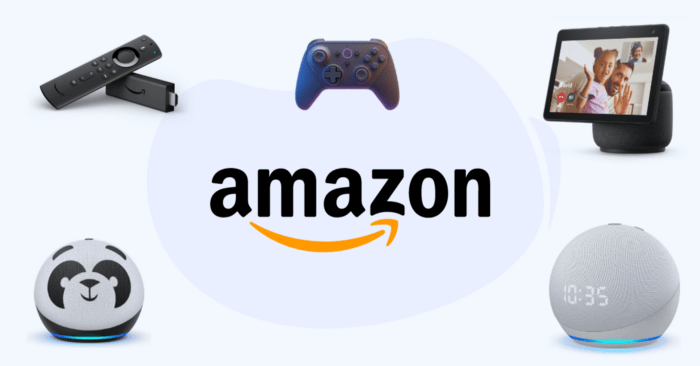 Amazon Smart Home
In an invite-only virtual event, last week, Amazon launched an array of new products that could make your smart home even smarter. Making our homes smarter seems even more relevant now, more than ever since we've all been stuck in our houses for a while.
Before we get into the exciting new launches, it is worth a while to note that Amazon Echo and Fire TV will now have sustainability badges, as the company works on cutting down power consumption throughout devices. This will be achieved through a new low-power mode, and Alexa will now be integrated with an energy dashboard.
Quick Navigation
Amazon Luna
Luna Controller
4thGen Echo, Echo Dot, Echo Dot with Clock and Echo Dot Kids Edition
Echo Show 10
Ring Car Products
Ring Always Home Cam
Fire TV Stick 2020
Summary
So, let's get started, with the exciting products Amazon launched:
Amazon Luna
Probably the only launch that doesn't directly relate to the 'home' segment. Luna is Amazon's new cloud gaming service that will start at $6 per month. This is launched on top of AWS and will work on PCs, iOS, and Fire TVs. The channel will come with a set of games, primarily from Ubisoft, for now. Luna will work with a controller that connects directly to the cloud and not the device.
Luna Controller
Priced at $50, the Luna Controller is what you'll need to control Amazon Luna, on any device. Interestingly, the controller connects directly to the cloud instead of that particular device. According to Amazon, connecting directly to the cloud reduced round trip latency by 17 milliseconds to 30 milliseconds.
4thGen Echo, Echo Dot, Echo Dot with Clock and Echo Dot Kids Edition
Yess! Amazon announced the 4 thGen Echo, that will be launched on Oct 22 nd. The new Echo comes with a spherical shape, with the LED light ring now placed at the bottom of the speaker. It comes with dual tweeters and a 3-inch woofer, along with Dolby processing that brings stereo sound along with automatic settings that adjust to the acoustics of a room. It also has Amazon's new AZ1 AI chip, that helps in greater local handling of voice.
Similar changes came to the entry level Echo Dot, as well. However, it now has a fabric cover and a better speaker than before.
The Echo Dot with Clock is a version of the new Echo Dot that comes with an LED clock on the front. The Echo Dot Kids Edition comes with kid-friendly features, settings etc.
Echo Show 10
The Echo Show 10 comes with a 10" screen that is affixed on a twirling stand. The Echo Show 10 is motorized and can turn based on the movement of the person. It tracks the body, and not the face. It comes with a 13-megapixel camera.
You can also choose to allow the camera to pan around the room whenever it detects motion, as a part of Amazon's home security system called Guard. There is also a built-in camera shutter for privacy, and there is now a command in all Echo devices that goes "delete everything I've ever said."
Ring Car Products
To be available only in the US initially, Amazon launched a bunch of new products from its security company Ring. Ring Car Alarm is a third-party alarm system that can be plugged into a car's diagnostic port. Its job is to monitor break-ins, impacts and other such events. This will alert the car owner or user through Ring app if something happens.
Another launch for the car, has been the Ring Car Cam, that is a smart dashcam which can look out for break-ins and act as an alarm. It, however, has 2 HD cameras; one faces out and one faces inside the car. The smart camera can also automatically ask for emergency help in case of a crash.
Ring Always Home Cam
Probably one of the most talked about launches, is the Ring Home Cam. This is a camera, that can fly in your house on a pre-made route or can fly following motion detection. It is essentially a drone for recording security video around a house, to alert owners in case of a break-in. The camera sits on a docket when not in use, and apparently only records videos when it's flying. It also makes a little noise when it is in motion to alert those nearby that it is recording.
According to Amazon Vice President Daniel Rausch, "Amazon's indoor drone, the Ring Always Home Cam available next year, aims to capture video where customers otherwise lack static cameras. It can show users video where an alarm has gone off."
Fire TV Stick 2020
The new Fire TV Stick is now more powerful, faster and yet uses less power. It is 50% faster and 50% more power- efficient because it is now powered by a 1.7 GHz quad-core chipset. It also comes with HDR and Dolby Atmos support.
Summary
The availability of most of these products will differ from country to country and region to region. While most of them are stated to be launched within this year, some like the Ring Always Home Cam is expected sometime in the next year. The products however, are exciting and we cannot wait to try them out. At TechAhead, we allow you to enjoy our top IoT App Development services.