Apple continues more define the digital landscape with its upcoming
iOS 17 release
, promising many exciting new features and improvements that will elevate the iOS experience to new heights. At TechAhead, we are thrilled to share this sneak peek into the latest advancements in
iOS 17
that will undoubtedly transform how we use our iPhones.
With each new iOS iteration, Apple introduces a range of cutting-edge new features and enhancements that enhance the overall user experience and open up exciting possibilities for developers and businesses. iOS 17 is no exception, as it brings many exciting improvements that will undoubtedly reshape how we utilize our iPhones.
From the enhanced privacy features that empower users to take control of their data to the
innovative widgets and Live Activities
that make our daily routines more efficient and enjoyable, iOS 17 will significantly impact how we use our devices. These updates are a testament to Apple's commitment to delivering user-centric design and functionality that sets the standard for the industry.
A Glimpse into iOS 17 Preview
Personalize Your Phone Calls
iOS 17 allows you to customize your phone calls, setting what people see when you call. This feature lets you create a personalized Contact Poster using your favorite photo or Memoji and your preferred font. This contact poster is essentially a visual representation of your contact card. Now, you can express yourself before the conversation begins, adding a personal touch to your interactions.
Live Voicemail
Live Voicemail is a revolutionary feature introduced in iOS 17, designed to transform how you interact with incoming calls. With Live Voicemail, you gain a real-time transcription of the message the caller leaves while they are speaking. As the caller leaves a voicemail, you can immediately read the transcribed message, providing instant context for the call.
Its integration with the Silence Unknown Callers feature sets Live Voicemail apart. When Silence Unknown Callers is enabled, calls from unknown numbers are routed directly to Live Voicemail without ringing your device first. This ensures you can review messages from unfamiliar callers and decide how to proceed.
Additionally, calls identified as spam by carriers are swiftly declined, further enhancing your call management experience.
A Unified Hub for your iMessage apps
iOS 17 brings a refreshing makeover to iMessage, simplifying how you access and use your favorite apps within the messaging platform. Say goodbye to hunting through various menus; now, all your iMessage apps are neatly organized in one convenient place.
The key to this enhancement is the new plus button, strategically placed to optimize your iMessage experience. By tapping this button, you gain instant access to the things you use most frequently: photos, audio messages, and location sharing. It's like having a personalized shortcut to your favorite tools, making your conversations more dynamic and engaging.
Stay Connected with 'Check In'
iOS 17 introduces 'Check In,' an innovative feature that automatically notifies a friend or family member when you safely arrive at your destination, providing peace of mind and enhancing communication.
What makes Check In app's interface even more ingenious is its continuous vigilance. If, for any reason, your progress comes to a halt, Check In will promptly reach out to you, ensuring everything is alright.
When you cannot respond, it steps in as your guardian angel, sharing crucial information with your contact. This includes details like your current location, remaining battery level, and even your iPhone's cellular service status.
Enhanced Message Search and Location sharing
Finding that important message is easier than ever with search filters in iOS 17. Combine search filters to narrow down your search quickly and efficiently, ensuring you find what you're looking for in no time. A new catch-up arrow lets you quickly jump to the first message you haven't seen in a conversation.
iOS 17 simplifies location sharing like never before. Now, you can easily share your location or request a friend's whereabouts directly from the plus button within your conversation. When someone shares their location with you, it's seamlessly integrated into your chat, providing real-time updates on their whereabouts.
Audio Message Transcription
iOS 17 introduces a game-changing improvement by automatically transcribing audio messages in real time. This means you can read the message as it's being spoken, allowing you to stay in the conversation without disturbing your surroundings. These transcriptions are saved, so you can revisit them later if needed.
Sticker Lovers Rejoice
The new stickers drawer unifies all your own stickers, Live Stickers, emoji, Memoji, and other sticker packs, making them easily accessible across your Apple devices. Create one-of-a-kind stickers using your photos app and use them in various apps and scenarios.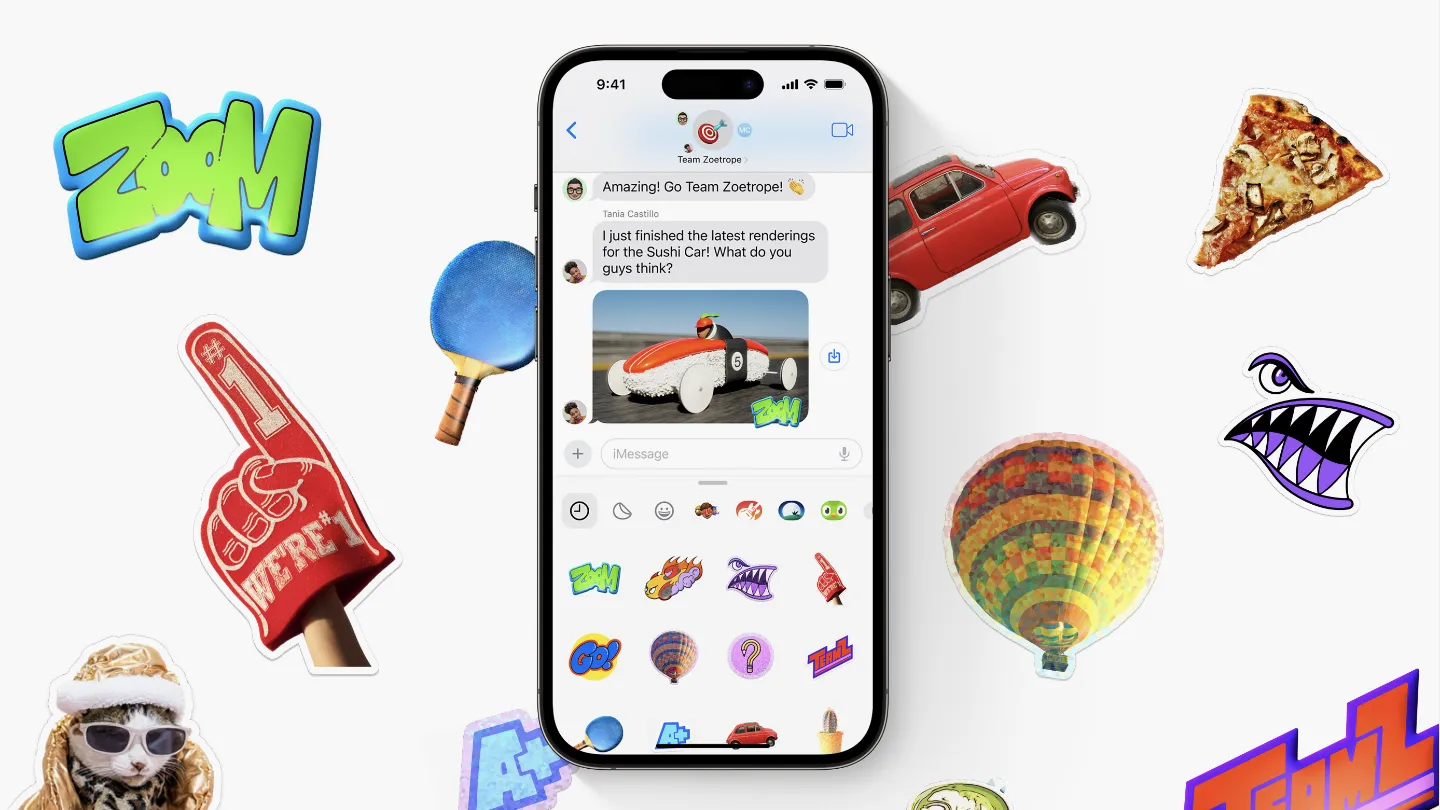 Elevate FaceTime Interactions with Video or Audio message
FaceTime app gets a boost in iOS 17 with the ability to leave a video, audio message, or message when someone misses your call. Your video or audio message can also be played on Apple Watch. Additionally, you can add fun 3D augmented reality effects during your FaceTime conversations.
FaceTime on Apple TV: A Bigger, Better Experience
iOS 17 takes FaceTime to the next level by introducing FaceTime on Apple TV. Now, you can use your iPhone as a camera and seamlessly transition your call to the big screen of your Apple TV. Whether for a family chat, a virtual party, or an important meeting, FaceTime on Apple TV enhances your FaceTime experience with convenience and elegance. Start calls directly from your Apple TV or hand them off from your iPhone.
StandBy: A New Full-Screen Experience
Turn your iPhone on its side while charging to enjoy a new full-screen experience with Live Activities. Keep an eye on real-time updates like sports scores or food delivery progress.
Interactive Widgets on the Home and Lock Screen
iOS 17 lets you interact with your apps from your Lock screen and Home Screen. These dynamic widgets empower you to take action from your Home Screen, Lock Screen, or even in StandBy, transforming your device into a versatile control center.
Whether on the go, lounging at home, or in StandBy mode, Interactive Widgets offer a seamless way to complete tasks and engage with your favorite apps. Need to check off a to-do list item? Play or pause your favorite song or podcast? Access your Home controls to manage your smart devices. It's all just a tap away.
AirDrop Evolution
The new AirDrop feature becomes more intuitive with 'NameDrop". Now, when you hold your iPhone near someone else's iPhone, you can initiate NameDrop. This innovative feature enables both parties to handpick specific phone numbers or email addresses they want to share. What makes this update even more exciting is its deep integration with Apple Watch. This means that you cannot only use NameDrop with iPhones, but it also extends to Apple Watch devices.
Introducing Journal App
Coming soon, the Journal app offers a new way to document and appreciate life's moments. Machine learning creates personalized journaling suggestions based on your activities and interests.
Keyboard Changes
IOS 17 uses on-device machine learning technologies to enhance autocorrection performance. With iOS 17, you can experience even more accurate autocorrect and inline predictions while typing, ensuring a smoother and more efficient text entry. The new OS update provides grammar and spelling advice as part of your autocorrect system. Taping the space bar lets you use inline prediction to complete words without needing to tap the word.
A Faster and Secured Browsing Experience
With iOS 17, Safari introduces the ability to create profiles, allowing you to keep your browsing separate for different topics such as work and personal interests. These profiles help you distinguish between browsing history, extensions, Tab Groups, cookies, and favorites.
Whether juggling work-related research or indulging in personal interests, profiles offer a streamlined way to organize your online activities. Switching between profiles is quick and hassle-free, ensuring you always have the right environment for browsing needs.
Private Browsing takes a significant leap forward by locking your private browsing windows when they're not in use. It goes a step further by completely blocking known trackers from loading on web pages and removing tracking information added to URLs to provide an enhanced private browsing experience.
Furthermore, one-time verification codes received in your Mail app can now be autofilled seamlessly in Safari. This convenient feature saves you time and effort, allowing you to log in to websites and services without leaving the Safari browser.
Securely Share and Manage Passwords
iOS 17 makes password management more convenient with the ability to share passwords with trusted contacts. You can now share passwords with your trusted contacts, streamlining collaboration and access to shared accounts while maintaining security. This feature ensures you can provide access when needed without compromising sensitive information.
New CarPlay Experience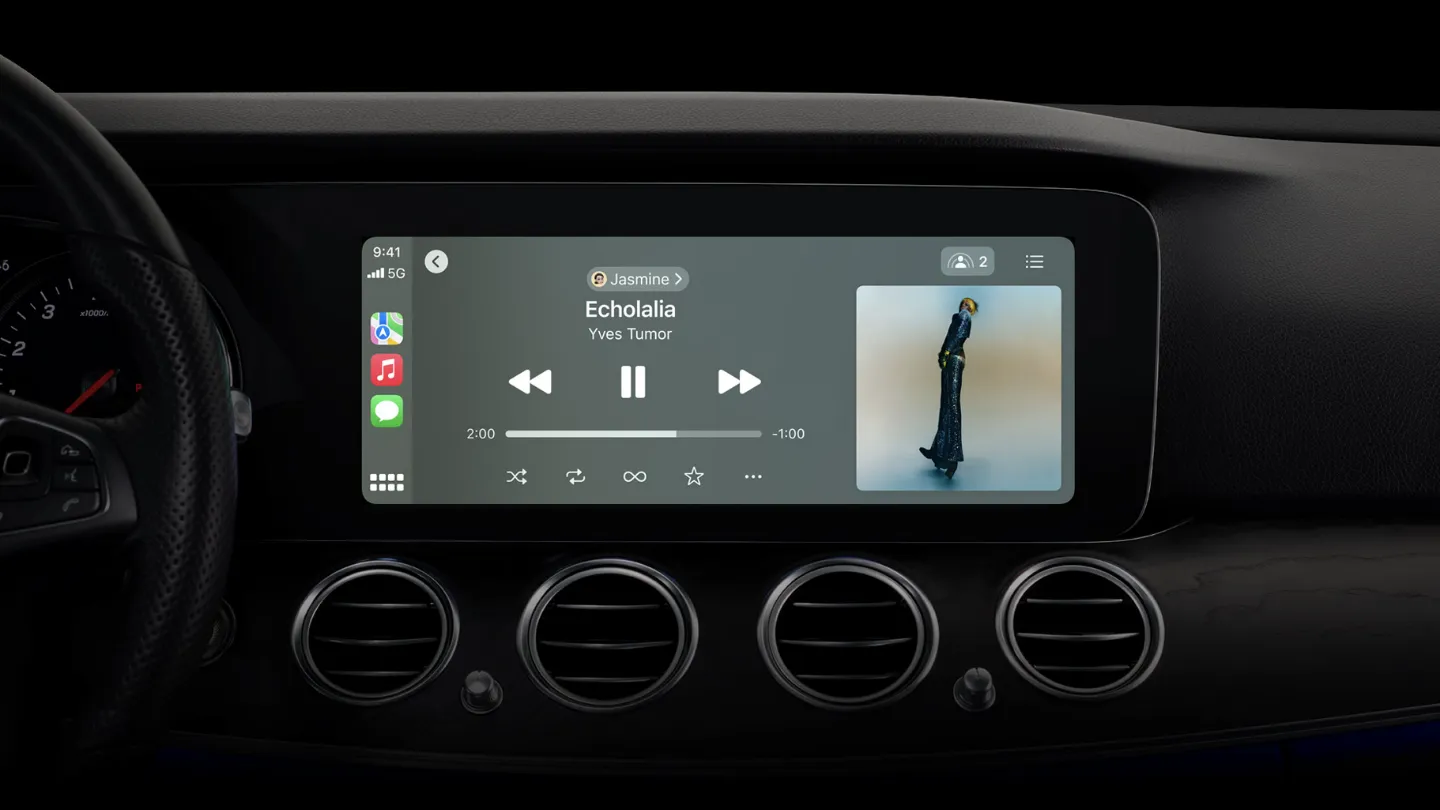 With iOS 17, SharePlay introduces a feature that enables everyone to control music and play their favorite music in the car, including the back seat passengers. Later this year, users will be able to access a collaborative playlist management feature.
This new app will allow you to invite your friends to join your playlist and contribute to it, adding or removing songs. Users will be able to react to the song choices that are playing.
AirPlay Smarter Sharing
AirPlay gains "Smart device suggestions" based on your preferences, improving user convenience. Additionally, iOS 17 promises to bring AirPlay to supported hotel rooms, allowing secure sharing of videos, photos, and music from your iPhone to the hotel TV via QR code scanning.
Adaptive Audio for AirPods Pro (2nd Generation)
Whether enjoying your favorite content or engaging with people around you, Adaptive Audio ensures that your AirPods Pro adapts to your surroundings, providing an immersive and personalized audio experience.
AirPods will now use machine learning to fine-tune your media experience based on your unique preferences and environment. This means that your AirPods will adjust the volume over time to match your personal taste, ensuring a consistently enjoyable listening experience.
iOS 17 takes social interactions into account with Conversation Awareness. This feature kicks in when you start a conversation with someone nearby while wearing your AirPods. It automatically lowers any media volume, reduces background noise, and enhances the voices in front of you.
Offline Maps and EV Routing
Maps in iOS 17 lets you download maps for offline use, offering information like hours and ratings on place cards. Enhanced electric vehicle (EV) routing displays real-time charging station availability on your route, making EV travel more manageable.
Enhanced Siri Activation and Multitasking
Siri becomes more accessible with simplified activation; say "Siri" to engage instead of "Hey Siri." Back-to-back requests allow you to chain commands more naturally, improving multitasking with voice assistance.
Enhanced App Shortcuts
iOS 17 introduces a revamped and more intelligent Spotlight feature that promises to enhance how you interact with your iPhone. Spotlight has always been a handy tool for finding apps and content, but now, it's smarter and visually richer than ever before.
When you search for an app, Spotlight doesn't just stop at finding it; it goes a step further by intelligently offering shortcuts to your following action within that app's interface. For instance, if you search for "Photos," Spotlight will locate the Photos app and present shortcuts directly to the most relevant actions, like jumping right into your Favorites album. This streamlined access saves you valuable time and simplifies navigation, making your interactions with apps more efficient.
iOS 17 also brings a visual facelift to Spotlight's search results. Now, when you search for anything, you'll be greeted with rich visual effects that are informative and visually appealing. These results are designed to help you find what you're looking for faster. Familiar app colors and icons are prominently displayed, making identifying and navigating the results easy. Whether searching for an app, a contact, a document, or any other content on your device, the visual cues provided by Spotlight's updated search results make the entire experience more engaging and intuitive.
Discover More from Your Visuals
Visual Look Up enhances your visual experience by allowing you to uncover hidden insights and information within your photos and videos. Suppose you're looking at a delicious dish in a photo. With Visual Look Up on-device intelligence, you can go beyond the image and find recipes for similar dishes, unlocking a world of culinary possibilities from your photo album.
When you lift a subject from a photo, a handy callout menu provides detailed information about the object. It's like having an encyclopedia at your fingertips, all thanks to the magic of Visual Look Up.
Visual Look Up doesn't stop at photos; it also extends its capabilities to videos. Now, you can directly identify plants, animals, landmarks, and more from videos. Simply pause a video on any frame, tap and hold on the subject, and select "Look Up" for a wealth of information.
Visual Look Up enhances your video-watching experience by providing context and knowledge in real-time, whether on a virtual safari, exploring architectural wonders, or studying nature.
Prioritizing Well-being in Health app
In iOS 17, Apple's commitment to holistic well-being takes center stage with an empowering update to the Health App. Recognizing that mental health is an integral component of overall wellness, this innovative feature offers powerful insights that empower users to take charge of their emotional well-being.
Your mental health journey begins with self-awareness, and the Health App is here to assist. It enables you to reflect on your state of mind, fostering emotional awareness and resilience. By offering standardized mental health assessments used by clinicians, iOS 17 encourages you to answer questions that gauge your emotional well-being.
But it doesn't stop there. The Health App provides immediate feedback, showcasing your current risk for conditions like depression or anxiety based on your responses. This valuable information equips you with the knowledge to assess your mental health and make informed decisions about seeking professional help when needed. Plus, it generates a PDF report of your results, ensuring you have a tangible record to share with your healthcare provider or a family member.
Enhanced Privacy and Security
The Communication Safety feature, initially introduced for messages, now extends its protective shield to safeguard sensitive videos and photos shared and received across various Apple services and third-party apps. This expansion means that your most private and personal moments remain private. Whether it's a cherished family photo or a personal video message, iOS 17 ensures that your sensitive content remains secure and inaccessible to unauthorized individuals.
Furthermore, iOS 17 empowers users with greater control over their visual experience through the Sensitive Content Warning feature. When you receive content that may contain sensitive photos or videos, you now have the option to blur them before viewing.
This proactive approach to content screening provides an added layer of protection, allowing users to make informed decisions about the content they consume, including in third-party apps.
By integrating these innovative privacy and security features, Apple places the power back in the hands of users, allowing them to determine what they see and share while enjoying a heightened sense of security.
iOS 17: Elevating the iOS App Experiences with a Wave of Enhancements
As Apple's iOS 17 takes center stage, it's clear that innovation and user-centric design remain at the core of the tech giant's ethos. This latest iOS iteration offers a wealth of enhancements, extending beyond the boundaries of what's possible on Apple devices.
With a focus on improved privacy, enriched user experiences, and heightened accessibility, iOS 17 is poised to redefine various aspects of digital life. Beyond these overarching themes, iOS 17 introduces a multitude of updates spanning Accessibility, Memoji, Reminders, Notes, PDFs, Fitness, Find My, Home, News, Photos, Apple ID, and even offers a canvas for creative expression with its Freeform drawing tools. Here is a list of some more exciting new features offered by iOS 17:
Accessibility: Improved Assistive Features
iOS 17 brings Assistive Access, which distills apps to essential features for cognitive disabilities. 'Personal Voice' enables those with speech loss to communicate using a personal voice that sounds like them. 'Point and Speak' aids individuals with vision disabilities in interacting with physical objects.
Memoji: Express Yourself with New Stickers
Three new stickers—Halo, Smirk, and Peekaboo—enhance the Memoji experience, allowing iPhone users to express themselves in novel ways.
Reminders: Streamlined Grocery Lists
The Reminders app simplifies shopping with automatic categorization of items into grocery lists. Users can customize item grouping to suit their preferences.
Notes: Enhanced PDF and Scan Support
In iOS 17, the Notes app gains the ability to view and mark up PDFs and scanned documents. Additionally, you can connect related notes with links, improving organization.
PDFs: Faster Form Filling with Enhanced AutoFill
The iOS 17 update greatly enhances PDF handling with its Enhanced AutoFill feature. With Enhanced AutoFill, you can now complete forms and documents more efficiently, reducing the time and effort required.
Fitness: Custom Workout and Meditation Plans
iOS 17's Fitness app offers a redesigned Sharing tab, highlighting friends' activity and achievements. Now, iPhone users can create personalized workout and meditation schedules.
Find My: Share AirTag and Accessories
Share AirTag or Find My Network accessories with up to five people. Precision Finding and sound sharing enhance the location-tracking experience.
Home: Activity History for Improved Security
Activity History in the Home app now records door locks and unlocks, making it easier to monitor home security. It also provides insights into recent activities for various devices.
Apple News Plus Exciting Features
In the latest iOS 17 update, Apple has introduced exciting new features to its News app, enhancing the experience for Apple News+ subscribers. Subscribers can now enjoy daily crossword puzzles directly within the News app, adding a delightful element of interactivity and entertainment to their reading experience.
Photos: Enhanced Recognition and Inclusion
The People album in Photos improves recognition, including beloved pets like cats and dogs.
Apple ID: Enhanced Sign-In Options
With iOS 17, if you have another Apple device nearby, you can use it to authenticate and access your iPhone without manually entering your password.
Freeform Drawing Tools: Express Creativity
For those with a creative flair, iOS 17 introduces new drawing tools like a watercolor brush, calligraphy pen, highlighter, variable-width pen, and ruler for freeform expression.
iOS 17-supported devices
IOS17 requires A12 bionic chips or older. The iPhone X and the iPhone 8 Plus have not yet been released for an upgrade. Below's a full breakdown of supported iPhone devices:
iPhone 15 (including Plus)

iPhone 15 Pro (including Pro Max)

iPhone 14 (including Plus)

iPhone 14 Pro (including Pro Max)

iPhone SE (2nd Generation or later)

iPhone 13 (including Mini)

iPhone 13 Pro (including Pro Max)

iPhone 12 (including Mini)

iPhone 12 Pro (including Pro Max)

iPhone 11

iPhone 11 Pro (including Pro Max)

iPhone XS

iPhone XS Max

iPhone XR
iOS 17 Update FAQs
What is iOS 17, and when will it be available?
iOS 17 is the latest major update to Apple's mobile operating system, and it's expected to be officially released to the public between September 12 and September 21, 2023. The public beta of iOS 17 was made available on July 12, 2023, allowing iPhone users to test the new features and improvements before the official release. Specific release dates may vary slightly by region and device.
Is my device compatible with iOS 17?
iOS 17 will be available for all iPhones from the iPhone XR and newer models. However, it's important to note that iOS 17 will not support devices with the A11 Bionic chip, including the iPhone 8, iPhone 8 Plus, and iPhone X.
If you own an iPhone XR or a more recent model, you can enjoy the benefits of iOS 17, but owners of A11-powered devices will not receive this update. Compatibility details can be found on Apple's official website or within the Software Update section of your device settings.
How can I update my device to iOS 17?
To update your device to iOS 17, go to Settings > General > Software Update, and if the update is available, tap "Download and Install." Ensure your device is connected to Wi-Fi and has sufficient battery life or is plugged in.
What are the key features of iOS 17?
iOS 17 brings a multitude of enhancements across various areas, including improved privacy, a personalized browsing experience in Safari, collaborative playlist management in the Music app, and much more. Refer to our article for a comprehensive list of features.
What is the Active Noise Cancellation feature in iOS 17?
A: The Active Noise Cancellation feature in iOS 17 is a technology that uses machine learning algorithms and the device's hardware to reduce or eliminate unwanted background noise when listening to audio through supported headphones or earbuds.
What changes are there in Messages with iOS 17?
iOS 17 enhances the Messages app with features like a new plus button for quick access to commonly sent items, catch-up arrows for streamlined message navigation, and the ability to transcribe audio messages.
What is personalized volume in iOS 17?
A1: Personalized volume is a feature in iOS 17 that uses machine learning to adjust the volume of media playback based on your preferences and the environment around you.
What is beta testing in iOS 17?
Beta testing in iOS 17 is a process where a pre-release version of the operating system is made available to a select group of users before the official public release. This allows Apple to gather feedback, identify and fix issues, and ensure the software's stability and performance.
How much does it cost to develop an app for iOS?
The cost of developing an iOS app can vary significantly based on several factors, including the app's complexity, features, design, and the development team you choose.
To get a precise estimate for your iOS app project reach out to us, at TechAhead, for a free, no-obligation quote. Our experts will analyze your project's scope and requirements and provide you with a cost breakdown, timeline, and a comprehensive plan to bring your iOS app idea to life.
Why should I update my iOS app to iOS 17?
Updating your iOS app to iOS 17 allows you to leverage the latest features and improvements offered by Apple, providing a better user experience and staying competitive in the market.
Are there any specific features or APIs in iOS 17 that I should take advantage of?
iOS 17 introduces various new features and APIs. Depending on your iOS app functionality, consider integrating features like Interactive Widgets, Live Voicemail, or SharePlay to enhance user engagement.
Which Programming Languages are used to build iOS Apps?
The primary programming languages used to make iOS apps are Swift and Objective-C. Swift programming language was introduced in 2014 and has become the preferred programming language among developers due to its modern syntax, safety features, and performance advantages.
Objective-C has been a staple in
iOS app development
for many years and is still used in existing projects. While Swift has largely taken over as the primary language for new iOS development, Objective-C knowledge remains valuable for maintaining older apps and libraries.
Embrace the Future with TechAhead
As iOS 17 launches this fall, it's time to build apps that embrace these cutting-edge features and take your iOS experience to the next level. At
TechAhead
, we are eager to help you harness the full potential of iOS 17 by
updating your existing iOS apps or building new apps
that leverage these groundbreaking capabilities.
Our team of skilled
iOS app developers
is well-equipped to bring your new app and ideas to life, ensuring they align seamlessly with the latest iOS advancements. Whether you need to update your app's UI/UX design or integrate new features, we've got you covered.
Don't miss out on the opportunity to offer your iPhone users an exceptional iOS 17 experience.
Contact us today
to discuss how we can help you leverage the power of iOS 17 and provide your customers with an unparalleled mobile experience.