Over the last few years, the interest and investments in digital health and wellness have increased tremendously. As people are now investing more and more in health-related gadgets to keep track of their health sans the trouble of visiting a doctor, companies are also hugely innovating in this segment.
Best Digital health and wellness products at CES 2020
CES over the past few years has seen this segment well represented especially in terms of health trackers, smart gyms, etc. CES 2020 as well showcased some immensely innovative and high-tech gear that could change the personal health and wellness segment. Interestingly, there were also a number of technologies that are now taking a rather holistic approach to wellness. Here are some digital health and wellness products we are most excited about:
1) MedWand
MedWand is a handheld device that consists of multiple diagnostic tools together. The company aims to completely revolutionize the way the field of telemedicine functions. The easy-to-use device combines a camera system, pulse oximeter, IR thermometer, stethoscope and ECG in one single tool. This is ideal for patients at home, who don't have to wait for doctors to visit to make a diagnosis.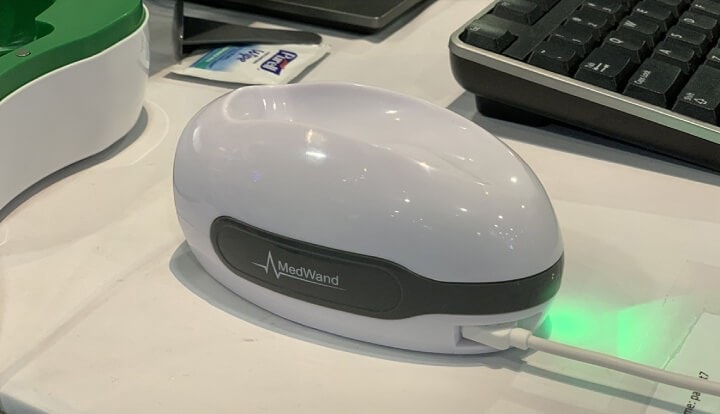 Source: Web


2) Withings
A hybrid watch that will focus on monitoring heart rate and raising an alarm in case of irregular heartbeats. The watch also allows users to take ECG reading via electrodes that are located on the side of the watch. Moreover, Withings will also scan for sleep apnea via a SpO2 sensor. This will enable users to get regular reports in order to identify any potential problems.
Source: Web

3) Carepredict
Labelled as the first wearable for senior citizens, the watch observes and notices the smallest of changes in daily activities that can lead to serious issues, way before they actually happen. The company uses the power of AI and ML to detect plausible malnutrition, risk of falling, depression, etc. The watch has successfully disrupted the space.
Source: Web


4) IEVA
With digital wearables gaining huge traction in CES 2020, IEVA focuses on the external environment of the user. It monitors the temperature, sun exposure, pollution, etc and via the app, it recommends personalized beauty products that will work best in that particular environment. The company is also building a smartwatch that will consist of a full fitness watch along with environmental sensors. 
Source: Web


5) Nutricco
A machine, that is an automated dispenser for nutrient supplements. Nutricco provides exactly the amount of supplement required thereby eliminating the excess. It takes in multiple dietary supplements and keeps them in the internal compartments. Basis the user, the machine will dispense just the amount of solid and semi-solid supplements required at a designated time.
Source: Web


6) Smartduvet
A number of gadgets focussed on how to improve sleep and allow a user to establish a healthier sleep routine. Smartduvet allows you to control the temperature of your mattress pads and set your own ideal temperature. It does not just allow you to control whether you want your bed hot or cold, but it also allows you to pre-set it so it's ready for you when you get in bed. Also, It has a feature that allows you to make your bed at the touch of a button- 'Self Making Bed'.
Source: Web


7) Aktiia cuffless blood pressure monitor
Aktiia's cuffless blood pressure monitor is made via off-the-shelf hardware that creates an unremarkable wearable that allows the users to monitor and access blood pressure 24*7. The cuffless wearable eliminates the need for the user to do any action in order for the blood pressure to get recorded.
Source: Web


8) NURVV Run Smart Insoles and Coaching App
The NURVV insoles can be installed in the shoes and have 32 precision sensors that can capture the user's performance stats in 1000 times a second. It also includes a tracker that can be attached to the side of your shoes. The linked app also provides customized coaching basis the data that can help you improve your performance.
Source: Web


9) Sleep Number Climate 360
Keeping the focus on better sleep, Sleep Number unveiled the Sleep Number Climate 360 at CES 2020. The company focuses on the personalized temperature setting of the bed and automatic firmness adjustability. The mattress works effortlessly to adjust to the user's natural sleep cycle.
Source: Web


Final Words
Needless to say, CES 2020 really focussed on digital health and wellness products. Innovation in technology and constant disruption is leading to a positive switch in the health and wellness sector. With multiple gadgets available and technology that can enhance our everyday living, we are positive it is going to be exciting year health-wise.