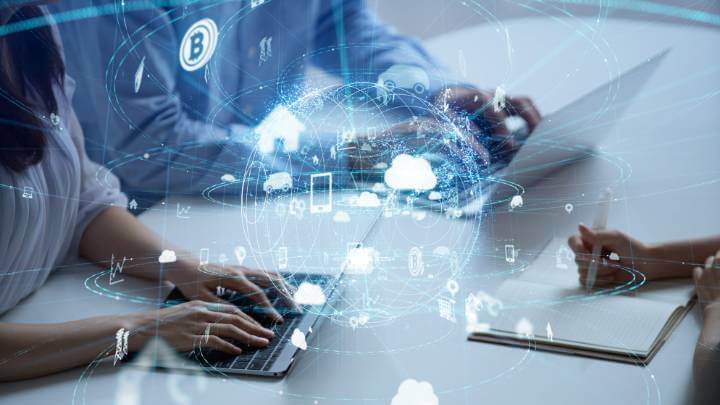 Educational institutions have always embraced technology because it can be the single most important factor in improving learning outcomes. More than hiring teachers or stocking up libraries or undertaking field studies.  Internet of Things (IoT) has also found eager takers in the education industry, be it flipped classrooms, AR and VR enabled smartboards, or access to secure learning spaces.
According to a report by Markets and Markets Research Pt. Ltd., global IoT in the education market is expected to increase from USD 4.8 billion in 2018 to 11.3 billion by 2023 at a CAGR of 18.8%.
Internet of Things (IoT): A game-changer in the education industry
IoT in education is poised to be a game-changer because more and more educational institutions are using connected smart devices to support the already available e-learning and smartboard infrastructure. These are some factors driving this rapid adoption:
Easy availability and affordability of cloud services are playing an important role in the increased popularity of IoT enabled devices.
Highly customized apps tailormade to educational institutions' requirements can be developed quickly.
Unlimited storage with pay as you use facility ensures that storing, analyzing, and accessing data was never easier or cheaper.
IoT has the capacity to make life easier for all stakeholders – educators, management, parents, and students.  Resources can be optimized, and a better outcome can be achieved with the same level of effort.
IoT applications are being developed for all aspects of the education industry:
Application management solutions to optimize cost and feasibility.
Classroom management solutions to improve learning.
Solutions for academics to improve the interaction between stakeholders.
How the education industry is using IoT to their benefit
Imparting education is the most critical activity for any progressive society. Therefore, it makes sense to use the latest technological advancements to make learning immersive, effective, and fun for the students. 
1. Smart automated student tracking
With smart automated student tracking systems in place, it might not be necessary for the student to be present at a given time in a given place to be marked present. This allows the students to pursue their own interests as long as they are logged into the automated tracking system.
2. Personalized learning
Collecting data about student performance during lessons as well as tests enables the educators to personalize further learning as per their interest as well as capabilities. This becomes even more crucial for higher studies where students have better chances of completing their studies if the path is tailormade for them. 
Connected systems can act as intelligent tutors that detect distraction and the disinterest of students immediately. The students can then be provided more engaging content for continued learning.  
3. IoT enabled smart boards and new generation textbooks
Imagine a situation where a history teacher can recreate the battle of Normandy on the smartboard while teaching world war I. Or, students can dissect virtual animals while studying biology. Or, a class can experience a live volcano erupting while studying geography. IoT enabled smartboards can make learning immersive and engaging to the point that students feel highly motivated and invested in their learning. 
Physical textbooks are expensive, inaccessible to many, and become outdated in just a couple of years. Learning content provided on IoT devices are always up to date and can be customized as per the learners' requirement. 
4. AI-powered research
Successful researchers have always collaborated to speed up innovation by learning from each other. AI and ML can be used to connect databases, analyze research data, and get insights that will power the research further. As most of the analysis part is taken over by these interconnected systems, scientists can focus on the research part better.
5. Aiding special-need students
IoT can be a boon for special needs students. As they are free to learn at their own pace, they perform better in the absence of undue stress to keep up with the rest of the class. A hearing-impaired student can convert voice to text during exams while a visually-impaired student can use VR headsets to view the smartboard. IoT may also diminish the need to establish separate curriculum and educational facilities for the special-needs students.
6. Enhanced security of learning spaces
It's not just the core education that the Internet of Things can help in. IoT can also assist in creating a safe and secure environment for imparting education. CCTV cameras are used for monitoring school and university spaces and keeping students safe. If they are connected and real-time monitoring is done, immediate action can be taken in case of emergencies. It has been observed and proven time and again that a safe educational environment improves attendance, concentration, engagement, and learning in the student. 
7. Smart / connected classrooms
A smart classroom has AR-enabled smartboards that display enriched and engaging videos on topics being discussed.  Students use VR headsets to have an immersive experience. A connected classroom has all these devices connected to the personal gadgets of students as well as teachers. The teacher can automatically load assignments and projects to be done on their students' devices as the teaching progresses, sometimes merely by uttering the word assignment or homework or project. 
8. Task-based learning
With flipped classrooms, students come to the class equipped with basic knowledge about the topic to be covered.  The learning in the class is more task-based to ensure full comprehension of the topic. Devices connected to the IoT network ensure that students collaborate and share knowledge to complete the assigned tasks better. IoT devices also ensure that students can take the help of the teacher whenever and wherever required. 
Key factors for successful implementation of IoT in education
As discussed, IoT has the potential to impact education in a critical way. The successful implementation of IoT will depend upon these three key factors. 
1. Security
With children being involved, especially in the K-12 segment, the privacy of the stakeholders and security of data collected is very critical.  Parents and educational institutions need not just assurance from the service provider but effective implementation of privacy and security measures. Also, questions like ownership of personal and communal data will need to be addressed before IoT can be implemented in a big way in the education sector. 
2. Integrity
 It is also important to ensure the integrity of the data being collected. Right technologies must be utilized for this.  An important step in this direction would be the use of an open platform, which can be used by all parties involved without having to make extra investments. 
3. Education policies
IoT in education is a structural change in the way education is imparted and learning happens. For any transformational change to be successful, policy decisions must be taken and implemented by the competent authorities. In the case of implementing IoT in educational institutions, education policies must encourage the use of technology in classrooms and other educational environments. 
Future of the Internet of Things (IoT) in education
The future of the Internet of Things in education looks promising because of the immense potential it has. However, making IoT a part of mainstream education will take time. The most vital factor in this is making the necessary technologies both accessible and easy to use. There needs to be a change in the mindset of the educators, parents, and students, supported by the change in educational policies. 
The baby steps towards integrating IoT in mainstream education, especially schools and universities, have already started and the response of all the parties involved is very positive.  One can only hope that these intermittent instances will become the norm in the near future so that more and more students are able to take advantage of technology to get an education. 
Some examples of IoT technology in the education industry
As discussed, many educational institutions have already adopted IoT technologies. Technology companies are providing customized IoT app development solutions from everything from content creation, lesson delivery, and better engagement to classroom management and content management. 
1. Promethean
Promethean is a global leader in interactive displays and lesson delivery software.  Its interactive displays enable teachers to design classroom displays where students can put in their own ideas as many times they want, using dry-erase writing. Student engagement has been reported to be very high when these displays are used by the teachers.  The cloud-based dynamic lesson delivery software allows teachers to modify lessons in real-time, depending upon student response.  
Top 10 Internet of Things (IoT) trends that will rule in 2020
2. Blackboard
>Blackboard provides solutions and services to educational institutions for resolving their most critical and challenging problems.  From student tracking, data analytics and classroom management to personalized learning, mobile learning and customized learning management systems, experts at blackboard help institutions leverage technology to transform the learning ecosystem. 
3. Kaltura
Kaltura video platform provides video creation and management solutions to all businesses. Institutions are making learning more interactive, engaging, and accessible using Kaltura video solutions. It allows teachers and students to create and manage video content using the latest technologies. These videos can be edited and distributed to any connected device.
4. Tynker
Coding and programming are believed to drive both creativity and technical knowledge in students simultaneously. Tynker is a coding platform for kids aged 7+.  Schools and other educational institutions are using it to ignite the love of coding in their students. The self-paced courses are popular among parents for keeping their kids engaged in something creative and meaningful. Peer interaction offered by Tynker motivates students to create awesome programs themselves.