Unified Communications and collaboration systems are being used now more than ever in the wake of the Coronavirus (COVID-19) outbreak. A global epidemic that has affected the work-life and travel plans for countless people in early 2020. Several organizations are opting for remote meetings, video conferencing and other collaborative tools instead of traveling internationally to meet the colleagues and clients around the world.
Are these solutions effective and efficient? Or companies are merely wasting time and effort trying to collaborate and communicate virtually? This is when businesses feel a dire need for a unified communication solution.
What is a Unified Communication solution?
A unified communication solution or system is a collection of multiple features like voice messaging, text messaging, video conferencing, fax and sharing of information on a single platform. These solutions keep devices clutter-free and processes streamlined by eliminating the need to download multiple apps and keeping things on a single platform.
There are many big players in the arena of Unified Communication tools. As per Statista, below graphical data shows the size of the Unified Communication (UC) market in the US from 2014 to 2024, by hosting type.
Need for Unified Communication solution
Most of the businesses use a variety of email, messaging apps, voice calls, video conferencing and other tools to collaborate and communicate with suppliers, partners, and clients. In many cases, individual departments use different applications for collaboration among team members. This makes cross-disciplinary communication difficult.
Multiple applications generally create a lot of confusion and chaos. It becomes challenging to ensure that everyone has access to the right data at the right time. With the advent of unified messaging apps, communication and collaboration become streamlined. Workplace communications and productivity apps have a huge market. As per Fortune Business Insights, Unified communication as a Service (UCaaS) market to reach USD 36.45 million by 2026.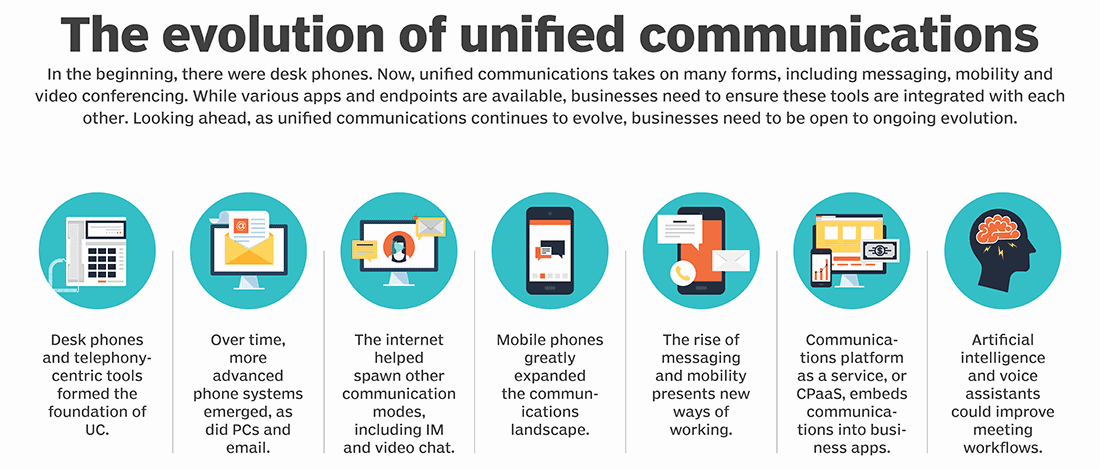 Image Source: TechTarget
What tools are available in the market?
Microsoft, Blackberry and Cisco are some of the popular UCaaS (Unified Communications as a service provider) in the market. Google is also planning to launch a unified communication solution. It is going to unify multiple stand-alone services that the company already offers. It is expected to be a part of G-suite, an online productivity tool.
Integrating several communications apps and providing a single app for all the communication and productivity requirements could make it simpler for corporate technology departments to maintain and manage the app usage by employees. It improves collaboration, increases productivity, strengthens communication channels between employees, and reduces the costs.
Google developing new 'Unified' Communications application for businesses
Google is known for launching and ditching numerous products over the year. The company is working towards building a new Unified Communications app for businesses. According to the users who have used the new app, it is set to be part of its G Suite collection of enterprise services. It will bring together the features of several pre-existing standalone apps including Gmail and Google Drive. Hangouts Meet and Chat features will also be a part of the total suite.
Benefits of Unified Communication solution
Here is a list of reasons due to which many companies are opting for UCS and some big companies are jumping into the business of Unified Communication Systems.
1) Single point of contact
Unified Messaging Solution allows users to manage all voice, messaging, and meeting needs on a particular platform. It also provides integration between different apps used by individuals. All employees get the ability to access and operate this system together. This makes it convenient for the user to manage and monitor all forms of communication.
2) Efficient communication
It minimizes redundancies and saves time by simplifying communication for everyone including vendors, clients and external partners. Users can manage and deploy collaboration strategies according to their business requirements.
3) Cost savings
By merging various streams of communications, the unified messaging app reduces the need for too many physical servers and provides a lean system and smaller administration team. This reduces operational and maintenance costs.
4) Anywhere, Anytime
With a unified communication solution, people can stay connected with each other from different corners of the world. This allows for better productivity and convenience for all the employees, employers, clients and partners.
How can TechAhead help you in Unified Communication solution?
TechAhead has a team of expert solutions architects, software consultants, designers and developers who can help you in creating, maintaining and supporting a Unified Communication system. Our team has worked with various start-ups and multi-national corporations to solve their communication and collaboration needs.
We have expertise in building customized applications that use Artificial Intelligence development, visual recognition, Robotic Process Automation, and different Machine Learning tools to streamline the management of routine operations, whether it's connecting virtually or tracking efficiency or improving customer experience. So, if you think unified communication is the need of the hour, contact us.
Final Words
Unified communication solutions are easy-to-use even for people with no tech background. The benefits of this modern technology are endless. From the reduced cost to enhanced productivity to better customer service – the system can give your company and your clients a better experience.
TechAhead, a leading mobile app development company is known to deliver high quality Application maintenance services for all platforms and frameworks. Contact our experts now to take your business to the next level.