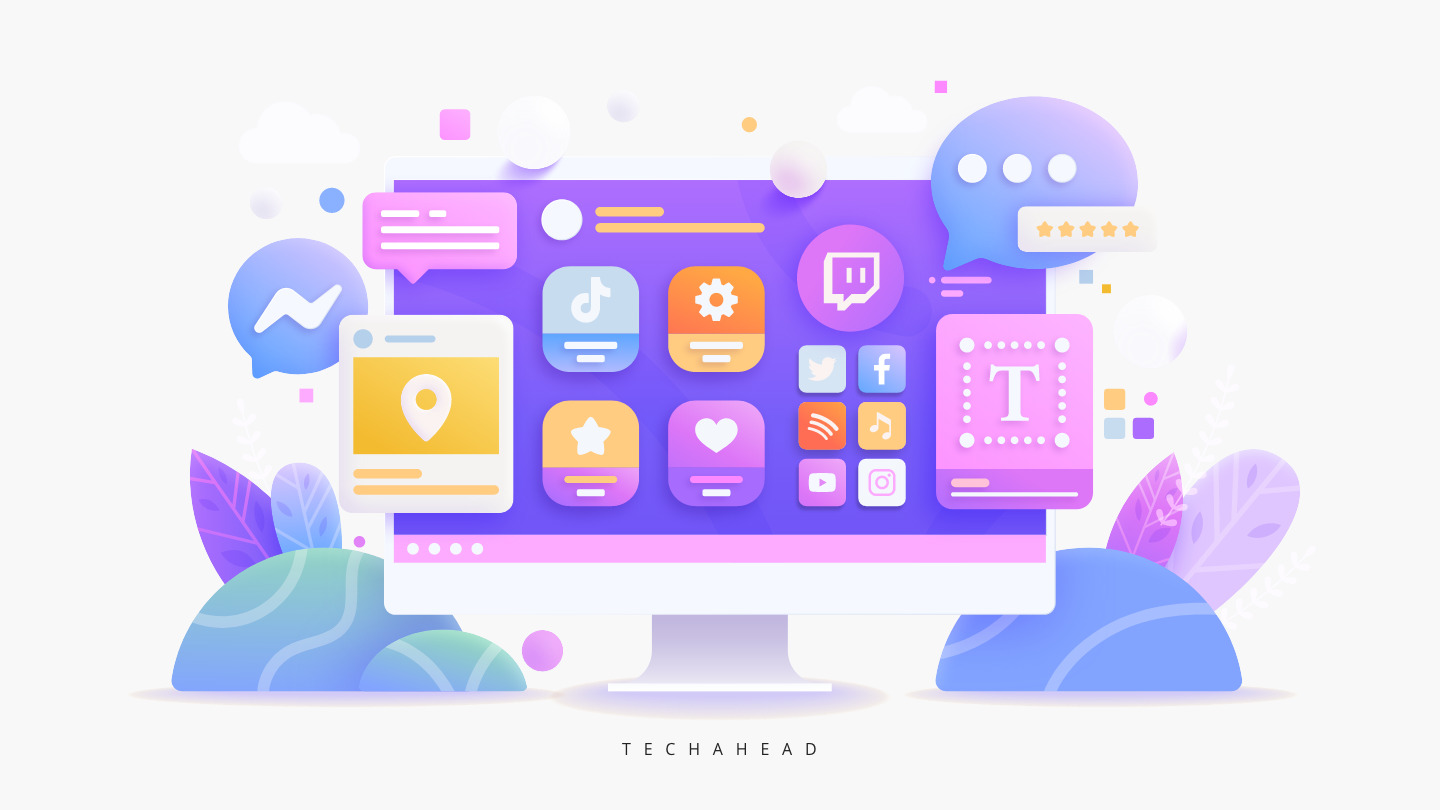 Mobile apps
for creative arts industries are transforming how we experience and interact with art. This is a passing trend and an essential component of modern digital life. Integrating mobile apps into the creative arts sector has opened new avenues of business operations for artists, galleries, museums, and cultural institutions. From virtual tours to interactive exhibits, these applications enhance visitor experiences while providing valuable data and insights to industry professionals.
Table Of Contents:
TechAhead Mobile App Developers
Incorporating Mobile Apps for Creative Arts Industries
into business strategies can greatly enhance audience engagement and accessibility.
TechAhead is a leading
mobile app services developer in Santa Monica
.
This innovation offers limitless possibilities - from boosting sales through online platforms to expanding reach beyond geographical boundaries.
Introducing Santa Monica Art Scene
Santa Monica, a
stunning Californian beachside city
, is renowned for its flourishing arts and culture. This vibrant locale boasts an impressive array of galleries, museums, theaters, and public art installations that cater to diverse artistic tastes.
The Gallery Landscape
In the heart of Santa Monica lies an abundance of eclectic art galleries. The Bergamot Station Arts Center stands out as a unique venue; once serving as a railroad station in the 1870s, it now houses over 20 individual gallery spaces showcasing contemporary and modern artwork from local artists and international stars. Apart from this rich offering is another notable space -
Lois Lambert Gallery & GFA
(Gallery of Functional Art). This distinctive establishment displays pieces where creativity intersects with functionality. Imagine furniture with flair or sculptures doubling up as lighting fixtures.
Museums: A Blend Of History And Contemporary Art
If you're drawn toward history-infused artworks or prefer contemporary pieces, then Santa Monica's museum offerings will not disappoint. Take, for instance, the independent non-collecting institution
SMMoA
, which constantly offers new exhibitions throughout the year focusing on under-recognized artists or movements globally. Meanwhile, there's also Broad Stage at
SMC Performing Arts Center
, providing visitors with performances ranging from opera to jazz concerts - truly catering to something suited to everyone's taste.
A City Adorned With Public Art Installations
Beyond indoor venues like galleries and museums are outdoor public art installations scattered across town. For example, 'Chain Reaction,' a peace monument designed by Pulitzer Prize-winning cartoonist Paul Conrad, standing tall near Civic Auditorium, is a testament against nuclear warfare. At the same time, 'Crank Zappa' - an interactive light installation inspired by musician Frank Zappa can be found at
Tongva Park
after sunset, providing viewers with a delightful visual experience during their evening strolls. Furthermore, 'Wheels' - an abstract sculpture along
Ocean Front Walk
celebrates Santa Monica's commitment towards alternative transportation modes, including biking, walking, etc., making this city artistically rich but environmentally conscious.
Benefits of Arts and Culture Businesses Owning a Mobile App
The rise of
digital technology
has dramatically transformed the landscape for businesses in the arts and culture sector.
Mobile applications
have become an integral part of artistic creation, from art apps to robust layer-based image editing tools.
1. Amplifying User Engagement
A
well-crafted mobile app can significantly amplify user engagement
. For instance, accelerated OpenGL-based painting apps designed specifically for
iOS devices
offer users an immersive interactive experience that is challenging to replicate in
Android apps
or other platforms. By engaging users on a deeper level, mobile apps can create an appreciation for the creative process behind artwork. Furthermore, features such as in-app purchases provide businesses with effective monetization avenues while offering additional value to their audience.
2. Serving As An Effective Marketing Tool
In addition to enhancing user engagement, mobile apps serve as potent marketing tools for arts and culture businesses like Adobe Creative Cloud's suite of graphic design apps, including Adobe Illustrator, which offers limited features, free versions, or full-access through subscription models reaching potential customers directly. Beyond this,
owning your app allows you control over the brand narrative
, fully receiving direct feedback from users about what they love (or don't) about your offerings - invaluable insights guiding future product development service enhancements.
3. Broadening Audience Reach Through Digital Platforms
The advent of popular Japanese multinational consumer electronics made it possible for people worldwide to enjoy various forms of entertainment right at their fingertips - including promising puzzle action video games available across different app stores worldwide. Broad accessibility means even small-scale artists' cultural institutions have potential audiences numbering into millions simply by launching online portfolios via these platforms.
Promoting Collaboration And Community Building With Cross-Platform Tools and Mobile App Development Solutions
Cross-platform mind mapping tools are another area where tech advancements benefit creative industries immensely, enabling real-time collaboration between team members anywhere and around the globe, fostering a sense of community among artists regardless of geographical location, and promoting the exchange of ideas and innovation within the industry.
TechAhead builds all kinds of web apps catered specifically to the needs of each client, ensuring the best possible results every time. Whether the goal is to improve internal communications or increase public visibility project output, we've got you covered.
Top 5 Art and Culture Attractions in Santa Monica
Santa Monica, a bustling city celebrated for its dynamic art landscape, offers visitors an array of cultural attractions, including galleries, museums, and venues for performances. Here are 5 of our top choices for amazing arts and cultural activities to enjoy in Santa Monica:
1- The Broad Stage: A Hub for Performing Arts
A beacon of diverse programming and world-class acoustics,
The Broad Stage
has become the go-to destination for locals and tourists. This venue is renowned as a platform showcasing music concerts and theatrical productions, which contribute significantly to the growth of the creative arts industry.
2- Bergamot Station Arts Center: From Railways to Art Galleries
Bergamot Station Arts Center
houses multiple galleries featuring contemporary artworks. Once a railway station, this location now stands as an artistic hub, housing numerous exhibits by emerging artists alongside the famed Santa Monica Museum of Art.
3- Santa Monica Pier Aquarium: An Interactive Marine Conservation Education Centre
The
Santa Monica Pier Aquarium
, run by the
Heal the Bay
organization, focuses on marine conservation education through interactive displays offering hands-on activities. It is a perfect spot designed with families with young children in mind.
4- Annenberg Community Beach House: Where History Meets Recreation
This historic site now serves a dual purpose, providing recreational amenities, including swimming pools, while doubling as a public beach facility. Its unique feature is its art gallery displaying works created exclusively by local artists at the
Annenberg Community Beach House
.
5- Pacific Park & Ferris Wheel Gallery Project: Digital Canvas Displaying Spectacular Light Show
Located right at the end of Route 66 on the iconic Santa Monica Pier,
Pacific Park's Ferris Wheel Project
utilizes advanced light technology, creating a digital canvas exhibiting stunning artwork that attracts millions every year. Dedicated to preserving aviation history since 1979, the Museum of Flying educates about the science behind flight and inspires future aviators, standing out among other attractions.
TechAhead: Leading the Way in Mobile App Development in Santa Monica

We build, You bloom!
Harness the power of digital transformation and mobile app development by TechAhead to unlock new possibilities for your business
TechAhead
has emerged as a category leader among
mobile app development companies in Santa Monica
and a beacon of innovation and quality as we navigate an increasingly digital landscape. Established over a decade ago with the mission to revolutionize how
businesses can develop and engage their customers digitally
, this
mobile app development company
has made significant strides. Our
mobile app development process
and approach ensures functional and aesthetically pleasing results that enhance user engagement exponentially. Our expertise extends across dozens of verticals and companies, global brands, and smaller local enterprises.
Cross-Platform Proficiency
Cross-platform compatibility is crucial in today's tech-driven world - And
TechAhead excels at it
. They build applications compatible with iOS devices like iPad Pro or iPhone as well as Android smartphones or tablets, which means your application will reach more potential users regardless of device preference. Their proficiency doesn't stop at just mobile apps.
Web apps
are equally within their domain, ensuring a seamless transition between platforms while retaining the app idea and core functionality intact on all interfaces. Their commitment to creating intuitive navigation controls and simple tools allows even novice users to take
native apps
and capture social-media-savvy square photographs effortlessly using limited features available within these applications.
FAQs - Mobile Apps for Creative Arts Industries
What art apps do artists use?
Artists frequently use
Procreate
, Adobe Illustrator Draw, and Autodesk Sketchbook for digital creations.
What is the app that most artists use?
Most artists prefer Procreate due to its wide range of brushes and intuitive user interface.
What app do artists use for digital art?
Digital artists often lean towards Adobe Photoshop Sketch as it offers a variety of tools mirroring traditional mediums.
What application can be used to create art on a mobile phone?
Ibis Paint X
is popular among many mobile application users for creating artwork. It's user-friendly, with diverse brush options. TechAhead stands at the forefront as
Santa Monica's top app developer
, ready to help businesses ride this wave of technological transformation. In conclusion, whether you're an artist or a business owner in the creative arts sector - it's
time to embrace mobile applications
! The future is here, and it's more accessible than ever before!
Contact TechAhead today
as your #1 web and
mobile app developer in Santa Monica, CA
.