Ghostly apparitions float behind your dark windows. They seem to observe the street, mouth outstretched in a scream. On this night of Oct 31st, the stage is set for a boo-rific illusion. You are the stage director, master of several must-have Halloween decorations ideas for the ultimate Halloween ambiance.
Must-have Halloween Decorations Ideas


1. 3D Projection Mapping
A house façade, a window, a property wall, even the surface of a car can become the canvas for a ghostly figure shined by a digital projector onto all the surfaces reached by the light. Animated visuals bring to life any surface. Several companies caterer their services to 3D project mapping - AtMosFX,  Painting with Light,  Go 2 Production, and Façade Signage to name a few. 
Some of the gadgets provide looped animation of a creepy underworld of zombies, ghosts, bats, and skeletons. The light from a digital projector offers different ways to create special effects. For instance, if you project an image of a ghoulish character, consider positioning the light beam into a wall corner as it will create a 3D optical illusion of the image.
If your entrance opens with an archway, you may choose to place a clear film across the arch. Its surface will catch the projected picture of a rendering a holographic ghostly apparition. If the film is loosely hanging, the image will float and move with the breeze.
2. Fog Machine
The mist from the fog machine softens the edges of what is real and wraps the site in mystery. The droplets suspended in the air reflect the light and act as a screen for projected images of unearthly beings. You can create a misty surrounding with a 400-watt fog machine that will spew 1,500 cubic feet of fog per minute.
The vaporized fog fluid is a mix of water and glycerin typically purchased in the store. You may have to refill the reservoir once or twice to sustain the multiple hours of Halloween night.  Timers that turn the machine on and off in small bursts lift the duty of manual operations. Some fog machines come with their own remote controller or are controlled through a smart device with a downloadable app. Be on the lookout for the Taizhou Fog Machine or the Antari WIFI 800; they will help you create the spooky atmosphere you envisioned for this Halloween.
3. Smart Speakers
A smart speaker hidden behind a plant or in a bush that is within 30 feet of your phone or tablet can emit a blood-chilling noise that will startle any visitor. The app Spooky Halloween Sounds hold a library of screeching noises for you to play. You can activate on-demand a ghostly howl, from the app Halloween Ghosts Sounds. Alexa, the voice of the Amazon Echo, has also learned new Halloween skills, "Alexa, open Halloween Music" or "Alexa, start Spooky Scream." With a few swift taps, you can play anything from spooky Halloween classics to eerie sounds.
4. Animatronics
With the advancement in robotics, Halloween props now gain realism with embedded mechatronics. It can be as simple as a haunted doorbell decoration that appears to be have been forged in a mystical world. When the button is pushed, a lid opens to a dragon eyeball rolling around emitting an unintelligible creepy voice. Motion sensors built into the yard decoration can release the door latch of a tomb prop or animate ghoulish characters that seemed inert until someone approached the house. The realism of some props can take the scare factor to new heights. 
For those looking to stretch their creative wings and want to go beyond the walls of their home, here are a couple of attractions for you to try out.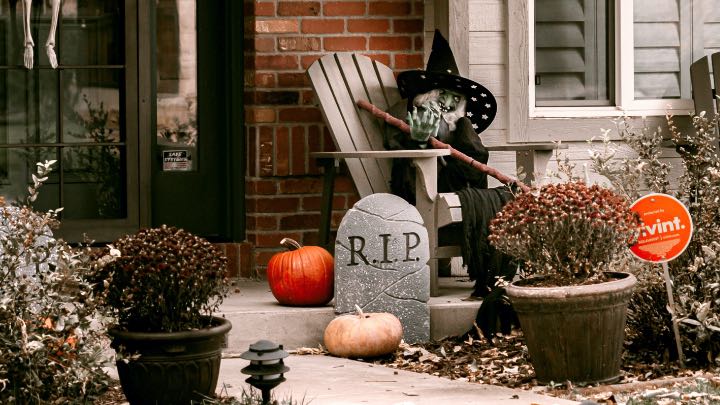 5. Driveway Haunted House
A makeshift maze built in the driveway can become a neighborhood favorite for annual spookiness and gruesomeness. Naturally, a great deal of preparation is required to build one of these houses. The structure needs to withstand wind and the possible leaning of an adult on one of the internal walls.
Gadgets can create startling experiences and immerse the attendees into the atmosphere.  Red-eyed motion-sensing spiders can bounce onto the visitors. For the arachnid fan that remains unphased, a pretend corpse cocoon that moans with escape contortions may take the message home. This type of spidery predator spins its web on human size preys. In the low light pathways, mirrors catch reflections, computer screens disguised as wall art may flash ghostly shadows.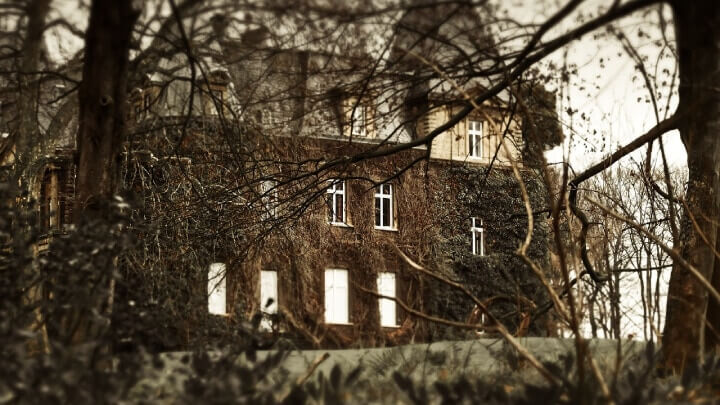 6. Trunk and Treat
A "Trunk and Treat" event is a kid-friendly gathering typically organized by a community group that aims to provide a safe and protected space for young ones to solicit candy.  Children walk to the open trunks of cars assembled in a school parking lot or in a location where families can supervise easily their movement. Dressing up the cargo space becomes fun for the adults.
Trunk kit designs create agape mouths with big eyes mounted on the trunk lid, teeth hanging from the lid, and tongue rolling out onto the pavement creating a red-carpet path to walk to discover the sweets to be taken. Battery-powered strings may create a glowing orange backdrop to a spooky imaginary scene and howling noises escaping from the trunk can set an atmosphere where courage will be needed to grab the candy. This is a great alternative for parents and children who want to trick-or-treat and be in a safe space.
Final Words
Halloween continues to be a source of creativity where the friendly and the creepy coexist with joviality. Technology previously reserved for the entertainment industry has become accessible and available to the general public with lower-cost solutions empowering each person to be the creator of their own spooky fun on Halloween night. With these accessible gadgets, Halloween decorations ideas transform any space into a Spooktacular landscape.
TechAhead, a leading mobile app development company is known to deliver high quality mobile apps for all platforms and frameworks. Contact our experts now to take your business to the next level.