How the evolution of iOS has transformed App Development
Apple has long been a leading innovator of mobile technology and will continue to dominate the industry for years to come, which is readily apparent with the fact that the company registered a record revenue of $111.4 billion in its fiscal 2021 first quarter ended December 2020, up 21% year over year. More than 13 years into the industry and iPhone is still the biggest revenue story for the largest company in the market. When it comes to introducing the latest features, Apple remained the flag-bearer throughout the evolution of its indigenous mobile operating system.
But how it all started and evolved throughout?
Take a look at how iOS transformed a simple smartphone into a symbol of luxury.
iPhone OS 1
Apple jumped into the smartphone market when its CEO Steve Jobs revealed the first-generation iPhone driven by iPhone OS 1, the one that started it all, on June 29, 2007. This version was not called the iOS at that time, and in fact, the name shifted to iOS from the fourth version. It will be hard to convince the present-day modern iPhone users of how profound a breakthrough this version was.
Key Features Introduced
Although the version was a breakthrough in 2007, it doesn't even come close to the features which became closely associated with the iPhone in the future. Some of the key features introduced with the iPhone OS 1 were the Multi-touch screen, Visual Voicemail, Maps, and iTunes, which were much praised back then.
iPhone OS 2
iPhone OS 2 hit the market on July 11, 2008, nearly a year after the release of iPhone OS 1, and by that time, iPhone had already become a hit in the market, surpassing all the projections. iPhone OS 2 coincided with the release of the iPhone 3G smartphone and was compatible with all the devices released till that time. During this phase, a key innovation initiative taken by Apple was to introduce iOS SDK, wherein Best App Developers USA were given the software development kit to help develop iOS apps.
Key Features Introduced
The biggest breakthrough feature introduced with this version was Apple App Store, which supported close to 500 third-party and native apps. Additional features introduced were podcast support and walking directions in Maps.
iPhone OS 3.0
The iPhone OS 3.0 was all about filling in all the major loopholes of iPhone OS 2 with an extensive list of functionalities and updates. It got released to the public alongside the iPhone 3G smartphone on June 17, 2009, and with this release, Apple marched well on its way to dominate the competing platforms on the feature front.
Key Features Introduced
Some of the key features of the iPhone OS 3 include the new copy-paste feature, push notifications, spotlight search, MMS support in messages, USB and Bluetooth tethering, and voice control. Apple added a few more unique features a few months later with its iOS 3.1 release, which included remote lock, Genius mixes for music, and ringtone downloads.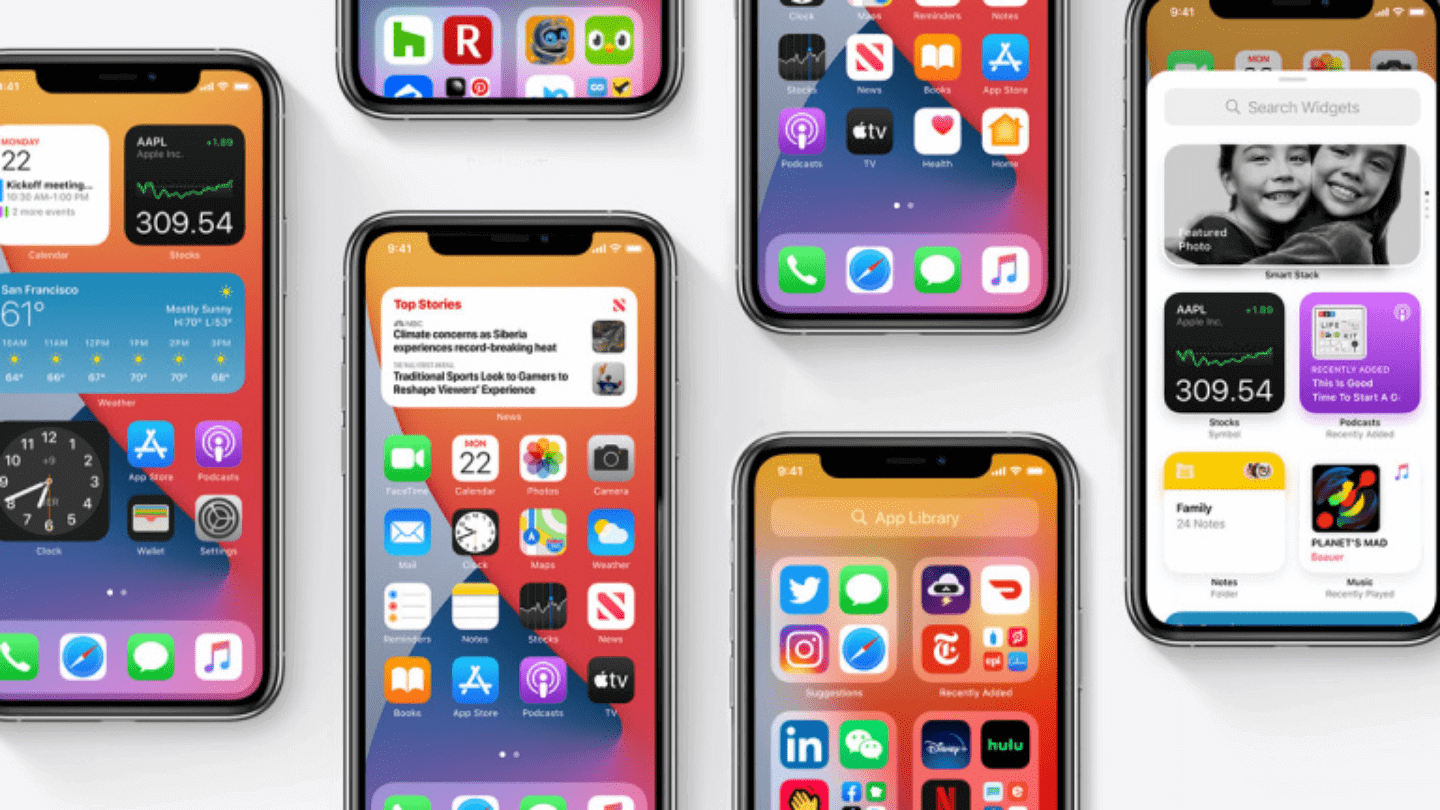 iOS 4
Apple announced the release of iOS 4 to the public on June 21, 2010, alongside its newly launched iPhone 4, and with this, it dropped the support for a device (original iPhone and iPod touch) for the first time. This was the phase that initiated the evolution of Apple iOS as users got the power of multitasking.
Key Features Introduced
Features such as multitasking, FaceTime video chat, home screen folders, iBooks, AirPrint, Airplay, retina display support, unified email box, threaded email messages were the highlight of the release.
iOS 5
iOS 5 came into the market on October 12, 2011, with Thor's hammer, which Apple used to forge a permanent and sizeable market share. It capitalized on the rising trend of cloud computing with the iCloud.
Key Features Introduced
Like iOS 3, iOS 5 also came with a lot of surprises in the features segment. Apple launched Siri, which replaced Voice Control with a virtual assistant. In addition to that, the features which stole the show include iTunes Wi-Fi sync, iMessage, Notification Center, iCloud, and PC-free existence.
iOS 6
Apple announced the iOS 6 at its Worldwide Developers Conference (WWDC) on June 11, 2012, and released it to the public on September 19, 2012. In its quest to become Google-free, Apple dropped the support for Google Maps and launched a revamped Maps which supported turn-by-turn navigation, 3D flyover mode, and Siri integration.
Key Features Introduced
iOS got evolved with several new features, including Homegrown Maps with turn-by-turn navigation, Siri enhancements, Passbook, FaceTime over cellular, and integration of Yelp, Twitter, and Facebook.
iOS 7
iOS 7 was the first iOS version, which got introduced with a pair of iPhones – iPhone 5s and iPhone 5C on September 18, 2013. The same year, it saw a major change within the company, with Jony Ive replacing Scott Forstall to manage the human interface efforts.
Key Features Introduced
Apple attempted its first visual overhaul under Jony Ive by replacing skeuomorphism with Flat Design. Other features such as Control Center, AirDrop functionality, Touch ID, and iTunes Radios were also introduced with iOS 7.
iOS 8
With iOS 8, Apple focused on refining the designs, expanding feature sets, and improving the workflows. In addition to the features, Apple added a ton of tools to help the developers enhance their apps with more abilities. iOS 8 reached the masses on September 17, 2014, alongside the iPhone 6 and iPhone 6 Plus phones.
Key Features Introduced
The new features which got space in the list of iOS 8 include widgets & actionable notifications, Extensibility to third party apps, iCloud Drive & Photo Library, HealthKit, HomeKit, and Family Sharing.
iOS 9
iOS 9 was released to the public on September 16, 2015, alongside iPhone 6s, iPhone 6s Plus, and iPad Mini 4. For iOS 9, it was all about making the technical foundation of iOS more robust than working towards the design and feature side, which was a decision made on public demand. Just with a couple of feature addition and updates, the version mainly focused on enhancing the OS to make it future-ready.
Key Features Introduced
iOS 9 saw the inclusion of a few features such as Night Shift, updating of previous key apps such as Notes and Maps, and replacing Passbook with Wallet.
iOS 10
Interoperability and customization were the key features of iOS 10 that got released on September 13, 2016, alongside the iPhone 7 and iPhone 7 Plus. Apple allowed one app to use features of another app without opening the second app, which helped apps to communicate directly with each other. Additionally, users got the power to delete built-in apps and add animations and effects to their text messages.
Key Features Introduced
The main highlights of iOS 10 were iMessage apps, Siri was made available for the third-party applications, Maps got a redesigned interface, Photos got the power of algorithmic search, and Home app managed the HomeKit enabled accessories.
iOS 11
Apple emphasized more on iPad than iPhone with its iOS 11 release on September 19, 2017, along with the iPhone 8 and iPhone 8 Plus. The most prominent inclusion in this version was ARKit that gave developers the power to leverage AR's (Augmented Reality) potential across millions of iOS devices worldwide.
Key Features Introduced
Major additions in this version include the 'Files' app, which became the go-to-app for iPad users to search, browse, and organize files on their devices. Additionally, users got a new Drag and Drop function, which made the movement of pics, text, and files from one app to another, seamless.
iOS 12
Apple released iOS 12 to the public on September 17, 2018, along with the iPhone XS, iPhone XS Max, and iPhone XR. The features added in this version were not as extensive as in the previous versions as Apple focused on refining its existing features and make it a lot faster and more responsive.
Key Features Introduced
Key features of iOS 12 were Grouped Notifications, Memoji characters, Siri Shortcuts, enhanced AR with ARKit 2, and giving users the control to monitor their device with Screen Time.
iOS 13
The biggest surprise which iOS 13 brought was that it was no longer supported on the iPad as the iPad got a separate OS – iPad OS. The idea behind this was to make the iPad more productive and effective to replace laptops. It was released to the public on September 19, 2019, along with the release of the iPhone 11 series, including iPhone 11, iPhone 11 Pro, and iPhone 11 Pro Max, and focused primarily on the 'Dark Mode' and 'Memoji' support for A9+ devices.
Key Features Introduced
The star features of iOS 13 were System-wide Dark Mode, updated privacy and security options, new Portrait Lighting options, improved Siri's voice, Sign-in with Apple user account system, and overhauled stock apps such as Notes and Reminders.
iOS 14
iOS 14 brought several small and medium-sized changes to the features, user interface, and overall ease of use to enhance user experience. Apple made iOS 14 public on September 16, 2020, which aims to change the way you use your iPhone.
Key Features Introduced
Major feature enhancements include Homescreen widgets for customized home screens, Smart Stacks to display different Homescreen widgets at different times, App Clips, Picture in Picture mode, improved privacy, Spatial Audio for AirPods, and the CarKey technology to unlock and start a car using NFC (Near-field communication).
The one thing that Apple kept intact during the evolution from iPhone OS1 to iOS 14 is the degree of innovation. The progress of iOS looks like a steady drumbeat of new, unique features that often felt inevitable.
Developers at TechAhead, a leading mobile app development company, have a special place in their hearts for iOS apps, which is evident from their 11+ years of a glorious track record for successfully delivering secure, scalable, and human-centric iOS mobile apps to big brands and innovative startups. If you are resolute enough to make your idea reach out and connect with the world of iPhone users, reach our top iOS app development company to transform this idea into reality.