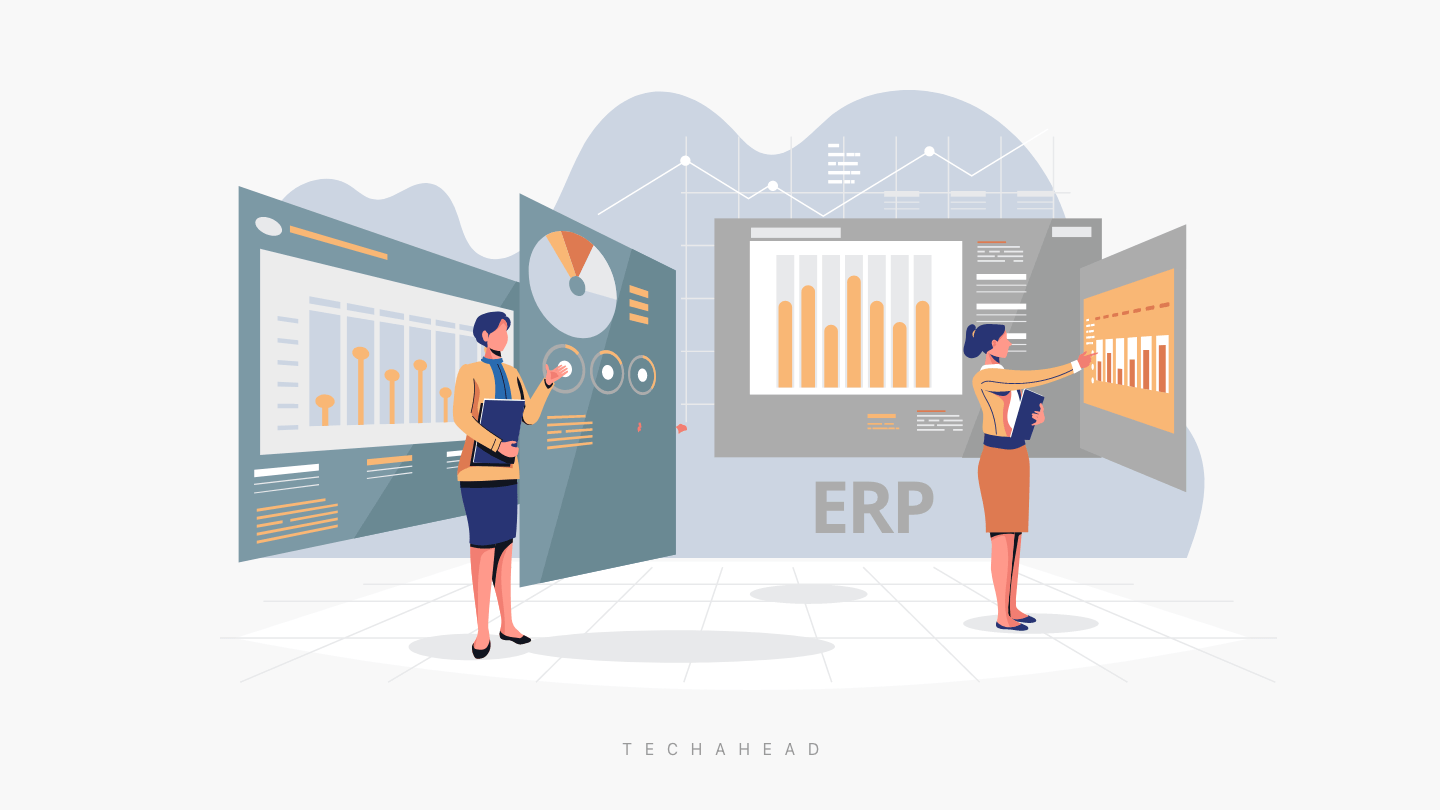 In the age where startups and emerging businesses rule the world, you must stay one step ahead of the competition.
But it's not uncommon to observe messy operations in the line of business, which eventually causes delays, procedural halts, and untimely collaboration. This leads to a stagnation of growth that an organization so keenly wants, right?
Well! To uproot the problem, you need a manager who can mitigate between all the teams and processes and communicate effectively.
But lucky for you that it's not 1947, and we've developed solutions for such problems.
Enterprise Resource Planning or ERP is the central intelligence system that can help you increase your organization's efficiency of operations and management.
Wait! Not familiar with the functions of an ERP? Well! Let's get you to speed then.
What is ERP, and how exactly does it fit inside an organization?
Enterprise Resource Planning functions as an operations handling system that can manage a multitude of processes inside an organization. Everything from accounting, procurement, supply chain management, and more can be catered to just using one software; ERP.
It eradicates the need of wasting a considerable surplus of resources, mainly precious person-hours that can otherwise be saved with the proper usage of an ERP system. But it comes with its fair share of challenges as well.
To get a deep understanding of ERP, let's look at some of the questions that usually pop up when discussing Enterprise Resource Planning Systems.
How does ERP help in increasing Operational Efficiency for an organization?
You already know that ERP constitutes various aspects of operations management that can significantly benefit an organization until this point. But how exactly does ERP help out, and what are the benefits we get after implementing it? Let's take a look at that.
Central Dashboard
In the 21st Century, we have embraced the power of processed data. To say the complete truth, we live in a world made in and out of processed data; whether it be social media, search engines, or your food delivery apps, all are running with data at the core of their operations.
ERP provides you with a central dashboard that can give you access to a top-level view of your business. Everything, including business reports, to what is the next item that goes off inventory soon can be evaluated.
If you're opting for a customized solution or a higher-level ERP implementation, it'll come with business intelligence. With that, you can unlock the power of predictive analytics using past data from your firm.
Efficient Collaboration
Each member of your organization can access the ERP through proper authentication. So, starting from the very basic layer of your organization, which can only input data to the top-level management with complete access control, all are connected with one platform.
This would soon serve as a standard for multi-level operations for your organization. It works pretty great in distributed teams that face a lack of transparency in their operations.
Data Security and Integrity
The new age ERP systems are set up using a cloud-based architecture with secured network protocols, which gives you two things. The first is that your data is securely stored away, and in case of damages to physical assets, it'll remain intact.
Secondly, data tampering would be negligible as it can be detected almost immediately. Moreover, with the help of access control, we can see who tampered with your data and can get hold of the culprit wiring seconds, which gives it an edge compared to traditional forms of operations management techniques.
Reduced Operational Cost
We've already told you that most of the ERPs are being hosted on a cloud. This means that you'd be saving on the cost of hardware and IT services. Moreover, it'll also save on human resources with advanced calculation, which would otherwise need human resources for execution.
Improved Customer Engagement
Along with storing data about your business operations, ERP can also serve as a goldmine for marketers as it stores historical data for customers. With the help of that data, you can plan your next moves, including expansion ideas, areas of improvement, focal points, and more.
It can also be helpful when generating marketing campaigns, as with rich data of paying customers, you.
Are there any drawbacks of ERP implementation?
Yes! Like any other great thing, ERP comes with its fair share of drawbacks. Some of the major ones are as follows:
High Implementation Cost
Initially, when you're setting up your ERP systems, it will cost you a lot of money. The reason is that ERPs are to be customized according to business requirements. And although they may look similar on the exterior, each one is different, which is why it comes with a high implementation cost. Oh! Don't forget all the licenses and other requirements you'd have to buy into.
Training and Adoption
Unless your staff knows about the in and out of the system, it's of no use. You'd also have to spend on the training fees and wait for the employees to get on board. It usually takes about 03 to 06 months to adopt a new software fully.
Maintenance Issues
ERPs are bombarded with a lot of data daily, and with even the tiniest of miscalculations, they can lose their prediction, insights, and more. Regular maintenance is needed to keep it in check, which consumes time and money.
How to get your Customised ERP Solution for your organization?
The first step is to know whether or not an ERP is beneficial to your scale of operations. And if you're facing problems similar to what we've mentioned, your answer is 'I Am Looking For an ERP Expert'? Then we have something for you.
TechAhead has been one of the most trusted ERP Solution builders for the last 12 years in the same domain. They have done the same for Fortune500 clients, and they can do it for you too.
Moreover, if you're worried about all the complexities of ERP implementation, then TechAhead is one of the first to find a solution for them. With their efficient planning and affordable implementation cost, your ERP solution will not burn a hole in your pocket.
So, what are you waiting for? Take the first step and start a conversation with TechAhead by clicking here.