Gone are the days when everyone had to plan their daily schedule around a favorite TV show or movie. In fact, DVD rentals to watch a blockbuster more than once is also a thing of the past. Video on demand (VoD), paired with the widespread availability of high-speed broadband internet, has revolutionized the way we view media and entertainment content.
Over-the-top (OTT) content, which earlier reached customers through cable and via a set-top box, has also lost momentum with many users choosing to opt-out of it in favor of online streaming services that offer them a more extensive choice of content along with the advantage of accessibility on a variety of devices and from almost anywhere. Instead of watching an episode of a show and waiting an entire week for the next one to air, consumers can now binge-watch one season after another of their favorite show.
The most well-known VOD services include Netflix, Amazon Prime, and Hulu, which offer subscription video-on-demand services (SVoD). However, the scope of VoD extends far beyond just entertainment and can cover education, health and fitness, live events, and sports, among others. As per Statista reports, the current revenue from SVoD will be US$27,628m in 2020, further growing annually by 4.1% to reach US$32,447 by 2024. The estimated number of users will be 1,395.7 million by 2024.
What is Video on Demand (VoD)?
In simple terms, Video on Demand (VoD) is a system that delivers content over the internet to consumers, giving them the option of choosing a film or show of their choice from a library of content any time they want. VoD services are, in general, broken up into Subscription Video on Demand (SVoD), advertising-supported VoD (AVoD), and transactional VoD (TVoD).
Netflix is the most widely known example of SVoD as users pay a monthly subscription fee to access a wide range of content on demand. The basic version of YouTube works on an ad-supported VoD model where users are forced to watch ads in between content they are viewing. Transactional Video on Demand refers to the pay per view model – for example if a user makes a one-time purchase on iTunes.
What are the benefits of VoD over Cable TV?
Convenience Unlike with cable TV, VoD offers consumers the convenience of choosing videos from a catalog and watching them at any time and from anywhere without any restriction on the number of times they can watch a show or movie.
Moreover, users are not bound by long-term contracts as they are with cable operators, thereby allowing them to discontinue a subscription whenever they choose to do so. Furthermore, the streaming of VoD content is not restricted by the user's geographical location like it is with cable or satellite TV.
Cost With cable TV, users need to pay a premium to watch all the shows at any time whereas VoD subscribers can access all the content on the catalog by paying the subscription fee. In terms of overall cost, it would work out cheaper for consumers to subscribe to more than one VoD service without paying anything towards hardware such as the cable and set-top box.
Not device-dependent Unlike Cable TV, VoD allows streaming on all types of devices from laptops and mobile phones to iPads and smart TVs. All that is required is a high-speed internet connection.
Variety of content VoD subscribers have access to a broader variety of content, including TV shows, movies, news and sports from across different countries.
What are some of the top Video on Demand (VoD) apps?
With competition heating up in the sector, consumers have access to a wide choice of content. Indeed, the catalog is the most significant factor in the success or popularity of a VoD app. However, other features such as recommendations, original content, and other out-of-the-box features such as chat windows are some of the additional points that work in favor of a VoD app.
Top Video on Demand (VoD) apps
Netflix
Besides owning one of the most impressive catalogs of content, Netflix's popularity has grown due to the frequency with which new content replaces the old. It is also known for its original content and high-quality movies. Moreover, it can be downloaded on a variety of devices and comes with features such as parental controls.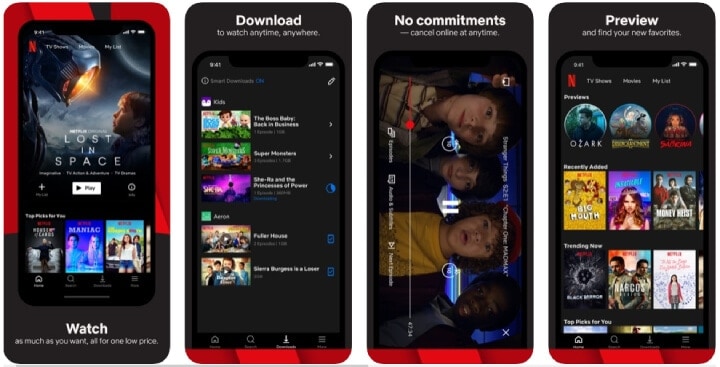 Amazon Prime Video
Besides streaming content from leading networks such as HBO, Cinemax, CBS All Access, and Starz, Amazon also has curated original content, some of which is as good as those premiering on Netflix.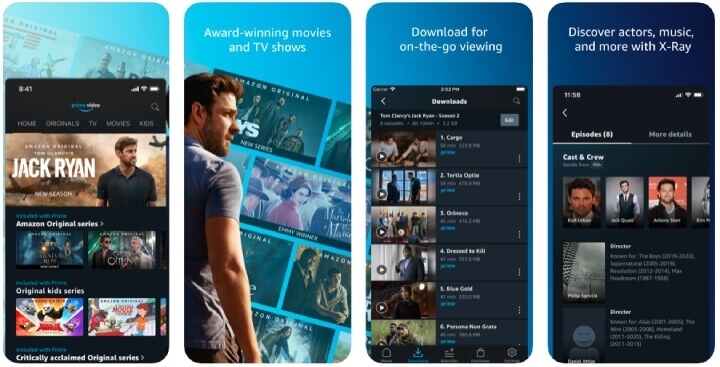 Hulu
It's one of the best all-in-one options for users in the USA who don't want to subscribe to more than one VoD service. Besides a collection of movies and classic shows, Hulu has the option of Live TV with over 60 channels of news, sports, and entertainment.
Disney+
Besides classic Disney content, subscription to content from Pixar, Star Wars, National Geographic, and Marvel make Disney popular streaming service.
Fubo TV
The best alternative for sports fans, Fubo has a wide range of live sports in addition to entertainment in its content catalog. While it is considered a 'Sports First' service, users also have access to popular networks such as National Geographic, The Food Network, FX, and AMC.
Tubi
Although it does not have as extensive a collection of content as some of its competitors, Tubi has the advantage of some of the all-time favorite movies and TV shows in its catalog of 20,000 titles.
Twitch
For gaming fans, Twitch offers the best video streaming service that can be used to play video games, watch the news, and even view live sports.
YouTube TV
For live sports and news, YouTube TV is another popular service. It also has a range of popular entertainment options from networks, including ABC, CNN, ESPN, Fox, and NBC. Further, subscribers can add packages such as Showtime and Starz.
What are some of the features that Video on Demand (VoD) apps should have?
Efficient subscriber management When developing VoD apps, it's essential to simplify the user management process from the registration stage to more complex processes such as monetization by offering in-app purchases and billing. It should include an integrated payment gateway that makes the billing and purchase process seamless.
Fast delivery of streamlined content The VoD app should have an easy-to-use content management system with an intuitive interface that allows users to search and find the content of their choice. The app should be designed to save time and costs by using a unified metadata management system that autogenerates libraries based on user preferences or search history.
Multi-platform accessibility and updates Users should be able to access the app from any device, whether it's iOS or Android mobile devices, OTT TV devices such as the Fire TV or Roku as well as connected TV apps.
Automated Marketing The app should have in-built tools, including Artificial Intelligence (AI) driven ones that not only help to grow the audience but also engage users through AI-based video personalization and recommendations.
Top OTT SaaS platforms for Video Streaming
In this new age of video streaming, where OTT is the most popular mode of video consumption, cloud-based solutions combined with a SaaS business model offers the most cost-effective, flexible and straightforward option for application development. The most commonly used Saas platforms include:
Applicaster
Israel-based Applicaster uses Zapp to provide an intuitive interface for creating and managing OTT apps. Besides providing features such as coding of custom components, the Open APIs and extensive partner marketplace make Applicaster one of the best plug-in solutions to use for scaling up and optimization of apps during the post-launch phase. It includes comprehensive solutions from monetizing to prototyping. It charges a monthly license fee using its app development platform.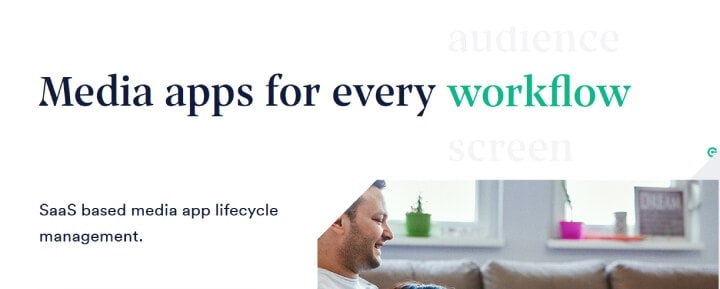 Link: (Web)


Vimeo
Once known as a video-sharing platform that allowed users to post videos, Vimeo has expanded its solutions to enable customization of video players, analytics, and other marketing features. Its most impressive feature is that it facilitates collaboration between creators, clients, team members, and even freelancers, with different levels of permissions for each collaborator. It's pricing starts from $7 per month (annual plans).
Link: (Web)


Brightcove
Brightcove offers a combination of video hosting and marketing. As a platform, it is easy to use, quick and robust. Besides basic features such as batch uploading and integration with encoding hardware, Brightcove also allows users to custom brand their portals and video players.
Its interface is ideal for creating large content libraries. In terms of monetization, it offers comprehensive solutions, including advertising, one-time purchases, and subscriptions. It's pricing starts from around $500 per month for hosting and marketing, but it also has plans.
Link: (Web)


Kaltura
Kaltura is entirely an open-source management software. They offer a complete hosting and management solution for OTT businesses, including monetization options such as advertising, subscriptions, and one-time transactions. The platform is feature-rich, offering many extensions and add-ons to developers. However, it's pricing is on the higher side with monthly plans starting from $1,000.
Link: (Web)


The Future of VoD
Trends point towards Video on Demand using OTT apps being the way of the future with more and more consumers cutting the cord from traditional cable TV services. However, with OTT video streaming gaining popularity, the ecosystem has become overcrowded.
For companies to survive in a highly competitive environment, decoding the complex consumption and behavioral patterns of the users are essential to develop new strategies and offer innovative products that assist in expanding the subscriber base and increasing customer engagement.
Among the points, companies should consider when developing OTT apps
Hybrid Models for Monetization As mentioned earlier, VoD apps have three options when it comes to monetization – subscription (SVoD), advertising (AVoD), and transactions (TVoD). In the past, successful companies have mostly depended on just one of these models for monetization. However, going forward, they might have to adopt a hybrid model that encompasses two or more of these revenue sources.
For example, YouTube, which operates on the AVoD model, has standard content that viewers can access by watching the advertisements in between the videos. However, it also offers the option of premium subscriptions for an ad-free experience.
Original content While OTT apps gained popularity due to their extensive libraries, featuring TV shows and movies from multiple channels and networks, there is a rising demand for original and exclusive content. Both Netflix, as well as Amazon Prime, have already started curating original content across geographies to meet the consumers' needs.
Fragmentation of Content In a highly competitive marketplace where big players in the media and entertainment sector are moving towards VoD services to beat the decline in traditional TV viewers, content libraries might get more fragmented.
For example, Netflix lost several Disney-owned titles, including those from Star Wars and Marvel, from its catalog after Disney pulled it after starting their own OTT – Disney +. In such a scenario, consumers would need to subscribe to several VoDs to access everything they wanted to view.
Mobile dominance VoD services on mobile are gaining momentum throughout the world. For instance, a viewer who starts watching a show on TV might log in using his mobile during his commute to continue watching where he left off. In some countries, mobile usage is higher than that of television, presenting access to a bigger number of VoD users.
For example, in India, which has the largest smartphone user base in the world, Netflix introduced a mobile-only plan at an affordable $3 per month plan to target the smartphone users in tier two and tier segments.
Conclusion
With the VoD market evolving and maturing, OTT apps need to have new strategies in place to stay ahead, whether it's user management strategies, hybrid monetization models, or customization that provides the user with a superior experience.
AT TechAhead, our experts have the domain knowledge and expertise to develop streaming VoD solutions on SaaS platforms, having developed OTT solutions for clients. From built-in subscriber management solutions to cross-platform app development to reach users across various platforms, we offer comprehensive VoD and OTT development and maintenance to make it easier to get your app to market faster.