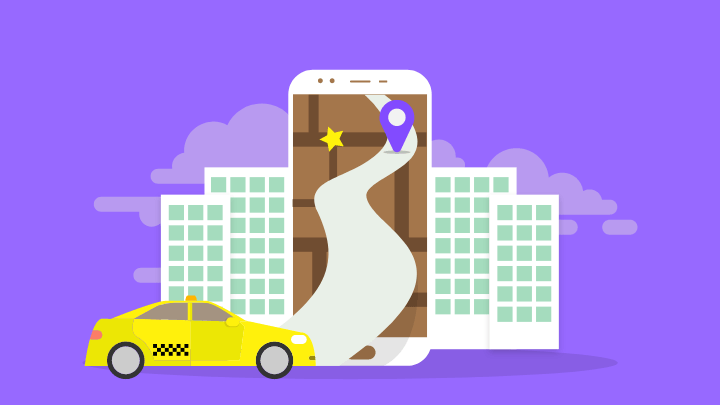 The on-demand economy is growing at a CAGR of 18.5% since 2015. Its size will increase from $57.5 billion in 2015 to $335 billion in 2025. The on-demand economy is made up of activities that collect user requirements online and fulfill them offline. It is an ideal use case for leveraging technology to meet customer requirements.
The belief of people in this relatively new phenomenon of On-demand businesses can be gauged from the fact that 7.6 million people are expected to be working in this economy by 2020 in the US alone.
Image Credit: HBR
On-demand is in high demand not just in the developed economy but also in developing ones. The ease with which customers' needs can be fulfilled on mobile devices has prompted many start-ups to come up with innovative ideas for providing on-demand services. 
Start-ups to established industry players are coming up with new innovative ideas using mobile apps to serve the unfulfilled need in industries as varied as education, healthcare, finance, transportation, travel, and tourism, etc. What must be noted is that it is not only these major Industries that are driving the on-demand economy but other services like home services, health and fitness, beauty, and freelance services.
Top Leaders in the on-demand app market
How does on-demand app work?
The company providing an on-demand app service develops an app that is installed on the users' mobile. These apps are usually also available as web apps so that users can open them directly from the website, without having to install an app. The user simply needs to login to the app interface and place their order for the service or product required.
The service provider collects these orders and processes them to fulfil the demand of the customer in the minimum possible time frame. The apps usually have the option of making the payment while placing the order for the product or service.
Types of on-demand service apps
As discussed, on-demand services are being provided in a range of industry verticals. Let us look at the different types of apps being developed.
1. Food delivery apps
Food Industry has seen massive interest in on-demand applications, be it doorstep grocery delivery, boxed ingredient delivery, or steaming hot cooked food delivery.
2. Healthcare
Healthcare is one of the critical industries that is seeing a rise in the availability of on-demand apps. Starting with pharmacy delivery, start-ups are now also looking into services like house calls, pathology sample collection, medical marijuana delivery, etc.
On-demand Healthcare has a huge potential because there are many services like blood pressure or blood sugar levels measurement, an x-ray, ultrasound scanning, etc. that can be brought to the patient's doorstep easily.
3. Retail Industry
80% of the US population owns a smartphone, which is an important tool in the hand of marketers. Traditionally retail Industry has worked offline, but with the easy availability of internet came huge online retailers. Now with on-demand economy proliferating most of the retailers have their own apps on which the customer can place an order and receive it within a reasonable time frame. 
Depending upon the item/ service being ordered, retailers are fulfilling the orders anywhere between an hour to a couple of days. In fact, 51% of retailers are offering same-day delivery service.
4. Health and fitness
It is not just traditional Healthcare services where on-demand apps are on the Rise but the health and fitness industry as a whole is witnessing a growth of on-demand apps in leaps and bounds. 
Be it counting the calorie intake, the number of calories burnt through exercising, or availability of exercise regimen as per convenience, on-demand apps of different types are being developed to cater to the customers' demand.
5. Taxi booking
Taxi ride-booking app Uber was the first most popular on-demand app to make its mark. Since then, many taxi bookings, bus bookings, ride-sharing apps have flooded the market and found takers as well.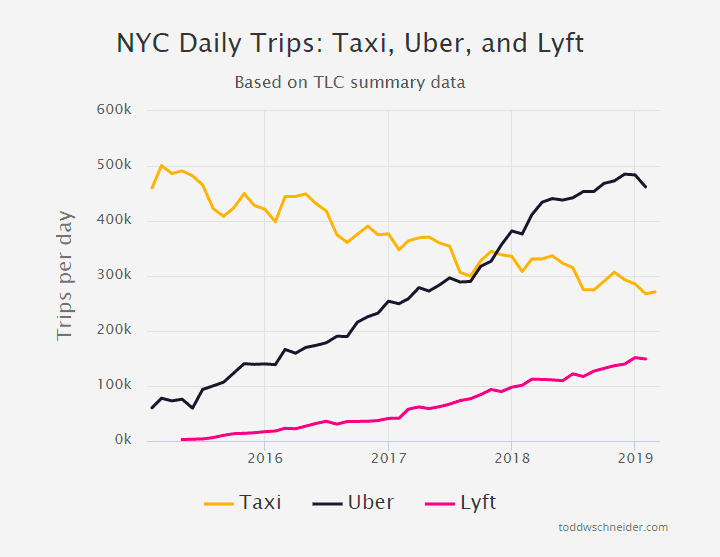 Start-ups need to take care that their new taxi booking or ride-sharing apps must provide something unique to tap into the existing customers.
6. Beauty treatments
Beauty treatments are a popular way of not just maintaining your personality but also pampering yourself. On-demand apps make Beauty treatment bookings easier, making the whole experience better for both customers and service providers. These apps ensure that the customers no longer have to wait in long queues for their turn. The service providers can also optimize resource utilization.
7. Transportation
According to HBR, transportation is the second most popular category in the on-demand economy, with 7.3 million monthly consumers. And, not all of them are online marketplaces or service aggregators trying to fulfil customer orders. Lone customers need transportation apps that ensure same-day delivery for critical items like medicines, documents, etc. as well.
Top Features of On-demand Apps
Now that you know on-demand apps are the way to go if you want to take your business to the next level. Let us look at some of the top features that must be included to make your app stand out from the crowd.
1. Book Now Get Served later
As discussed, on-demand apps allow the customer to book services that they want at their convenience. Therefore, all on-demand apps must enable customers to make bookings in advance. Book Now Get Served later is a Win-Win situation for both customers and service providers as both parties can plan for a time, logistics, and other resources required accordingly.
2. Panic Button
Not all panic buttons are bad.
The idea of having an on-demand app is that users can avail of services whenever they want. This includes asking for a service in an emergency situation. Remember that emergencies need not occur only for critical services like food, healthcare, or finance. Any situation where the customer feels that it is essential for them to avail that service immediately must be termed as emergency service by the service provider.
Whatever the service being provided, all on Demand apps must have a panic button that can be used to make an emergency booking, whatever the time or situation. Service providers that give particular importance to such bookings and provide immediate service can be sure of customer loyalty forever.
3. Charge Estimates
All apps must make financials visible to the customer. This can be in the form of the actual price to be paid or charge estimates. If your service has many add-ons that can be opted in during the booking, it is even more essential that you give charge estimate before the booking is confirmed. This will enable the user to make a booking that they have budgeted for, and not feel cheated.
4. Real-time tracking
One of the most important aspects of on-demand apps is real-time tracking available. All stakeholders, including customers, service providers, vendors, Logistics partners, etc. must be able to track the status of the order and expected time of delivery.
5. Secure Payments
Allow for a fast, secure and reliable method of making payments through your app so that there are no external dependencies.
6. Cancellations
Option to cancel their purchase/bookings at any time is a facility that customers take for granted. So, you must take care to include it in your app. It is best to provide free cancellations but if you must, keep the charges at a minimum. If possible, also explain the heads under which the amount is retained. This will help you build the trust of the customer. Sometimes, when in double mind, ease of cancellation motivates the consumers to make a booking!!
7. Reviews and ratings
Reviews and ratings are an integral part of all on-demand app. They allow the service providers to know how well they have been able to satisfy the customer. On the other hand, customers can make their feelings about the service provider known through reviews and ratings.
8. Promo Code and Referral Rewards
Promo codes and referral rewards are good ways to promote your app and motivate current users to spread the word about it. Despite all the modern marketing tools available in this digital era, word-of-mouth is still the best tool. Of course, now word of mouth means sharing the word on their social network. By rewarding users for spreading the good word about your App, you can again win loyal customers as well as new ones.
How to develop an on-demand app?
Now that you know you must have an on-demand app to take your business to the next level, the question is how you should go about developing such an app. This can be done in these 4 simple steps:
1. Research the target audience
Knowing your audience is always the most important part of any business transaction. Research the audience for whom you want to develop the app. Make a profile of your ideal customer, look at the other apps already available in the market (unless of course, yours is the first such app), and if possible, ask some potential customers what they want out of the app. Once you know what your target audience wants, everything else will automatically fall into place.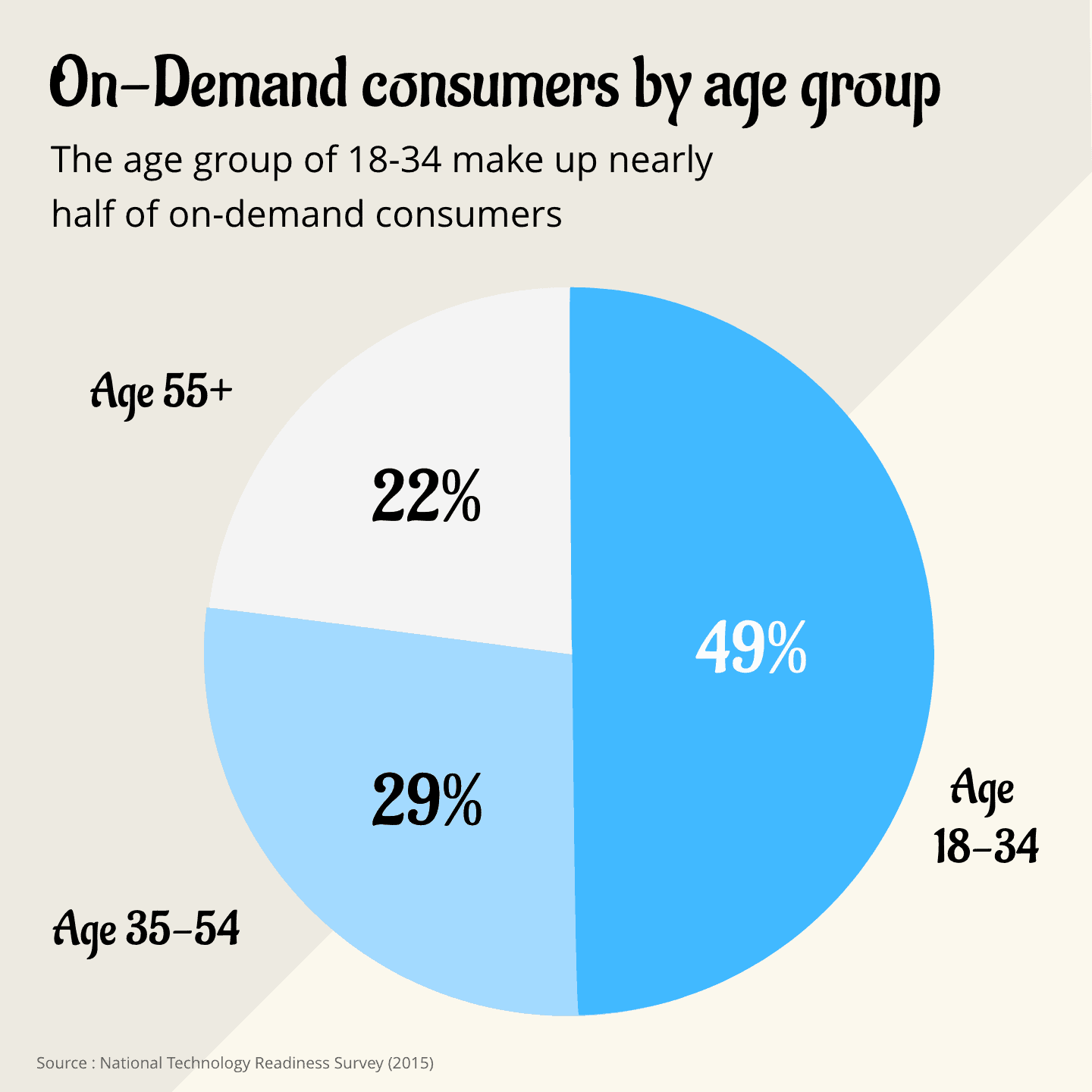 2. Pick the app features
Now that you know your ideal customer, you should pick the features that your app must-have. Remember to prepare separate lists of essential and good to have features. Concentrate on the essential features first but remember that it's good to have features that will make you stand apart from the competition.
3. Choose the right technology stack
Choosing the right technology stack for developing your app is essential for its success. The technologies that you choose must be easy to use for developers and the app developed must engage well with audiences. If you do not have in-house development expertise to choose the technology stack, you should take help from a mobile app development company.
4. Find the right development team
Whether your team is in-house or outsourced, it is essential to find the right development team. When we say the right team, we mean they must be aligned with your vision for the app and what you want out of it. Then, they must be experts in both technology and UX design, so that the ROI on your investment is maximized.
How much does an on-demand app cost?
The price of an app depends upon many factors like the type of app to be developed, Technologies to be used, features required, the experience level of development team members, etc. The app development cost also depends upon whether the team is in-house or you are Outsourcing it. Again, the country where the Outsourcing team is based also impacts the cost of development. Considering all these criteria, an on-demand app may cost anywhere between USD 250K and 500K.
Challenges faced during on-demand app development
Developing any product, including software applications, is fraught with challenges. Here I would like to talk about two challenges that are unique to on-demand apps.
One, as on-demand apps are run on mobile devices that may come in all shapes and sizes, device compatibility is an important concern during the development phase. You must also consider the fact that not all customers would have the latest smartphones off the shelf. The on-demand app that is developed must be able to run on older Software and Smartphones as well.
Two, the expectation of each customer from an on-demand app is unique because the service being provided to each is also unique. In such a scenario, reviews and ratings from customers can be a good way to indicate whether the customers are satisfied or not. Gathering these reviews and ratings is difficult because customers feel it is a waste of time for them. But for you, it is most essential. While designing and developing the app, care must be taken to strategically place the prompts for getting feedback.
Conclusion
As you can see from the numbers gathered by different agencies across the world, the on-demand economy is on the rise like never before. Mobile is the preferred mode of collecting bookings from customers. Although on-demand economy started with B2C users, even B2B Business models are being launched successfully. So, all it takes is some imagination in identifying potential problems that can be solved through on-demand services.
What you put into motion just now, in terms of becoming a part of the on-demand economy, may have far-reaching consequences down the line. If you would like to take this opportunity to take your business to new customers in a new way.