A great UX can make the "no results page" delightful
Mark Lester Lacsamana, a Philippines-based UX designer loves to read and understand the challenges a designer faces rather than looking at a picture of an interface. With 7+ years of experience in UX, Mark has worked with organizations like OLX learning and understanding the concept of 'User experience' more closely.
In continuation of the interview series to grab good knowledge on the work life of a UX designer, TechAhead interviewed Mark.
Photo: Mark Lester Lacsamana
What does it take to be a great UX designer?
Mark: "Discovering UX is very different from person to person. I've seen many UX practitioners come from various backgrounds, some from a graphic design. But if it's one thing that separates UX from other fields of design is it's reliance on skills that are much more suited to psychology and sociology particularly observation and empathy. Being able to actually pick out small nuances and problems people have is a skill that you more or less learn through time."
How was your work experience at OLX?
Mark: "I was part of OLX Philippines when it was still called Sulit.com.ph. Back then UX was still a small part of the production cycle with a UX researcher mostly doing analytics and numbers work while the UI guys mostly designed to get the approval of the CEO or the other stakeholders. What was great though (especially in the days of Sulit), we had the autonomy to try things and work the way we wanted and that gave me the freedom to explore a more UX and design thinking approach where I'd give prototypes to my UX researcher for him to test out first. Work was pretty fast but it was fun and we were learning a lot. As UX became a bigger part of the organization we started becoming more organized with how we do things. So UX wasn't just an afterthought anymore it was really a part of how we do things. There was more facilitation, collaboration and research work to be done. OLX was probably the best UX education I had and it was a great opportunity to actually do things that were affecting people's lives."
OLX App screen
Can you share some of your best Mobile designs?
Mark: "It's not my best but my most humourous interface addition was a couple of years back people would usually feel disappointed whenever they hit a "no results found" error on the app. I collaborated with a copy writer to think of some copy edits and we ended up tapping into Filipino cultural memes like "Ding ang bato! ("Ding give me the stone!" from Darna, the Filipino comic superhero who swallows a meteorite to transform into her superhero alter ego) and "akala mo lang wala, pero meron! Meron!" (You don't think there's a problem! But there is! There is! Which comes from a famous local film "Anak"). It was a big hit, and people found it so funny and a great little delightful element."
The No result page
What do you think is the most significant part of a designer's portfolio?
Mark: "Specifically for UX because it's a very young field in Philippines, a lot of designers tend to focus their portfolio on the images. I believe a UX portfolio should tell more of a story so case studies where you actually explain the process, the problem and the research work you did should be the highlight of your portfolio. I actually enjoy reading through a portfolio that shows me the data (qualitative or quantitative) along with how they got that data rather just looking at an amazing picture of an interface."
How important is the visual response by a mobile app?
Mark: "Visuals are still very important as it is the primary means that most people experience a product however, I do think the reasons and the data behind those visual decisions should be explained and visible. Intent should be clearly communicated through the visuals but many people forget why they are doing things Vs how and what they are doing."
Tell me about the most challenging project you have ever worked on? How did you approach the challenge?
Mark: "We had a project last year where our old UX researchers just resigned from the company and we didn't have any of the preliminary research to work on. We had to start from scratch with interviews and usability tests. We ended up redoing the entire mobile app ground up within two to three months.
What we did to ease the logistical challenge was we made sure to have everyone onboard from research to initial product meetings. This made sure we all agreed on what to do at the very beginning. We also made good use of user stories to make sure that we had a good grasp of what is needed to be done. Making sure everyone was on the same page we made the development process extremely smooth and helped speed up development."
Which is your most successful project till date? What makes it a success?
Mark: "I did a UX case study on the Philippine HIV problem last year. I started with surveys and then interviews with different people who were at risk of HIV. It was a great project because advocacy groups took notice and were able to change their communication plans and strategy based on the research and design experiments I did. You can read more about it on my medium account."
HIV project
What is your approach to designing a perfect mobile app?
Mark: "For me, it all starts with good research. Just enough research to make sure your decisions are well-grounded in a user context. I usually defer thinking of features or interface executions until I make sure I was actually solving the right problem. I usually take a very human-centered design approach where I'd take an afternoon talking to people or using a survey and interpolating that data. When I'm satisfied with what I have, I present it to stakeholders and we usually ideate on features together making sure to start with the problem first before focusing on how something looks."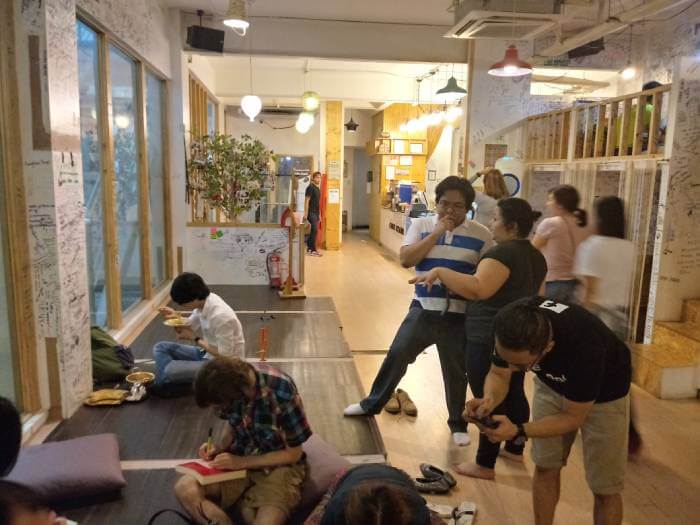 Work Environment (Behind the scenes)
What is the future of Mobile UI/UX?
Mark: "I really think there's a place for nongraphical user interfaces and interfaces that can be used by the disabled. Voice interfaces and AI are getting more complex and can do amazing things and it would only be a matter of time before we get something like Cortana from halo or Andromeda from starship Andromeda."
As a designer whose social channel is your favorite?
Mark: "Twitter and slack, Twitter allows you to get to know people and converse from the other side of the world and gets your work out there. Slack gets you more intimate opportunities to ask people about very specific topics in UX."
You can read more about Mark's problem-solving experiences on medium. He is also active on Twitter and LinkedIn.
For more such UX real-life experiences stay updated with TechAhead.