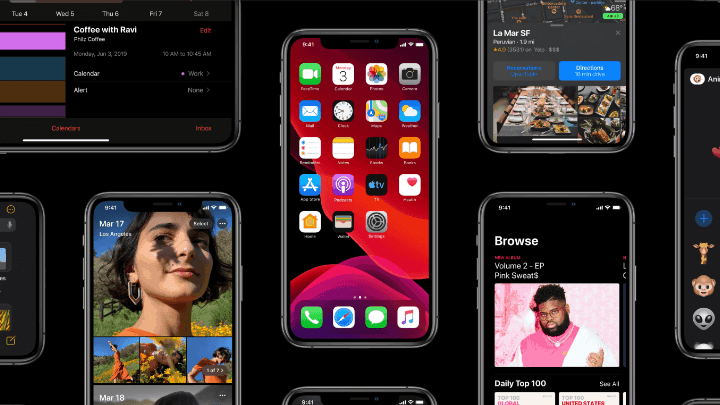 Weeks after the first look of iOS 13 was revealed at WWDC 2019, iOS 13 public beta is available now. It is likely to be launched with new 2019 iPhone from mid-September, but if you are an Apple geek, you must be itching to check it out ASAP.
Here we review all new features of iOS 13 update so that you know what to expect:
QuickPath Keyboard
This is the new swipe keyboard incorporated into the existing QuickType keyboard. With this update, you can slide across the keyboard to type words, something like Google Gboard. Of course, you can interchange between both the keyboards as per your convenience. Languages that are currently supported by QuickPath include English, German, French, Spanish, Italian, Portuguese and Chinese.
'Find My' App
If you are a fan of 'Find My Friends' and 'Find My iPhone' apps, you would love to know that both the commands in 'Find My' app in the latest update. To top it, Apple uses a crowdsourced encrypted Bluetooth signal to assist you in tracking down devices that are not connected to the Wi-Fi or using cellular data.
Experts believe that this is Apple's way of pushing for location tracking in a big way and getting it right at the same time.
Dark mode
The much awaited and hyped UI tweak is finally here. When you switch on the dark mode, the bright white screen backgrounds will be inverted to provide you a much more immersive experience. It will change the background on all the supported mobile app as well.
You can choose to switch it on automatically after sunset. Or, visit the control center to turn it on whenever you desire.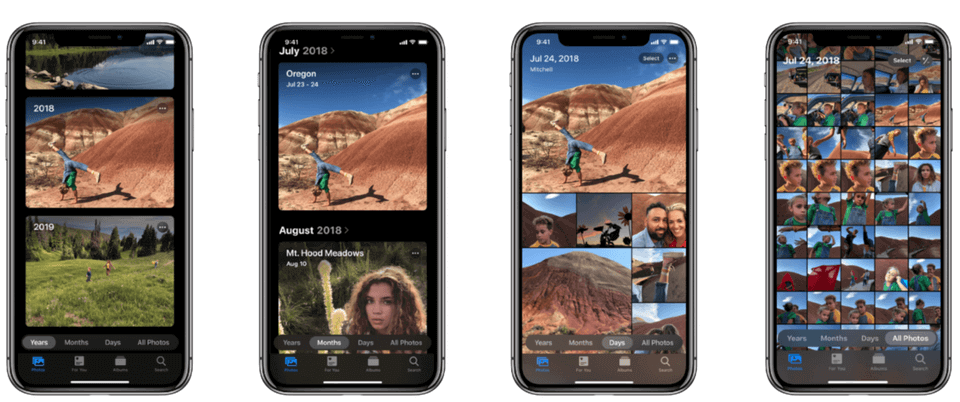 Get a longer life for your old iPhone
iOS 13 update is designed to speed up old iPhones. Now apps will open twice as fast, apps download will be up to 60% smaller and face ID will unlock 30% faster. Battery life will also be enhanced because iOS 13 will reducing the time your iPhone is fully charged. Armed with intelligence to understand your daily charging routine, the phone will not charge beyond 80% until you need it.
Set reminders more easily
Ease your life with your iPhone even more as setting reminders becomes easier, intuitive and more fun. Apple has added big color coded buttons for categories like Today, All, Scheduled and Flagged. If you are planning something in messages, Siri will double up as your personal assistant and suggest reminders that you should create.
Siri has a new voice
iOS 13 will have a new, more natural voice for Siri. The tone would be same but less robotic. Siri is also smarter now because it can identify the voice of different family members in your house who are using your iPhone. So, if you give a command like 'open my calendar for today' it will not show you someone else's calendar.
All New Memoji
Now Memojis will have around 1 trillion configurations for you. Some of the new categories include headgear, hairstyles, makeup, piercings, etc. Apple is also introducing memoji stickers, which will enable more users to use memoji, whether they have TrueDepth camera or not.
Sign in with Apple
Finally catching up with Facebook connect and Google sign-in, platforms that allow you to sign in to third-party accounts, Apple will now enable you to sign in with your Apple account. Apple professes to provide protection and privacy compared to Facebook or Google. For this, it will even create random emails for you if you do not want to share your regular email just to sign into a website or app.
Maps get a new look
If you love Google Maps more than iOS maps, you are part of an ever-growing tribe that irks Apple. So it is finally taking note of all the people it is losing out to Google maps and is launching a fully revamped iOS 13 map. There are more details as well as more realistic details to explore a city's locales that you are visiting, in 3D. The saved locations will be much easier to navigate with single tap access.
Mail Formatting
With the new iOS 13, you will be able to better format what you write in your emails using font style, font size, font color, text indenting, and list creation. However, if you were hoping to be able to insert a hyperlink in email text, you will have to wait some more.
More Power to Control Center
Now you will be able to connect to Wi-Fi network and Bluetooth accessories from the control center itself. No more navigating away from your apps and diving into the settings menu for the connection.
Better Gaming
iOS 13 also has something for the avid gamer in you. Game controller support for PS 4 or Xbox One!! So, get ready to play in style.
Apple tag for everything you use
Apple tag is really a hardware change and that might be the reason that it has not been announced with the iOS 13 update. But new leaks suggest that when iOS 13 is finally available in fall, you will be able to track everything from the gadgets to keys to water bottles by attaching an Apple tag, a Bluetooth tracker, to them. It is expected that the announcement will be made when the new iPhone 11 is launched in September.
Conclusion
Like Apple tag, there might be new features that are there in the new iOS 13 when it is formally launched in September. Till then the features discussed above are enough to keep you busy.
Remember, you must have iPhone 6 S or later, iPad Air 2 or later, iPad mini and iPhone SE 2 install the new iOS 13. If you have something older that has support up to iOS 12, you are stuck with it for life. Probably that is Apple's way of telling you that you should upgrade your mobile as well, not just OS!!
TechAhead is a leading iOS application development company that has proven experience of over 11 years. We are capable of delivering robust and aesthetic iOS apps that can take your business to new heights.