How Wearables Redefining Medical Emergencies and Healthcare
Wearables are swiftly becoming a very vital aspect of personal or consumer technology. The intervention of IoT in Healthcare has changed the way we look at our health. Sales revenue from wearable devices is expected to grow from around 16 billion U.S. Dollars in 2016 to about 73 billion U.S. dollars by 2022, a whopping increase of 350%. Collectively with rapidly increasing sales revenue numbers, worldwide shipments for wearables are also expected to skyrocket dramatically in the coming years. As of 2016, Bluetooth headsets were the largest segment of the wearables industry, followed by fitness bands and smartwatches, however by 2021 smartwatches' position in the market is expected to expand considerably, with projected unit shipments of nearly 81 million. 
Interestingly, wearables or smartwatches have particularly been an area of fascination for younger people and have appealed to them the most. In 2019, young consumers are still the largest group of wearable users, with penetration among 25-34 age jumping to 38.0% as compared to 24.0% in 2015. However, user penetration for older consumers will also increase substantially to 13.2% from 6.5% in 2015. While this increase in the purchasing by older consumers may be attributed to multiple factors, health benefits are a major driving force behind this decision. 
Most of the smartwatches in the market today; Fitbit, Apple Watch, Samsung Watch etc, now have features that are extremely helpful in a health emergency. With medical alert features and advanced health monitoring, these watches are now attracting an older consumer crowd as well.
Apple Watch
Apple Watch 4 or later, boasts of a fall detection feature that detects a hard fall while you are wearing the watch, gives you a notification where you can choose between "I am okay" or "Emergency Services". You can also terminate the notification by pressing the Digital Crown, tapping Close in the upper-left corner.
In case you go ahead with Emergency Services, Apple Watch alerts the necessary emergency services and your pre-listed emergency contacts on your behalf. It also shared the required GPS location for easy tracking. The Apple Watch waits for you to show movement after the fall is detected, in case you are immobile, it starts a 30-second countdown while simultaneously tapping you on your wrist and making an alert. The alert's volume increases with time, in turn making sure someone around you hear the alert also. Once the countdown ends, and you are still immobile, it contacts emergency services.
Needless to say, this is a revolutionary feature and has received good word all around. The watch has all the required features needed in a medical smartwatch.
Interestingly, other than the fall detection, Apple Watch Series 4 also comes with an FDA approved ECG app. ECG or electrocardiogram is used to measure the activity of your heart, to judge whether it's working normally or not. It records the rhythm and pulse of your heart.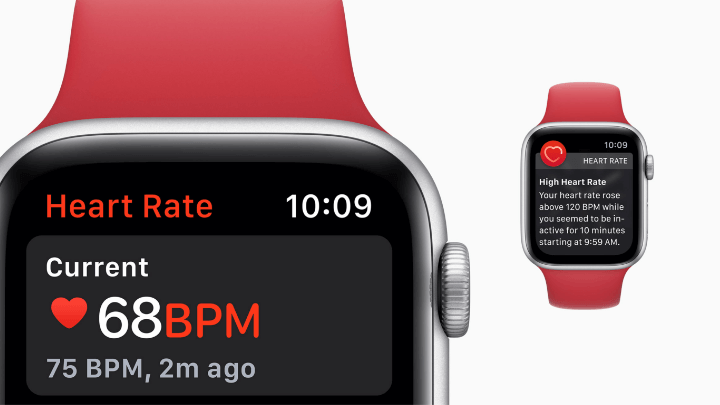 Features
These smartwatches come with multiple features, however, we'll discuss some of the features that make these wearables a top choice keeping health tracking in mind. 
1. Cellular 
Smartwatches today, come with in-built cellular features, which simply mean that they can make calls, send messages, and connect to the internet via mobile data instead of being dependent on Wi-Fi. This way, the watch is not necessarily dependent on a Wi-Fi connection to connect in case of an emergency. Cellular allows easy tracking, as it uses data from your mobile phone and hence is an essential feature in case of an emergency. Since the cellular data is not dependent on an external Wi-Fi connection, it can accurately track your location in case of an emergency and share with the listed contacts. 
2. Two-way voice
A two-way voice system can be understood as a walkie-talkie. A top feature in a lot of smartwatches, especially those designed for kids and seniors. A two-way voice feature essentially lets you connect you with someone over voice. The only drawback, however, is that one needs to have the same watch or device as the other person to make this walkie-talkie work. For instance, someone with an Apple Watch can access this feature with a friend who also has an Apple Watch.
It is, anyway, a handy feature especially in case of an emergency since it's easy to access and allows you to connect with your desire contact within seconds, making them aware of whatever is wrong. 
3. Emergency Response
Smartwatches now come pre-installed with an emergency response option. Emergency response is usually linked with some button on your phone or the smart wearable that enables you to tap it in a unique pattern or manner and that sends our an emergency alert to your emergency contacts or emergency services. The settings for this emergency alert can be completely customised as per personal requirements.
4. Fall Detection 
As discussed above, fall detection is an important feature in smartwatches today that detects any hard fall, and then connects to emergency services in case you ask for it, or in case your body goes immobile. This feature has been one of the top-rated features of the Apple Watch Series 4 and beyond. 
5. GPS Location Tracking
One of the most vital features in a smart-watch is GPS tracking. GPS enabled wearables not just enable you to keep track of your workout but also come to aid in case your connected phone or the watch is lost. If your watch is lost, GPS tracking allows you to track it from your laptop/phone and vice versa. Most importantly, it is one of the most vital requirements in case of an emergency. If the watch is unable to track your exact location, alerting the emergency services and your emergency contacts can become a redundant exercise. All emergency alerts are sent out with the exact location of you via GPS tracking.
Available Watches or Medical Devices 
The future of wearables, especially smartwatches looks promising with a lot more features, designs and uses. With the market growing massively every day, smart watchmakers are constantly innovating to bring more and more features. Newer expected features centre around better tracking of health, especially steps and exact GPS tracking. Rumours also say that wearables in the future could have a system that keeps tracking of smell which in turn is useful to monitor body odour and pollution near you. A more durable design and frame of these smartwatches can be expected, so as to ensure minimal damage. 
IoT in healthcare has started a new revolution, and wearables are living proof of this. IoT application development in healthcare has given us the ability to monitor our health on an everyday basis, thereby giving us more control. Smartwatches have made it even easier, especially for seniors and kids alike with the impressive features that are a part of these watches.
TechAhead, a leading mobile app development company is known to deliver high quality mobile apps for all platforms and frameworks. Contact our experts now to take your business to the next level.