How Much Does it Cost to Make a Ride-Sharing App Like Lyft?
Ride-sharing or carpooling is the sharing of a car by multiple people. It reduces a person's travel cost and stress of driving. It's been very popular lately as people find it very convenient and easy to access. The ride-sharing global market was reported to have a worth of 61.3 billion USD in 2018 and it's predicted to become an industry or worth 218.0 billion USD by 2025 with a growth rate of more than 19.87% in the coming years.
Lyft: Become a driver or get a ride now
Lyft is a ride-sharing company based in San Francisco, California. It is currently active in 644 cities in the US and Puerto Rico along with 12 cities in Canada. Lyft takes care of activities such as marketing and operating the Lyft app, offering car and scooter rides, bicycle-sharing systems, and delivering food. It is the second-largest ride-sharing company in the US with a market share of 29%. Computer programmers Logan Green and John Zimmer launched Lyft in 2012 as a service of Zimride which is a long-distance intercity carpooling company founded by them in 2007. Lyft is a platform that allows people to hire or book a cab with the help of their cell phones, generating revenue of 2.157 billion USD as of 2018.
Lyft Business Model
As a plan for the successful operation of the business, Lyft takes a share of 20% from each ride and the rest of the 80% stays with the driver. Its business model includes a rating system for both drivers and riders which allows them to rate each other. It has two car options: Lyft and Lyft Plus. Lyft also has a surge pricing model called heat maps that characterizes the region where the demand is more.
As a part of its Express Drive program, Lyft is making 200 new long-range EVs available to ride-sharing drivers. In the Express Drive program, Lyft provides rental cars to drivers on its platform as an alternative to long-term leasing. This program includes insurance, maintenance, and roadside service. Lyft is also building autonomous cars and adding them to its fleet such as Chrysler's Pacifica hybrid minivan. Pacifica is an ideal choice because it has a big sliding door which makes it easily accessible and has plenty of room inside as well.
Not only this but lift has some plans that replaced the pricey all-access schemes. One such plan is Lyft pink which offers you flat 15% off on all car rides, three free bike or scooter rides per month. It also provides priority airport pickups, surprise offers and upgrades, easy cancellations, and other benefits.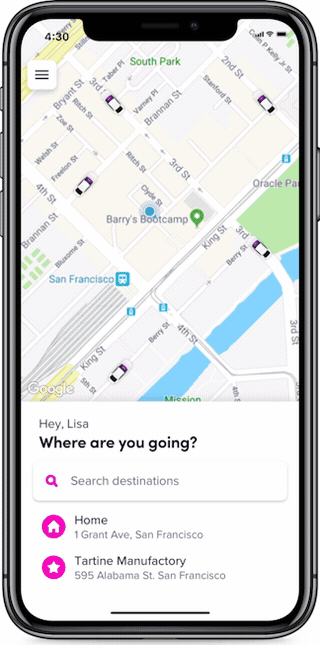 Essential features of a Lyft like app
Technology has transformed the way we commute from one place to another. The idea of providing conveyance at the ease of the customer's comfort is one of the trendiest business ideas. And there are plenty of options for a user that is fast, economical, efficient and comfortable to try things out on his own. One such option is Lyft. But what are the essential features that contribute to the making of an app like Lyft? Have a look here:
Customer app features
Search and schedule a ride: The rider must be able to search and enter the pick-up and drop-off. It should be focused on providing timely results along with providing a user-friendly experience. 
Estimated time and fare details: The estimated time of arrival should be known to the rider beforehand on the basis of the pick-up and drop-off location, along with the fare details for the ride as per the distance covered. It brings transparency to the system.
Receiving real-time notifications: The rides must get updates via notifications about minor things like how far the driver is, when will he reach the pick-up point, etc.
GPS and location determination: Real-time location tracking should be there as a part of the service. It eradicates any scope of confusion in the rider's mind especially when more than one person is taking a ride i.e. when the driver stops to pick another rider, the prior will get to know the reason for it.
SOS buttons in case of emergencies: Things can go unplanned without any sign and it can put lives in danger. SOS buttons should be there so that help can be provided in case of an emergency.
Promo codes and coupons: As a part of the loyalty program to engage users and provide them with a good experience and a feeling that they matter.
Reviews and ratings: There should be an option for honest reviews and ratings so that the system can be improved and made better.
Cancellation policies and methods: Flexible cancellation policies that work both for the riders and the drivers with set methods of doing it. 
Multilingual app: For the users that can't understand English, the app should be available in various regional languages. 
Scheduling a ride in advance: To avoid any type of delay caused by waiting for the cab or time wasted on booking it during peak hours.
Working in low connection areas: It should be functional in areas where there is very low connectivity so that the users get a good experience.
Driver app features
Accepting and rejecting rides: Drivers should be able to choose whether to take a ride or reject it. It's not only about the riders' comfort but the drivers as well. There can be times when a driver can't accept a ride for genuine reasons. In such cases, he could cancel it.
Details of the trip: Where the driver is heading, where he will be dropping the passenger and all other details about the trip must be known to the driver beforehand. 
Navigation systems: For the ease of comfort and a smooth journey which saves time, navigation systems should be there. 
Ability to communicate with the customer: Through a phone call or text so that he can talk and coordinate with the rider about his exact location as technology can be wrong at times. 
Integrated system for receiving payments: To facilitate the rider and the driver with a smooth process, online methods should be integrated with the app to escape any hassle. 
Rating a customer: Drivers must have the option to rate or give feedback about the rider in case he misbehaved.
Admin app features
Dashboard: Information regarding the total number of rides taken by a rider or driver, payment status for the last ride, etc.  
Manage vehicles: To keep track of and manage all the existing vehicles. 
Manage payment settings: Deciding the mode of payment and keeping a check on the payment status of a particular ride.  
Push notification: To keep the users updated about the new policies, coupon codes, or offers.
Real-time tracking: Keeping a check on the journey for the sake of safety.
Design guidelines to make a ride-sharing app like Lyft
An app with good features but poor visuals is a disaster. These things should be kept in mind and must be on-point while designing an app like Lyft:
It must have user-friendly navigation.
The UI/UX designs must be smooth.
There must be pleasing visuals and graphics.
The app must have real-time functionality.
How much Lyft like ride-sharing app development cost?
After looking at all the features required to build an app like Lyft and it's design aesthetics, let's try to estimate its cost. Without going into detail of all the possible aspects, let's briefly review all of them on a superficial level. Those aspects are: 
The back-end and front-end development: Developers will build the core of the app using JavaScript, Python, or other Java languages. Then the data must be stored on a database. Every feature will consume its own time. 
App-specific requirements: Cost might increase or decrease on the basis of the features and graphics of the app. More is the number of features, more will be the cost. 
Choice of the platform: iOS or Android, now it's up to you which audience you want to target. It is best to target both.
Size of the development team: The number of people in a mobile app development team will cut the time but will increase the financial factors involved.  
Location of development company: The hourly rates vary geographically. For instance, it's $20-50 in Central Asia, $40-80 in Europe, and $100-150 in the USA. Hence, the location of the mobile app development company plays a vital role in deciding development costs. 
How do ride-sharing apps like Lyft make money?
Commissions: Ride-sharing companies like Lyft make money by taking a share from every trip charged through their phone apps. Lyft takes 20% of each fare booked through its app.
Promotional partnerships: Customers get benefited from the marketing campaigns run by other brands. For instance, Lyft passengers in select cities were treated to free trips in the BMW 7 Series to promote the new car and Lyft gets the money.
Referrals: Increase in the number of referrals either by a driver or rider, ultimately increases the number of riders and hence helping apps like Lyft to make money.
Challenges linked with ride-sharing app development
Accuracy of information: There is no credibility of the information provided by the user and hence it can't be considered as very accurate.
Growing competition: The competition is growing day-by-day. There are many ride-sharing companies in the market and making your place amongst them, isn't an easy task.
Location tag: Getting the exact location is a real struggle. The GPS system fails at times and provides you with the wrong location.
Autonomous vehicles: They are expensive and not completely reliable because at the end of the end they are just machine algorithms and human life can't rely on a machine's decision.
Lyft like app alternatives that are widely used by people globally
Uber
It is an American ride-sharing company that has its presence in multiple countries. It offers an end-to-end ride-sharing, food delivery, and booking personal bikes or scooters.
Curb
It is one of the most popular taxi apps in the US that allows users to book a taxi via their phones. It is revolutionizing the way riders hail a taxi by providing a fast, convenient, and safe user experience.
Mytaxi
It is a mobility provider that was founded in February 2019 and it's headquartered in Hamburg, Germany. It's a joint venture between BMW and Daimler Financial Services.
Flywheel
It works as an e-hail app for riders, and a smartphone-based operating system for taxi drivers, replacing the conventional methods of ride-sharing and facilitating a hassle-free experience.
Easy Taxi
It allows the users to book and track a cab via their phones which is currently active in 30 countries. This is available for both iOS and Android.
The future of ride-sharing apps
Who could think about the ride-sharing services present today? With time, things have changed, and they'll continue to do so. Ride-sharing won't stay untouched either. There are autonomous cars in the market, but they lack the proper implementation when it comes to their usage in ride-sharing. The future of ride-sharing beholds an increased usage of such cars along with more space to store luggage and to sit. There is a lot to be explored and a lot more to be experienced.