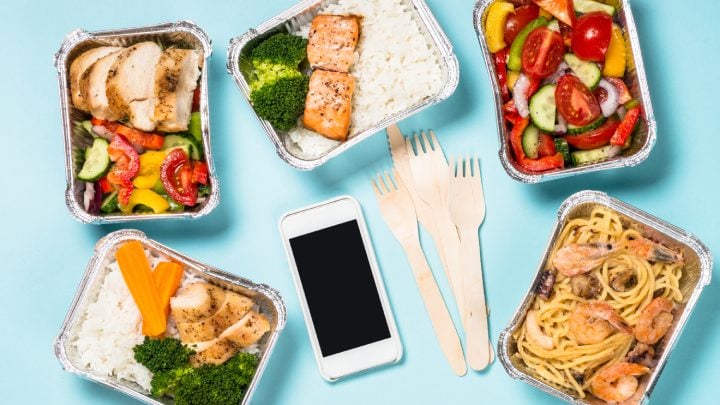 What to Consider When Building Food Delivery App?
If you are, or intend to be, a restaurant owner or invest in an online food delivery platform, you must be aware of these latest Statista figures for online food delivery:
• Total global revenue in the Online Food Delivery segment amounts to USD 95,413m in 2019.
• The largest market segment in online food delivery is restaurant-to-consumer delivery.
• The annual revenue growth rate of the restaurant to consumer segment is expected to be 8.9% while that for a platform to consumer delivery is expected to be 11.9% between 2019 and 2023.
Business Model of Food Delivery Apps
There are two models of business in online food delivery apps. One, restaurant to customer and two, a platform to the consumer. Whatever your business model, you cannot deny that more and more customers are moving online so that they do not have to interact with people needlessly while ordering food. All they want to do is select the desired items from the menu, make payments and wait for the delivery. So, having a mobile food delivery app for your business makes sense.
Businesses like Swiggy, Ubereats, and Grubhub are raking in the moolah consistently since their inception. Grubhub posted revenue worth USD288 million in the fourth quarter of 2018, which was a 40% y-o-y increase for the same period in 2017. Although Swiggy and Ubereats are said to be in red, a careful study of their figures reveals that they are increasing their revenue every quarter. This is the reason they continue their operations, increasing their profits slowly but steadily, and moving towards the green from red.
As Statista study reveals, tapping into online customers is important to restaurants as well as food aggregation businesses. To this end, online food delivery app development has become an important part of the whole strategy.
Important Features of Food Delivery Apps
Before you dive into getting a food delivery app developed for your business, you must know what you are up against in terms of competition. Here we outline some of the most important features online food delivery apps must-have.
Easy to Use Interface
The first screen that the customer logs in to must be easy to understand and navigate. If the customers have difficulty in finding what they are looking for, like their favorite restaurant, the favorite menu item or offers in local restaurants, they are likely to log off and move to your competitor.

Secure Payments
Online security has become a big concern for all online users these days in food delivery apps. Everyone is concerned about the safety and security of their data and they are fully entitled to it. You, as a service provider, must ensure that you have secure payment methods on your app. If you will be using some of the data for your own purposes, you must first take consent from the user. Providing secure payment methods and keeping their data safe is the starting point of building trust and long-term relationships.
Live Order Tracking
Any online food delivery app must provide a live order tracking facility to all the parties concerned. The person ordering food would definitely like to know the status of their delivery. If you are a food aggregator, even the restaurants would like to know if you are really delivering the food hot to its customers. Because that is a sure-shot way of converting a customer to repeat or regular customer. As a restaurant manager, you need to keep a tab on the time taken by your delivery person to deliver food to the recipient.
Multiple Methods to Order
Although we are concentrating on Android app development and iOS app development, we need to keep in mind that customers like having multiple options to order food. So, besides the mobile food delivery app, you must also have the option of website ordering and desktop apps.
Rewards & Offers
Customers always look for value propositions and hence are on a lookout for ongoing offers in restaurants around them. Restaurants are also always running promotions to attract more customers. The app should make these announcements prominent so that anyone using the app can immediately see the offers and rewards.
Push Notifications
Continuing our discussion about rewards and offers, push notifications would be the best way to handle them. But such notifications are a double-edged sword. If you use it too much, you may drive away from the customer. But if you use it too little, you might lose revenue. The ideal way would be to ask the users how much notifications they want, and when.
Important Factors to Consider While Developing Food Delivery Apps
With so many players in the market, it is difficult to decide which company must choose for food delivery app development. Also, before you select the right one you must have these important questions sorted out.
What is Your Budget?
The world of mobile app development is immense in terms of expertise available, frameworks that can be used and features that can be inserted. However, everything comes with a price. So, before you approach or hire a mobile app development company, you must know your budget. An ideal mobile app development company should be able to match your budget with the best possible service needed.
Which Framework(s) to Choose?
The first thing that you need to decide is the platforms or the operating systems for which the app must be available. Once you have zeroed in on the platform that you want to cater to, you need to select the framework that is right for you. There are lots of frameworks available for developing a mobile app. You need not have first-hand knowledge of all these to understand which is best suited for your needs. The app development company should be able to walk you through the features of the frameworks they have an offer and then you can make your decision. Of course, it will help if you have some preliminary knowledge or have a resource person who can guide you on this.
Can You Handle Lightning-fast Delivery?
Lightning-Fast Delivery is the buzzword when it comes to online food delivery. Your app should be able to handle this by taking minimum time in getting the order to placing it to the right person and updating the status of the order in real-time.

Do You Know Your Customers?
Knowing your customer is the most important factor in the success of any business, new or old. Before starting with food delivery app development, you must be very sure about the people that you are targeting through market research and have a target audience strategy in place. The look and feel of the app should always depend upon the target customer. For example, the design of an app targeting youth aged 18 to 24 would be very different from that targeting middle-aged people of 35 to 45 years. Therefore, profile your ideal customer before the actual mobile app development starts and keep it in mind at every stage.
What's Your USP in this Cluttered Market?
As you already know, there are already many players in the online food delivery market. To succeed here you must decide what is your USP in this cluttered market and your app should be designed to highlight it. You must have 1 – 2 things that you are doing differently from your competitors so that the customers are attracted to your app.
Marketing Tips & Tricks
As mentioned earlier, knowing the customer is very important for the success of your business. The next factor that would make a great impact on your business is correct marketing. Here are a few tips in no particular order to help you in the food delivery apps market:
Invest in a Custom website
Even though the emphasis these days is on having mobile apps, it pays to invest in a custom website. and while you are getting that website design, ensure that it is mobile-friendly. many people like accessing the websites on their mobile rather than the desktop or laptop.
SEO & Social Media Friendly Platform
Connect your mobile app to all your social media accounts so that people find it easier to share their experiences on social media. remember that word of mouth is the best publicity that you can get. and if you are doing something right let others know as well.
Target a Smaller Area & then Expand
In terms of food delivery, it is better to think globally but act locally. select an area and started operations from there. you can think of it as your beta testing phase where you have left to lose if you make any mistakes. when you see things going well for it you can expand to include more regions.
Customize according to Local Demands
Food is a matter of individual preferences. it varies from one location to another. You should look towards incorporating local preferences in your App so that people feel more loyal and engaged.
Think of Alternate Sources of Revenue
It's obvious that food delivery is your main source of revenue. However, you can also think of alternate sources of revenue using food delivery apps. for example, you can partner with food packaging or food-producing companies to place their ads. Or, you can run their online marketing campaign if it is in line with your own offerings.
Add User-friendly Features
The importance of having user-friendly features cannot be emphasized enough. it is an important marketing tool as well because if the learning curve for the app is flat, it is easier to encourage new people to start using them.
Make Simple Order Placement Procedure
The most important aspect of user-friendly features is always a simple order placement procedure. Your customer should not need to think about how to place the order. the interface should be intuitive and obvious enough to help him do so.
Conclusion
If you are in a food delivery business but not investing in an online food delivery app, you are leaving lots of money on the table. Using an app enables you to reach more customers, convert one-off customers into repeat customers and even look at alternate ways of monetizing your business. All that you need to do is decide that you need an online food delivery app, choose one of the best Food Ordering App Development companies, and then you are ready to go.