Google officially started rolling out the release of Android 11 few days back. Needless to say, it is releasing on Google's Pixel phones but will also be available on Xiaomi Mi 10 series, Oppo Find X2 series, OnePlus 8 series, and Realme X50 Pro, among a few others. With a number of updates being released in this version, it will largely make multitasking better, is faster, gives more privacy control to users, less cluttered interface and finally brings in built-in screen recording.
One big area of discussion has been the increase in RAM size required in devices to be able to make this version work. Earlier, Android 10 would work on devices with less than 1.5 GB of RAM, however Android 11 will need 2 GB of RAM or less. This version largely highlights 6 things- Conversations, Content Capture, Predictive Tools, Accessibility, Device Control, Privacy and Security.
While there are plenty of Android 11 features, Here are some of the most striking ones:
Conversations: Focusing on the primary use of a phone- conversations, Android 11 now puts notifications from any chat app into their own individual section on top of all other possible notifications you may have, this is called Conversations. This enables you to also select a chat or conversation and mark it 'Priority conversation' and Google will be firmer on notifications from this conversation.
Bubbles: More on conversations, your texting chat becomes a little bubble and can float over other open apps. This was earlier available for Facebook Messenger but can be used for other apps too.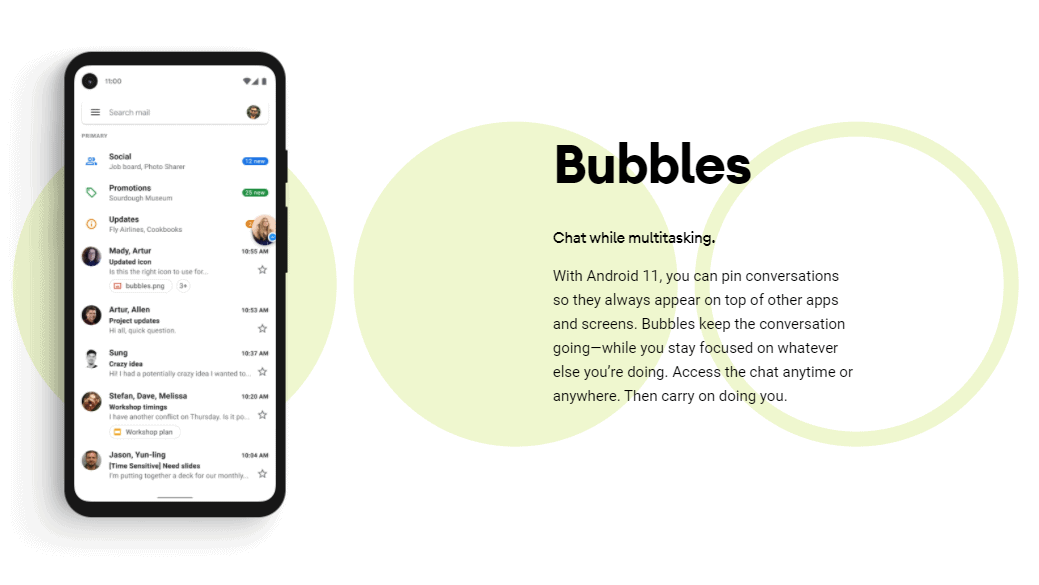 Do not disturb: This allows you to customize your settings and allow apps or people to notify you despite the mode being on.
Notifications: Now easier presets to help you manage your silent alerting notifications.
Built-in screen recording: Finally, Android released a built-in feature that allows you to record what is happening on your screen. Earlier, to do this, you needed a third-party app installed. This feature allows you to record the sound playing on your phone too while you are screen recording.
Media controls: The media control player is now not in your notifications area but placed in the quick settings section, like the tool it is instead of a notification. The media control changes size according to how you decide to view your notifications and makes it easier to switch media settings such as from Bluetooth to headphones etc.
Improved accessibility: The voice access in Android 11 is now faster and easier to use and is an improved version. The hands-free mode works offline now and does not necessarily require an online connection, thereby enabling better accessibility.
Another amazing addition has been a braille keyboard. You can now write messages in braille without having to purchase a software. Additionally, the Lookout app in Android 11 allows you to scan food labels and other documents thereby enabling people with a limited vision to continue getting educated about the document and their food.
Security and privacy: Always a big focus for everyone these days, Android 11 bring a few changes to permissions for apps. For instance, earlier you could only give an app permission for camera or location of 'all the time' or 'only while using the app', but now you can choose to allow it to use that only that one time.
Additionally, pre given permissions will now automatically be revoked in case you haven't used an app in a long time, thereby stopping tracking of location etc.
Smart home and smart devices connectivity: Smart homes and smart devices have been trending for a while now, as people are increasingly investing in smart devices. Android 11, in response to this, has a section that allows you to control all your devices without the need for an app. The new tool can be launched by holding down the power button, filled with options and features, including power, contactless payments etc.
How can TechAhead help in Android App Development
TechAhead, renowned for itsAndroid app development services, has over 10 years of experience serving Fortune 500 clients to high growth enterprises. From app discovery to post-launch app promotion, TechAhead is your one-stop partner for all your mobile app development requirements.
We understand the significance of each app we develop and work to make it a success. Get in touch with us and we will create an exceptional app for you which is scalable, and robust and relevant.