COVID-19 has altered the face of many industries and the education sector is not untouched. It has made it almost impossible for the education system to continue in its traditional way. Without a classroom, it is up to academicians, policymakers, and technocrats to find effective and efficient ways to fill the gap between learners and teachers.
The changing scenario is slowly and definitely creating newer opportunities for education app companies to come up with disruptive ideas using modern technology and convert this adversity into an opportunity.
EdTech is growing, with the total market value worldwide set to reach $252 billion this year, Forbes reported.
Some of the best educational apps recommended by top educators: are Udacity, iTutorGroup, Khan Academy, Duolingo, Photomath, Kahoot, Classdojo, Quizlet, Sololearn, and Coursera. Mobile apps are helping educators to transpose schools to students when they cannot visit schools.
Play-based learning to engross children
Essential Features
Play-based learning approach: The apps are based on an approach to teach elementary concepts through game-like activities.
Vibrant environment: The presence of colorful themes, animated characters, funny sounds, and other elements make such educational apps intriguing for young learners.
Multiple concepts are covered: Based on the app selected, the kids can develop mathematical, communication, environmental, or computational skills.
Augmented reality: Several apps include technologies like augmented reality to offer lessons through visualization.
Examples: LetterSchool, Amazing Alex
LetterSchool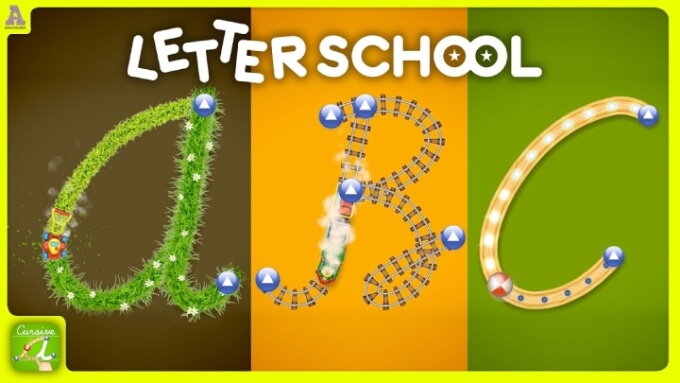 This app enables the kids to learn how to write letters, numbers, cursive letters, and draw different shapes. The controls are given to teachers and parents to select the activities and track the learning. At $3.99 dollars per month, the users can get a premium version with 150+ games and additional learning content.
Exam preparation education apps
The test preparation market in the U.S. is predicted to cross $10.72 billion dollars by 2024.
Essential Features
Repository of questions: The apps have a myriad of questions revolving around a specific test a student is preparing for. The solutions are also present to analyze and rectify mistakes.
Comprehensive Result: Apart from telling the score, the apps also inform about areas of improvement. Several services give the students a chance to gauge their performance with other users.
Mock Test: Through mock tests, the apps offer a simulated environment with a test pattern, duration, and marking scheme similar to that of an actual test.
Flashcards: To explain crucial concepts, the apps use flashcards or similar functionality.
Examples: Arbobridge, Kaplan, Pearson, Ready4 ACT, Daily Practice for the SAT
Ready4 ACT
One of the leading ACT preparation apps, Ready4 ACT with 1,500 ACT questions, and detailed explanations. Each segment, including Reading, English, Math, and Science, has 100+ flashcards. A user needs to pay a specific amount, depending on the region he/she is using the app from, to access the premium content. By filling in the information related to education, personal info, and college preferences, the app helps the students connect with the right universities.
A user can instantly get details like an average GPA and an average ACT score of more than 550 colleges through the app. There is also a provision to receive updates on programs, events, and deadlines of these colleges.
Link: (Android | iOS)
Learning Management System to Create Courses and Manage Class
Essential Features
Course Creation: A learning management system app lets the teachers and instructors create a course by uploading learning materials.
Assignments: The instructors can use the app to create, share, and receive assignments when dealing with a batch of students.
Assessments: This feature lets the teachers track the performance of the students through a set of questions. The teachers need not check each answer after receiving assessments. Various apps allow even students to get instant results after submitting an assessment.
Collaboration: The teachers collaborate with other teachers or even students to optimize the course creation process.
Examples: Google Classroom, Moodle
Moodle
This application enables the teachers/instructors to share video and textual content to the targeted users. The students just need to use the credentials provided by their teachers to access the content.
The free plan comes with access to 50 active devices with push notifications. The number of devices and other features increase with different annual plans.
Puzzle and Traditional Games
Essential Features
Virtual board games:   The board games that have gained phenomenal popularity over the years are being developed in the form of apps.
Multiplayer Gaming: Most of such games are available in a multiplayer format to instill social skills among children.
Storylines: Numerous apps have storylines in the form of various adventures that boost problem-solving skills.
Examples: Scrabble, The Game of Life
Scrabble
What differentiates Scrabble game from its offline counterpart is a feature that shows the best words that a user could have used--which helps in strengthening the vocabulary. The app enables a user to play a game with Facebook friends, random online opponents, or a computer. In Speed Play Mode, each player gets a limited time during his/her turn.
Memorization Apps to Ace Learning
Essential Features
Initial Evaluation: Memory and other brain training apps usually conduct an initial evaluation to check a user's cognitive abilities.
Multiple small games: In a single app, a user finds multiple small games with each having a unique objective like improving memory, attention, and analytical skills.
Set the levels: A user is allowed to set the difficulty level of a game. Some apps automatically move a user to the next level after he/she clears the existing one.
Performance stats: Brain-training apps regularly offer performance stats to track the improvement. There is a functionality to share the performance on social media posts.
Examples: Peak, Luminosity
Peak
This award-winning app offers brain games designed in partnership with researchers from NYU and Cambridge University. The app lets the user challenge his/her friends after learning the categories he/she excels in. The premium version comes with advanced brain training modules, in-depth insights, and a personal trainer.
Skill-based online courses
Essential Features
Certification: The majority of skill-based online courses offer certifications after the successful completion of courses.
Courses for every stream: You will find courses on all leading skills in demand, including data science, web design, digital marketing, cloud computing, project management, video editing, and psychology.
Designed by industry experts and academic veterans: The courses are crafted either by industry veterans or professors from reputable institutions like MIT, Harvard, Cambridge, etc.
Examples: EdX, LinkedIn Learning
EDX
With more than 2000 courses, EDX is one of the leading apps for MOOC (Massive Open Online Courses). The majority of course materials could be accessed for free. The user needs to make online payment only to get a certification or while enrolling in a degree course. The "online discussion" is a virtual forum that enables a user to interact with other students.
The self-paced courses on this app let the learners watch the videos whenever they want, with a facility to download for offline viewing. Assignments and text-based learning resources are also included in the course.
How these apps are helpful?
Companies and academicians are moving towards the app because it offers multiple benefits to its users. Here is a list of some of the key advantages of using a mobile app for education.
Speed Up the Knowledge Dispersion
It's easy to upload a course or a skill on a mobile app and share it with millions of people all over the world. Not just that, many schools and universities use apps as a mode of sharing the latest updates about the activities or changes with the students and parents.
Enhanced Engagement
Smartphones are perceived as something natural and a part of everyday activity. Using it as a mode of learning increases the level of engagement for users. It makes education a part of daily activity/learning.
Increased Audience Reach
As per the McGraw Hill Education Study, 61 percent of students used smartphones to study in 2016. Now in 2020, you can only imagine the number of students using a smartphone to go higher and this number has been pushed even higher due to COVID-19 and the introduction of multiple educational apps.
Enhanced Collaboration
Easier accessibility and higher engagement level make it simpler for users to collaborate actively without any glitch. In the case of younger kids, it is easier for parents to keep track of their progress and connect with the teachers.
Tech-savvy kids
Digital transformation is one of the top keywords being used in EdTech across the world. Using mobile apps to learn daily can help kids in becoming tech-savvy from the early years.
Other Technological Trends in EdTech Industry
App-based learning is one of the leading trends in the EdTech world but there is more to this than meets the eye. Next, we will throw some light on other advanced technologies that are used at the backend to make learning possible for all in a convenient and fun way.
Virtual Desktop Interfaces – Putting schools in the cloud
Virtual is rapidly becoming a growing trend. Virtual classrooms bridge the gap between geographically distant students and teachers. Schools are providing resources to the students virtually. Teachers are coming online and taking live classes via virtual desktop interfaces.
Administrators build end-user applications and resources and make them accessible on any endpoint device with internet connectivity. Building in the cloud provides administrators with a higher sense of security.
Virtual desktops can come with pre-installed educational tools and applications like Mathematica, MS office 365, and aid in attaining common goals like Common Core. It is a program recently adopted by 45 states and Washington D.C. to encourage evidence-based English and Mathematics learning standards.
Better learning and teaching with data analytics
It is believed that big data can help in improving students' results - helping students learn with customized programs leading to reduced dropouts while helping students learn at their own pace.
In this digital era of learning and teaching, each student creates a unique data trail with their actions and results throughout their student life. Analyzing this data in real-time can help in gaining a better understanding of individual comportment of students. This will further lead to creating an ideal learning environment as per their suitability.
Using extended reality to transform learning
In recent years, some schools have adopted extended reality to make immersive learning a part of students' educational experience. It includes virtual reality, augmented reality, and mixed reality. With most of the infotainment places like zoo, planetarium, and museums being closed due to COVID-19 for the unforeseeable duration, XR appears to be a terrific way to teach and engage kids.
Enhanced online training simulations, immersive gamification in eLearning courses, customized learning paths in web-based courses and eLearning assessments with visual feedback are some of the ways to apply XR into daily learning of young or grown-up students.
Although this technology has been recently adopted by a few tech-savvy institutes only, the industry is poised for a breakthrough in the next few years as high-quality XR content becomes commonly available and the cost of equipment gets more affordable.
According to a report by Consultancy.uk, AR and VR technologies will boom to $170 billion by 2022.
Automation in educational institutes
The education sector is going through a revolution in which automation of instruction delivery using Intelligent Tutoring Systems (ITSs) will vastly improve accessibility. This will exponentially reduce the cost of education.
Many online course apps mentioned above use automation as a mode of dispersing the subject matter to the students. Universities can further save time and reduce discrepancies by recording attendance and other activities via automated devices or technology.
With the adaptation of modern technologies comes the responsibility to stay cautious. Two main concerns that come with the digital transformation of the education industry include missing skills in existing personnel and cybersecurity issues.
Current teacher training curriculums are preparing teachers for the conventional education system. It does not train them for technological transformation or using digital methods and tools for teaching. This needs to be altered as per the latest requirement. It also creates an opportunity for tech companies to either create user-friendly tools with a flat learning curve or create programs to train the teachers of the future.
Cybersecurity is going to be a cause of concern for almost all the industries going through this revolution. They need to hire in-house trained professionals or outsource their IT security tasks to an expert company.
Notable successful education apps
A lot of EdTech companies are growing & expanding all over the world. EdTech revenue is expected to rise exponentially in the coming years and decades. The United States has become a swift adopter of educational technology itself.
EdTech is also becoming global and crucial to all the nations around the globe. Here is a list of top five EdTech companies who have decided to make hay while the sun shines.
Byju's
Byju's is an intuitive online learning experience for a wide variety of different subjects. It was founded in 2011 by Byju Raveendran at Bangalore, India. In March 2019, it was the world's most valued EdTech company at $5.4 billion.
Udemy
Udemy is a website with multiple courses on a vast range of subjects. Students can choose a suitable course by checking ratings and reviews provided by other students. They bring adult education to a whole new level.
Age of Learning
Age of Learning is another giant in the world of EdTech companies. It focuses on child education by combining the best of education and technology. This U.S. based company is worth a million.
Conclusion
In the coming future universities will adjust their investment plans and assign more funds to the IT and digital departments. Some of the traditional methods of learning will diminish and disappear. Online learning and educational apps will be the new normal. Companies will be launching educational suites just like they have launched productivity suites for businesses in the past.
Due to flexibility and accessibility, adult education and distance learning will become even more popular. Immersive learning is something that will become a new trend, but it will be utilized more successfully by the masses only once the costing of tools and technology comes down.
Do you have an idea that can be converted into an educational app? Contact us if you need assistance and technical support to convert your mobile app development idea into a reality. Get a free consultation with our EdTech expert.