Apps Reducing Pollution and Traffic was a necessity as the number of vehicles in India is considerably increasing which is also acting as one of the prime sources of pollution. The Daily immense amount of pollution gets emitted from vehicles including trucks, jeeps, cars, trains, airplanes. Emissions of air pollutants have been shown to have various sort of negative effects on public health and the natural environment. The effects of air pollution as we all know has reached at such a critical stage that it kills down our body slowly through respiratory diseases or cancer, lung diseases, etc. Even the traffic is such a hectic that it seems the traffic on road gets increasing every time you hit the road.
Few Eco-friendly startups and not so big companies have come up with a business providing shared drive to destinations.
Here are 5 Apps Reducing Pollution and Traffic:
Tripda
Tripda is an online carpooling application. They are offering services in Pune Mumbai Chandigarh to New Delhi Gurgaon Faridabad, Noida. They also provide only ladies carpooling services so as to make female drivers and passengers feel more comfortable and safe apart from other safety measures which they follow. Tripada is available in many other countries like Argentina, Brazil, Chile, Colombia, Malaysia, Mexico, Pakistan, Philippines, Singapore, Taiwan, USA, Uruguay.
Orahi (Previously known as Folksvagn) is a dynamic ride sharing system that lets you share car rides to office and back. Imagine travelling from home to work and back in peace. No rush, no chaos. Orahi lets you share rides end to end. Plus there's really no need to travel with strangers – use Orahi to plan a ride with your colleague or neighbor. And the best part is Payments between passengers and car-owners are settled using Orahi apps. Hence, no cash exchange.
BlaBlaCar connects car owners and co-travellers to share city-to-city journeys. BlaBlaCar has a Price Calculator that automatically calculates a recommended price for every journey, ensuring that drivers do not receive reimbursement exceeding running costs.
ibiboRyde

The ibibo travel group provides the ride-sharing platform by the name ibiboRyde. Sharing ride with ibiboRyde app provides you a luxury of car traveling by less amount than a Taxi, Cab or sometimes even buses and metro. It provides an option of Traveling to another city as well as within your city! ibiboRyde focuses to get most affordable ride offered by like-minded people around.
Coyatri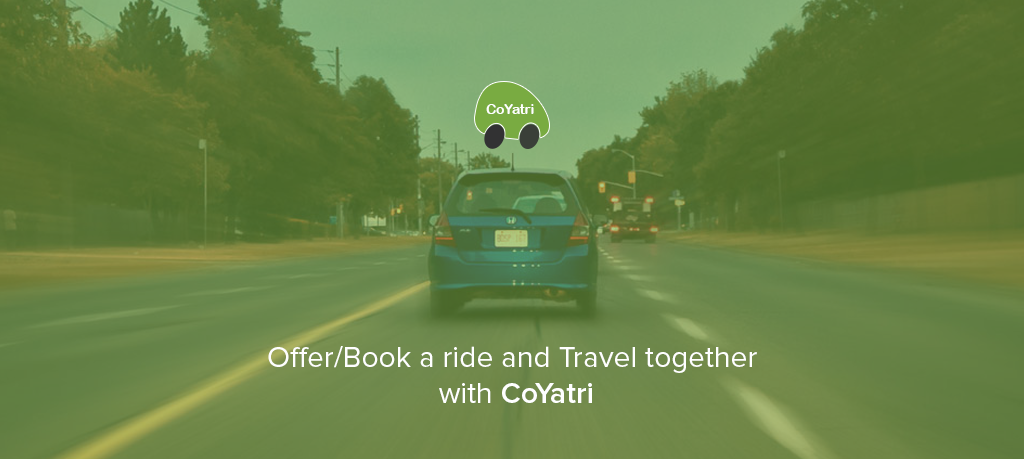 Coyatri is another eco-friendly mobile app which brings Intercity carpooling travel solution across India. It's based on the same ideology of saving fuel, reducing cost, helping you making new friends and kicking out the stress of travelling.
We should not live on the planet as if we have another one to go to. We should not let our future just go up in smoke and just sit and study over it we need to act before we start finding nature preserved inside museums. So if you have got car or cars it doesn't matters what matters is how many of you share ride for offices, school, colleges etc. to save fuel, reducing pollution and traffic on road and even saving your bucks. These apps reducing pollution and traffic will definitely input your effort would bring great efforts to a better environment and society.
If you need to develop a similar app get in touch with our mobile app consultants.