Top 8 Games for Windows Phone 8 OS
Mobile gaming world have been stormed with the advancement of iOS and Android platform. But with the advent of Windows in mobile, games have also protruded this way. Though Windows Phone 8 isn't perfect OS in terms of games availability, there are many good ones available. Adding on to its excellent tile interface and innovative graphics, Windows Phone 8 is more than just looks. Here are some games that are worth keeping in your smartphone and worth wasting your precious time indeed.
Robotek
Robotek can be a beautifully immersive game which will take a person in with its addictiveness. The particular techno music background soundtrack is an ideal match because of its striking neon-coloured minimal images. Imagine Robot Battles in your smartphone. The USP of this particular game are the background scores and simple attitude. A person handle any robot that has got to capture two hundred nodes spread across Earth after having a robot attack has taken the planet about the edge of apocalypse. Even after counting its many shortcomings, Robotek is a game worth keeping in your smartphone.
(App Store :- http://apps.microsoft.com/windows/en-in/app/robotek/e71a26e6-f9ad-4e8c-b306-f1c32abbdb69)
Zombie HQ
We all love the dead rising from their graves and craving for human brain. In movies, music and any popular culture, the zombies have revealed their existence. The underworld creatures occupied our Windows Mobile phones once again, this time through Zombie HQ. Inside Zombie HQ you act as the heir of a zombie catastrophe going to get back authority over the city. As you take out the particular zombie lots, save other survivors and hunt with regard to weaponry you can generate cash in order to upgrade your head office. It is definitely a casino game that can retain you on your feet.
(App Store :- http://apps.microsoft.com/windows/en-in/app/0ef51bbb-44ff-412f-8993-d4b46a35bea5)
Cut the Rope
This is a kind of physics-based puzzle which adds Windows phone 8 to its long list of reinforced apps. This game is very simple yet interesting in its nature. All you have to do is cut a dangling string of candy so that it can drop in the mouth of the sweet loving monster Om Nom, living inside the box. But there will be resistance by spikes, walls and air blowers. The graphics is minimalistic which gives it a rather delightful look. 
(App Store:- http://apps.microsoft.com/windows/en-in/app/cut-the-rope/2d85eb97-3ee6-4aff-9618-3f6cdfd68291)
Rainbow Rapture
Rainbow Rapture attracts you in with its calm images and one-of-a-kind character: the cloud. People have inflicted the planet with awful things, and now it's approximately the user in order to clean all of them out. In Rainbow Rapture you play being a rainbow-powered cloud with a mission for eliminating all of humanity. The primary attraction of this online game is the images as well as the cloud, the protagonist of this game. These days video games seem to characteristic vibrant, very in depth industry's which usually look great, however have started to shortage in creating striking personality of character. Rainbow Rapture's images are cartoonish and simple, with a really modest colour-tone. 
(App Store:- http://www.windowsphone.com/en-in/store/app/rainbow-rapture/03723fe9-8a13-4681-9d0f-3c27bf445672)
MonsterUp
The particular cutesy platform aims to help you get leaping high above accumulating monster stars and new enemies along with hurdles such as moving and vanishing programs wishing to stop you inside your leaping paths. Inside the newest up-date, creators Karios Games possess additional in-app acquisitions to grab new things and get all the creatures in the away from in the event you don't need to get results for it. 
(App Store:- http://www.windowsphone.com/en-us/store/app/monsterup/e51733bd-cd13-e011-9264-00237de2db9e)
Mars Runner 3D
As the name suggests, this is a running game with 3D interface. The 3D area speed arranged in the year 2323 where Human beings must begin the operation of colonizing other planets utilizes your own phone's accelerometer because the handles in order to bend and also tip across the lush interplanetary atmosphere. There are specific quests to finish with the esteemed incentive to become the next leader associated with Mars waiting for yourself completion of your mission. 
(App Store:- http://www.windowsphone.com/en-in/store/app/mars-runner/684d7cb7-f26e-e011-81d2-78e7d1fa76f8)
Temple Run
It was exciting news for every windows phone user when Temple Run made its introduction about Windows Phone 8 back in March. The game needs to introduction because it already made its fame in the iOS and Android. There were minor problems initially in the windows version, but soon rectified and updated. Now the game is as good as it gets. 
(App Store:- http://www.windowsphone.com/en-in/store/app/temple-run/1a7cb5f8-792a-4992-b07a-83874c0795ae)
Touchdown Run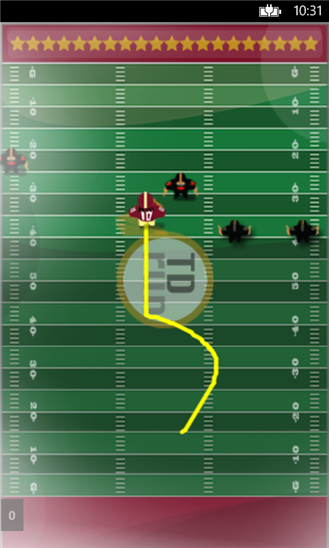 This is a simple football game exclusively designed for Windows Phone 8. If you want your football along with headgear as well as a finish zone, safely work out the right path with the oblong ball without having acquiring sacked advancing via to another level where a larger wall regarding defensive participants is waiting for you. This game will quickly grab your mind and heart as well. 
(App Store:- http://apps.microsoft.com/windows/en-us/app/touchdown-run/0cb25753-d767-493b-a9a5-27e8ef5013e3)
Twitter •