Top Four Office Productivity Apps
Smartphone technology has profoundly contributed towards the development of app centric approach towards work, life, productivity and efficient. You name it and there is an app for that.  Taking cue from this "Office Productivity Apps" is the latest genre of app development that has acquired a lot of attention.  As the name suggest, office productivity apps are designed with a specific intention of enhancing productivity and efficiency at work. It has set of tools and features that are adept to meet business usage of any sort.  Today there are thousands of dedicated applications that can be used for conducting video conferencing, IM, office suites etc.
Besides enhancing productivity at office, 'Office Productivity Apps' has lead to a development of remote work culture which I lot of people find convenient and stress free.  People have tactfully applied mobile technology to a traditional work setting, wherein attending an urgent meeting or replying to a high priority mail has become a hassle free experience.   Therefore in the field of 'Office Productivity Apps' here is a listing of top apps that will make life at office easy, simple and worthwhile.
1. Kingsoft Office
Kingsoft office is a editing mobile office app that is not just FREE but is extremely useful and user friendly.  The application has a very stable operation and an excellent interface.  It supports 23 kinds of files can has a built in file manager that automatically organizes all the office documents.  Users of this application can also integrate the app with the mail application.  Additionally, the application supports cloud based storages namely Dropbox, Google Drive and Box. Net.  Despite being a free app it offers a wide range of features and the performance of the application is highly appreciated from users of all quarters.
(https://play.google.com/store/apps/details?id=cn.wps.moffice_eng&hl=en)
2. ThinkFree Office Mobile
Available both on iOS and Android, Thinkfree office mobile is yet another office suit app that has a set of remarkable functions and usage.  With the help of this application a user can perform complete file management with synchronization functionality of documents with one's personal computer.  Document management with Thinkfree Office mobile is extremely easy and simple.  Unlike Kingsoft office, the advanced features of the application are only available on the pro version of the app.
(http://mobile.thinkfree.com/en/index.html)
3. Aqua Mail – email app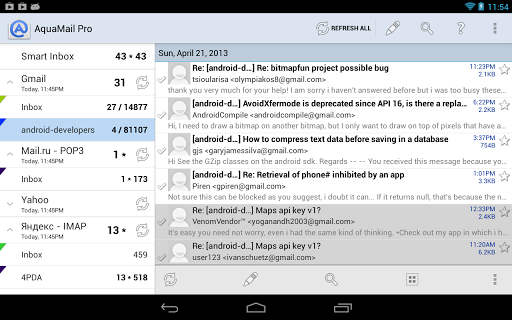 A dedicated email application, AquaMail pro is an easy automatic mail setup for widely used email service providers namely Gmail, Hotmail, Yahoo etc.  In addition to that it also enjoys support of several corporate email servers.  The application has dedicated widgets from which message list and message count can be easily viewed.  It has a seprate setting for WIFI and mobile connection.  The application is available for the Android OS in Pro and lite version. It is the best application if you travel a lot along with the need to check your emails periodically.
(https://play.google.com/store/apps/details?id=org.kman.AquaMail&hl=en)
4. Remember the Milk
Remember the milk is a very interesting application that will assist you to organize the tasks and things to do list in an extremely seamless manner. The application allows you to manage your entire task anytime, anywhere.  It also extends Gmail, SMS and IM reminders and even allows users to access the information offline.  The application is appropriate for people in sales or for those who have to travel to meet customers or attend business meeting as it can be integrated with Google Maps as well.  In short, Remember the Milk is a simple, out of the box and an extremely useful mobile application that is designed to streamline work and bring organization.
(http://www.rememberthemilk.com/)
The above mentioned Apps are some of the best office suites that are designed to meet modern day work requirement. Download it on to your Smartphone and see for yourself the difference it brings in your work life.