5 Reasons Why Flipboard App Got Famous
There are a number of apps that get a chance to be featured in the Apple iTunes store and Google Play Store, but not every one of them is interesting and even if they are, it might take a while for you (a casual downloader) to know why that particular application is worth downloading. If we talk about Flipboard, it is one such application that fails to convince the users with the tagline – "Your Social Magazine" because that simply does not sound convincing and interesting enough for people to actually download it. But does that really stop their amazing idea from getting popular? Definitely not.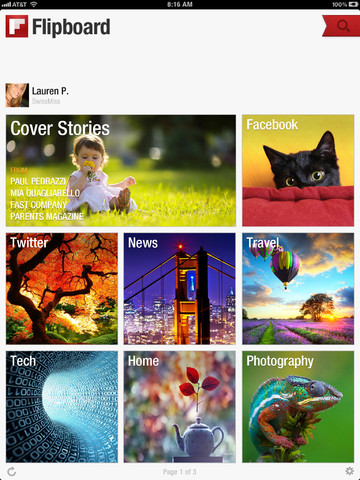 "Catchy taglines" might be needed for gathering some attention to boring applications using the same idea over and over again as several others applications. People might wonder, if it was not the tagline then why did Flipboard actually reached to the position where it is now and here are 5 reasons that explains why:
1) Presentation of the Idea: Talking about the basic idea of this gorgeously designed application; the idea itself is not actually completely new but the creative way in which the developers have presented the same idea makes it look new and quite interesting at the same time.
2) User-Friendly Interface: If we look at other applications similar to Flipboard then it wouldn't be wrong to say that they are usually overloaded with news and the user interface of other applications seems busy and unattractive, whereas on the other hand, Flipboard is clean and easy-to-understand. Its mind-blowing interface is yet another reason for the popularity of Flipboard
3) Everything in one place: Built-in options to add and integrate Facebook, Twitter, Google+, Linkedin and other social networking accounts allows the user to read every single thing from one place. That's definitely not all, one can even add RSS Feeds and read them from the same place too.
4) Is available free of cost: Comparing paid and free applications will definitely not be a very good idea but if we talk about a "Free App" then we can definitely say that a free application will be preferred by majority of the people when compared to a paid application. Being free is one of the most important factor that lies right behind the popularity of most of the apps available in the app store.
5) Page Turning Graphics: Most of the people who actually like to read newspapers and magazines are a bit used to turning the pages and that's where this applications does not fail to win their hearts. This amazing app not only impress people but also makes reading more interesting.
So these are some common and uncommon reasons that took the popularity of Flipboard on an entirely new scale. If you are planning to launch your own application then you should research a lot and work on the idea of making it popular, may it be by using the common tricks or not.
At TechAhead, we have developed hundreds of apps for iOS and Android platforms. Our mobile apps development experts have the experience and skills for developing apps, while keeping in mind the requirement of a business. Write to us at info@techaheadcorp.com or fill up a simple form here for a FREE 30-minute no-obligation consultation with our mobile experts ($200 Value).