Top 7 Improvement Suggestions for iOS7
We know that Apple is in rush to showcase their new product iOS7 at the worlds developers conference next month. The internal testing for the same is on as we get web traffic report that indicates visits from iOS7 propelled iPhones and iPads. In the past, Apple has always tried to appease users by extending innovative and smart features that promises to augment overall experience of using their devices.
Although iPhone5, the sixth generation of the iPhone received positive reviews, there were certain impending hitch within the iOS6 that ignited concerns for many consumers and reviewers alike. As excited and patient users, all Apple fans including me are certainly expecting a better and considerably improved iOS7. I hope that Apple engineers and paying close watch to what users are expecting for the new OS. Here are few suggestions from 'me to them', that will make iOS7 much better from its predecessor, the iOS6.
1. iMessage needs to be revamped
Within a short while after the release of iOS6, Apple's iMessage was really meddling with people's sanity. Online forums were filled with complaints the iMessage was highly unreliable and unstable. Several iPhone users were facing a problem, wherein each time the device lost internet connection, the iMessage would stop working and after a gap would begin working on its own. Although this problem did not require a troubleshooting session, it certainly did leave the users frustrated. I hope that the software or bug that caused this problem is rectified in iOS7.
 
2. Apple Maps  requires a major face-lift
When Apple released its mapping service independent of Google Maps, it was bound to be compared with the latter. If one were to compare the two, Google Maps certainly wins hands down for it is extremely user friendly and easy to determine. Currently, Apple Maps is devoid of public transit directions and the labels and directions it showcases are incorrect at several instances. In short, Apple Maps in its current form is quite unreliable and need a major face-lift, so as to stand a chance of winning against Google Map. I hope the engineers of iOS7 are working on this aspect of the OS.
 
3. Apple menu setting could be better
There has been endless talk about bettering Apple's menu setting. Android phones allow its users to access phone setting with just a drop down. It's not the same with iOS, as reaching menu setting on iPhone is a very tedious process. We hope that with new iOS design in store, this matter is duly addressed.
 
4. Apple needs to work upon the notification banner
Overall performance of Apple's notification banner has been quite impressive. However, it does tend to become a little intrusive and somewhat cluttered. Perhaps inclusion of banner pop-up, instead of complete dropdown and easy and quick clearance of notification box will certainly enhance the performance of the center.
5.  Apple must re-work Apple apps store design
We know that the app store on iOS6 devices underwent major interface change. Although, the design and aesthetic appeal of the app store is good, search result could be better. A better search result also stand true for Apples Maps and general browsing on an iPhone. We hope that iOS7 does not fail to address these looming issues.
6. Apple should allow its Weather Icon to support visual updates
The weather Icon on Android phones is visually explanatory. Just by looking at it, one can determine the weather situation outside their homes and office. I hope that Apple works on this aspect of the phone and supports live feed in the form of image or icon on the home screen.
7.    Apple must improvise on the Game Center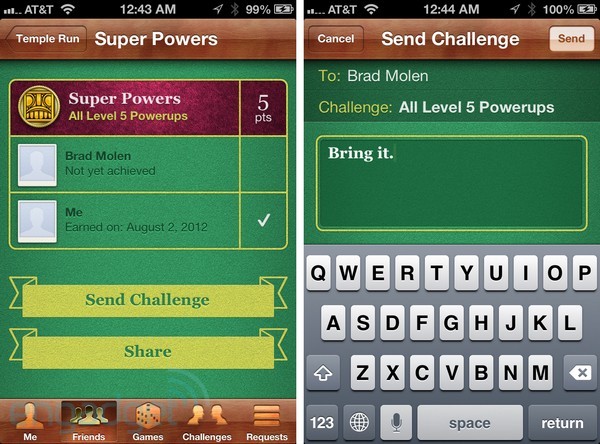 (Image Source )
The interface of Apple Game center could be more relaxed. Currently adding friends and challenging players in a game is a very daunting task. Perhaps with iOS7 the game addicts will find a better and improvised interface.
 
Twitter •