15 Tech Predictions for Smartphones in 2013
Smartphone technology changes faster than most any other manmade invention we've seen. In fact, chances are high some (or all of what we're about to say) may become reality between the time we write it and you read it. So hold on tight, good reader. We'll now unleash our 15 Tech Predictions for Smartphones in 2013, and don't forget to tell us what you think in the comments section.
1. The first iPhone to crack 10 megapixels will be announced.
Of these tech predictions for smartphones in 2013, this one is probably the safest. After all, Pantech was able to beat Apple to market with the first Smartphone device to crack the 10-megapixel barrier earlier this year. With the company's Pantech Discover, users got a built-in 12.6-megapixel phone and a $50 buy price as long as they submitted to AT&T's two-year contract. (Yeah, we know, not appealing to everyone.) It's hard to imagine the rumored iPhone 5S and iPhone 6 wouldn't one-up this feature on the rear camera.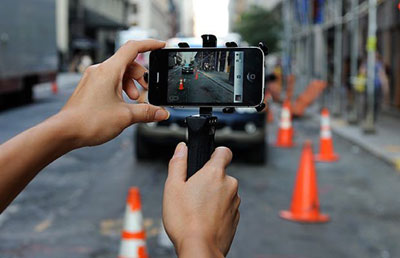 2. The 12-hour Smartphone will arrive.
Battery life on a Smartphone seems to be all over the place, but most of us with experience using these magical devices know it varies based on use. Still, under optimum conditions, different phones handle the workload longer than others. At the time of this writing, the reigning champ is the Samsung Galaxy Note II, which boasts a 10-hour, 12-minute lifespan on one charge. You can bet some of the companies launching products in 2013 will be out for blood, and being able to say your product can go a half-day is a milestone close enough to attain and enviable for whoever gets there first.
3. Smartphones will make drastic changes to the way online and print media is produced and consumed.
Journalists, look out. The Content Strategist thinks you're about to take on a lot more than writing chores. We agree, and believe you've got the mighty Smartphone to blame. At the same time, without it, none of the stuff your employers are about to ask of you would be easy or even possible. No need for lugging around cameras that weigh half as much as you do. No need for Oscar-worthy cinematography skills. Using both the tools your smartphone already has and improved features down the pike, you'll be able to take sharp-looking pictures and video to go along with your stories. And thanks to lightning-fast improvements and falling prices on new products, consumers will be able to enjoy without long buffering times or an LTE network.
4. Screen sizes will hit six inches.
While some were expecting a 6.3-inch display out of the Samsung Galaxy Note III, the recent announcement that it would be 5.9 inches and hit stores in the last part of 2013 does nothing to diminish the upward trend we've seen in screen sizes. Just think about how large of a phone that is. It's a little more than one inch smaller than holding an iPad Mini to your head and talking into it. No, we don't foresee an exponential increase to walkie-talkie proportions, but we have noticed the smaller-is-better mentality is starting to correct itself. You're actually seeing a resurgence in vinyl records; you'll also see a resurgence in bigger phones. We think six inches is the sweet spot, and now that Samsung has made their announcement, you can bet a hungry competitor will fight to top it before year-end.
5. Smartphone availability will move to 1.5 billion devices in circulation by the end of 2013.
In October 2012, Strategy Analytics reported that 1 billion smartphone devices were in use around the world and anticipated that number to double by the end of 2015. We'll go one further and say it hits 1.5 billion by the end of this year. Our reasoning is simple. Apple introduced its first iPhone in 2007. It took just five years to reach the point where we are today, and in those early years, the iPhone didn't have many serious competitors. The Telegraph noted a huge potential market exists in developing countries, where the current-best option is the "feature phone," a device that is only capable of texting and talking. No Internet. Considering Apple CEO Tim Cook expects China, a country that didn't get the iPhone until 2009, to soon take over from the United States as the company's largest market, our 1.5-billion prediction is not that far-fetched.
6. Smartphone malware threats will become more prevalent. As a person, who does a lot of mobile banking, it boggles my mind hackers (AKA devilspawn) haven't emphasized their attacks more to the Smartphone market. Here's hoping they continue to lay off. Unfortunately, as BGR has pointed out, the stunning growth of Apple and Android hardware devices already out there, and the hundreds of millions to come, open the door for more sophisticated attacks. As many of us transfer money and make deposits while sitting in a recliner watching the latest episode of Shark Tank, the major reason hackers have left us alone is beginning to erode. And with point-of-sale payment processing on your phone becoming more prevalent, so, too, will hackers' opportunity to steal from you. Brace for it, but don't let the b-words get you down, because…
7. Smartphone payment processing will go mainstream, and it'll be awesome.
Google continues to innovate with programs like Google Wallet allowing you to leave the cowhide trifold at home and use your smartphone for payment processing instead. Google is King of the Internet and more capable of securing your data than any other entity. Now they've made it easy for you to walk in to any store that takes credit/debit cards, choose your method of payment, tap it to the NFC terminal at checkout, and leave the store booty-in-hand. More stores will move to accommodate this form of payment processing in 2013, and that'll mean shorter lines and less annoyance with your fellow man. We can also see sit-down restaurants making things more Google Wallet-friendly, meaning you won't have to wait 30 minutes for your waitress to come back to the table after you've slipped her your card. You also won't have to worry about leaving a card in the leather bifold after signing the receipt. Christmas especially should be less homicidal.
8. Smartphone audio recording will improve, resulting in more Mitt Romney moments.
Ask many in the media, and they'll point to Republican presidential candidate Mitt Romney's "47% comment" as a major reason he's not President Romney. Whether you believe that is your call, but one thing is for certain: with audio recording technology on Smartphone devices improving, Mitt and anyone else who speaks in a public venue will need to watch what they say with even more vigilance. Enter The HTC One with its "dual-membrane" microphone which makes everyone susceptible to surveillance. The dual-membrane is optimized for both high audio situations and high sensitivity. So whether you're in a performance review or a concert, you'll theoretically be able to pick up the things people say with excellent clarity.
9. Smartphones will make crowd-funding projects as simple as an impulse buy.
Kickstarter just released its mobile application for iPhone in February 2013. While The Huffington Post pointed out some areas for improvement, the app is still a joy for functionality and a giant leap in simplifying the donation process. As this and other crowd-funding sites like IndieGogo work to improve their mobile platforms, it'll be easier to throw money at good ideas and see what works out. Not coincidentally, the smartphone will result in an even greater financial boom for start-ups looking for financial help in return for some kick-butt incentives.
10. Smartphones will begin the decline of the remote control.
Since wireless transmitting devices cracked the consumer market in 1939 with the Philco Mystery Control for radio, people from all over the world have loved their remotes. But like anything, the remote control has been subject to evolution. Remotes today look significantly different than they did back then, and with the announcement of developments like the Optia App for Android, the traditional fresh-out-of-the-box remote that you end up losing in the couch cushions a month after you bought whatever thingamajig it goes with may soon be over. Simply download an app from your Smartphone and use your router to play music, watch movies, or whatever else.
11. Smartphone advertising platforms will get smarter…they'll have to.
How many of you have immediately closed out your Words with Friends program the moment you played a turn because you had no desire to sit through the 30-second commercial to follow? A report in late February 2013 from BGR revealed the alarming statistic-if you're a smartphone advertiser-that those revenue dollars may not be having the effect intended. While digital revenues are increasing, companies mistakenly follow the same ad delivery on smartphone devices they do for websites. Look for advertisers to expect more from their dollars in 2013, and if they don't get it, they'll pull their business. To keep that from happening, mobile websites and applications will have to get smarter about the way they feature advertisements. That could potentially be a good thing as there is no bigger turnoff for consumers than getting "outed" by a loud video ad in the middle of a company meeting as you try to use the free versions of apps without getting caught. Perhaps there is a subtler approach to come?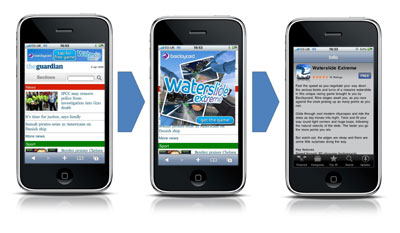 12. Shared data plans will increase in popularity among families.
If you pay around $100 per month for a single unlimited "grandfathered" plan at AT&T, then you can certainly see the value in switching to shared data plans with family or friends. AT&T and Verizon, who host about 200 million users in the U.S., have really championed this method of delivery, which is based on the type and number of phones you have. It certainly results in savings for groups, but you do have to keep a close watch on usage. Kim Komando has even developed an easy-to-use data plan calculator that'll help you envision what you can expect to pay for shared data at the big two. (Recommended.)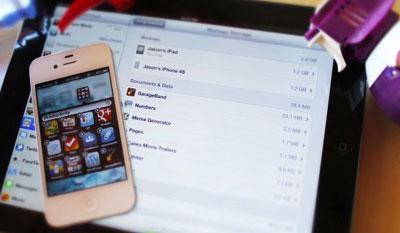 13. Research In Motion (Blackberry manufacturers) will stay on the market.
Research In Motion won a few good reviews with its Blackberry 10 device, but the company that once inspired the euphemism "Crackberry" to describe a user's addiction to their product, has not been able to gain ground in the mobile wars. In 2011, Forbes encouraged the company to sell. In 2012, rumors were rampant that RIM would sell to Samsung, HTC, and a slew of others. As of 2013, Yahoo! Finance doubted RIM would sell any time this year, and we have a tendency to agree. RIM was just upstaged too quickly by Apple and Samsung, and they're too far behind to find a willing buyer in 2013.
Image Source
14. Smartphone devices will enable you to make guns.
Okay, maybe not guns, but 3D printing technology is the next big thing for consumers, and it's hard to see smartphones being left out of the party. Already upstarts like CADScan have consumerized 3D scanners allowing you to have a perfect three-dimensional prototype that you can then send to a 3D printer for production. In much the same way that programs like JotNot allow 2D scans from your smartphone, app developers will catch on quickly and apply the same routine to the phone you have in your hand.
15. Smartphone shipments will overtake feature phones for the first time in history.
Why not end on a positive note for the smartphone fan? This is another of the safe tech predictions for smartphones in 2013. According to a recent press release from International Data Corporation, smartphones are expected to ship more product globally than feature phones for the first time in the history of mobile, and we're going to climb aboard the bandwagon on this. The exact forecast is that smartphones will ship 918.6 million units, around 50.1% of expectations. We're not sure on that, but it'll be a doozy.
These are our predictions for 2013. What are yours? Share your own smartphone technology prognostications with us in the comments section below.
Twitter •