iOS 7 Vs iOS 6 Benchmark Test Using 5 Benchmark Tools
Apple's latest product the iOS 7 is different. The UI and the over feel of the phone brings in freshness that was long overdue. Since the release of the first iPhone, Apple was often criticized for being non experimental, as all the succeeding versions of the OS entailed only incremental changes. The all new iOS 7 has a brighter UI and a flat design which clear stands from the previous generations of iOS. While most discussion of iOS 7 primarily talks about its design, as Apple strategically decides to ditch all the gloss and skeumorphism, we decided judge this rookie from a different stance, we call the "Benchmark".
Call it impulse, excitement or simply a chain reaction stemming from mundane routine of a developers life (chuckles!), our in-house developers at TechAhead Software, ran a set of benchmark tests, where they compared iOS 6 with iOS 7 on iPhone 4.
The findings that resulted from the test ensued high level of excitement, as it ushered fresh perspective to their development sensibility. I am sure, these findings will not only stimulate fellow developer community out there, but also thrill a great number of users and Apple fans, whose favorite hobby is to compare the performance of their Smartphone's to that of others.  Read further, to find the result of this "Benchmark Test".
1. SunSpider Test:
The SunSpider is a JavaScript benchmark which tests the core JavaScript language only and not the DOM or other browser API's. It is designed to compare the different versions of the same browsers and different browsers to each other.
Refer to the following screen shot to compare iOS 7 Vs iOS 6 in this round.
iOS 7
iOS 6
On comparing the two slides it is clear that iOS 7 wins this round hands down showing an improvement by 2875.1ms +/-5.0% to that of 1896.0ms +/- 4.3% of iOS 6.
2. 3D Benchmark Test:
The 3D benchmark test is a test that is used to check the 3D power and capabilities of a phone. The more the FPS (frames per second), the better it is. The test runs a video where the World War scenario is depicted results are based on frame rate.
iOS 7
iOS 6
Now, the result of this test might upset the users of the iPhone 4, who are already thinking of upgrading their phone to iOS 7. As per the results of the 3D benchmark test, the iPhone 4 running iOS 6 appeared to have 27.1855 as the average FPS with total time duration of the test being 18.355 sec. Whereas the iPhone 4 running iOS 7 took a total duration of 32.148 sec giving the average FPS to be 15.521 which is nearly half of the device running iOS 6.
3. Bonsai Benchmark:
The bonsai benchmark is an app which measures the 3D and next gen post-processing performance of your device. On running the Bonsai Benchmark on both the OS, the results were rather surprising.
iOS 7
iOS 6
First look at the images and it is clear that the result of iPhone 4 running on iOS 6 was nearly 4 times more than the result generated by iPhone 4 running iOS 7. Average FPS on iOS 6 was 46.8 with 3281 points scored,  as compared to the average FPS of 10.7 with 750 points scored on device running iOS 7.
4. PerformanceTest Mobile:
The PerformanceTest Mobile is one of the leading benchmark tests which provides with different test suites like CPU Tests, Disk Tests, Memory tests, 2D Graphics Tests and 3D Graphics Tests to know the performance of your device. Shockingly, the results in this department were also quite surprising.
iOS 7
iOS 6
iOS 7
CPU TEST: 3559 Vs 8754 (winner iOS 6)
iOS 7
iOS 6
DISK TEST: 4123 Vs 3540 (winner iOS 7)
iOS 7
iOS 6
MEMORY TEST: 1075 Vs 145 (winner iOS 7)
iOS 7
iOS 6
2D TEST: 105 Vs 616 (winner iOS 6)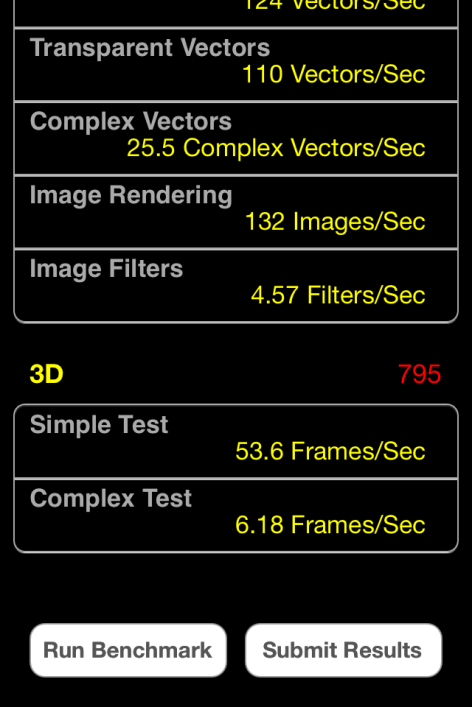 iOS 7
iOS 6
3D TEST: 795 Vs 1205 (winner iOS 6)
5. LinPack Test:
LinPack benchmark tests the measure how fast a computer solves a dense N by N system of linear equations Ax = b, which is a common task in engineering. The solution is obtained by Gaussian elimination with partial pivoting, with 2/3·N3 + 2·N2 floating point operations. The result is reported in millions of floating point operations per second (MFLOP/s, sometimes simply called FLOPS). The report card of this rounds result can be understood from the following screen shot.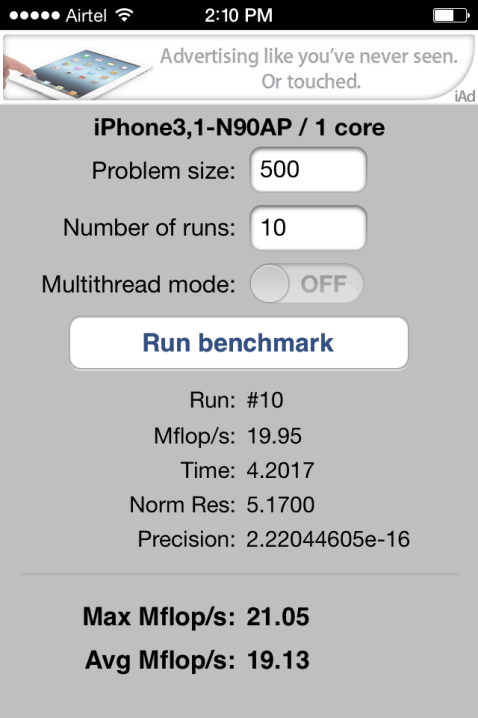 iOS 7
iOS 6
Once again iOS 6 was a clear winner with 116.62 Average Mflops/s compared to 19.03 of iOS 7.
Therefore, the results of the varied benchmark tests indicates that iOS 7 is not overtly efficient as compared to iOS 6 on iPhone 4. Very soon,we will also conduct another benchmark tests between iOS 7 and iOS 6 on iPhone 5 to see how that rolls out.
Twitter •